Mount Vernon, Westchester County Celebrate Opening of Fully Renovated Memorial Field
By JOHN JORDAN – September 27, 2022
MOUNT VERNON, NY  – At a recent ceremony to mark the end of a long-delayed effort to rehabilitate the storied Memorial Field, speakers recalled its noteworthy past and its bright future.
Memorial Field had been a destination in Mount Vernon for more than 90 years and at one time played host to such iconic entertainers as Michael Jackson and the Jackson Five, James Brown and Ella Fitzgerald, hosted sports teams such as the minor league team of the New York Giants, the Mount Vernon High School football team and even was the backdrop for the iconic Coke commercial featuring "Mean" Joe Greene of the Pittsburgh Steelers filmed in 1979.
However, for many years the facility fell into disrepair and a host of city and county administrations struggled to come up with a plan to rehabilitate it. In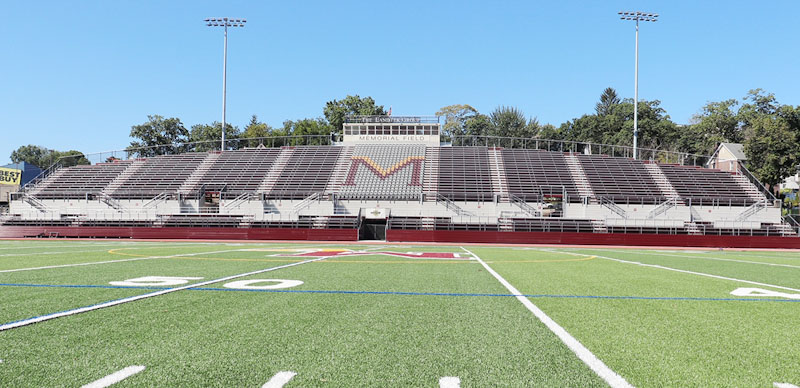 November, 2008, the City of Mount Vernon and Westchester County settled on an inter-municipal agreement whereas the county would renovate Memorial Field. After almost 12 years of regression from that point, city officials and the county agreed upon an ambitious plan several years ago to move forward on the long-delayed restoration project.
The project cost at one time was $20 million, went up to $25 million and upon completion was calculated at $40 million. The new stadium is equipped with 3,900 seats, a lighted field equipped for football, soccer, lacrosse and field hockey, an eight-lane track, a sound system capable of handling major concerts or events, three tennis courts and a skate park. The project utilized MWBE contracts and created nearly 400 labor jobs.
The project was completed by the LandTek Group with design completed by Woodard & Curran. In addition to LandTek executives, also in attendance at the event were Construction Industry Council of Westchester & Hudson Valley, Inc. Executive Director John Cooney, Jr. and Edward Doyle, president of the Building Trades of Westchester and Putnam Counties.
Westchester County Executive George Latimer said at the Sept. 21st press conference held at Memorial Field, "I want this project to be a symbol of real change within the City of Mount Vernon. A symbol that shows that what seems impossible is possible if government can put ego aside and work together. I graduated from high school on this field, and I look forward to working with Mayor Shawyn Patterson-Howard as we watch the next generation of Mount Vernon's leaders make their own memories on this field."
Mr. Latimer praised all those involved in the joint initiative with the City of Mount Vernon, including the Westchester County Board of Legislators, Deputy County Executive Ken Jenkins and Chief of Operations Joan McDonald.
Memorial Field will be co-managed until the end of the year by Westchester County and the City of Mount Vernon. County officials stated that procedures for booking the field are still being developed. The City of Mount Vernon fully owns Memorial Field.
Mount Vernon Mayor Patterson-Howard said at the event, "Memorial Field has been the heart and soul of the City of Mount Vernon for a very long time. It is the crossroads of our community and one of the landmarks that connect us all because it helps to knit, tie, and bind us together through its history and now through its future. This partnership of trust with Westchester County symbolizes progress at its best and I am thankful for County Executive George Latimer and the entire executive team for your diligence and tenacity to see us to the completion of this project and for hosting today's ribbon cutting."
The mayor also acknowledged the County Board of Legislators, former elected officials, community partners, and "everyone who has contributed to this process and for understanding just how much the new Memorial Field will mean to the economic development, public health, pride, moral and community cohesion of the City of Mount Vernon."
The LandTek Group, Inc COO John Sulinski said of the project, "LandTek is proud to be the general contractor tasked with the rebuilding of Memorial Field. It has been a rewarding experience to work with Westchester County and the City of Mount Vernon. Our project team and vast athletic field design and construction knowledge assisted in completing this modern stadium complex. It's extremely gratifying to see an iconic location such as Memorial Field renovated to become a premier athletic facility showcase that the surrounding community will utilize for many years."
The new chapter of Memorial Field's history began on Saturday, Sept. 24, when the Mount Vernon Knights football team took the field for the first time at the stadium since 2007 and defeated the Yonkers Force 32-24.