Hundreds of Millions Go Unspent For Capital Work since 2017: Study
By JOHN JORDAN – September 27, 2022
YORKTOWN, NY  – Hundreds of millions of dollars in state and federal funds for infrastructure are going unspent as the condition of Hudson Valley roads, bridges, sewers, and other critically important infrastructure continues to worsen, according to an in-depth report issued recently by the Construction Industry Council of Westchester & Hudson Valley, Inc.
"The alarming state of our infrastructure is of concern to everyone in the Hudson Valley who drives our roads, drinks our water and crosses our bridges," said CIC Executive Director John Cooney, Jr. "We know there is funding available that would go a long way toward addressing the problems, but rather than guess, we decided to take a hard look at the data. Hudson Valley Pattern for Progress did a thorough independent analysis and has provided us with a fact-based platform from which to move forward."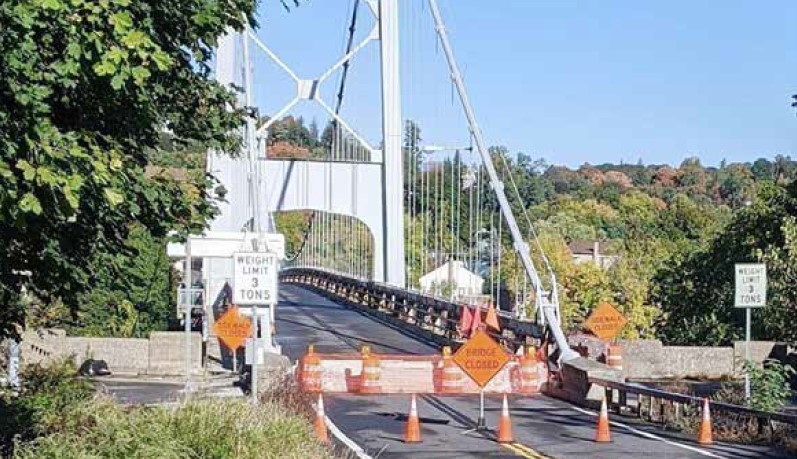 The CIC, which commissioned the Hudson Valley Infrastructure Gap study, is a broad-based, heavy construction trade association. The goal of the study was to analyze and confirm the extent of the scope of the infrastructure shortfall and extent of public funding that is being "left on the table" as well as why so many needed projects are not going forward despite funding availability.
The report pointed to organizational obstacles primarily due to the complexities in the approval process and lack of municipal staffing among the nearly 250 municipalities of the nine counties in the Hudson Valley: Westchester, Putnam, Dutchess, Columbia, Rockland, Orange, Ulster, Sullivan and Greene. These logjams have resulted in many municipalities failing to apply for infrastructure funding despite the pressing needs of replacement and repair of local roads, bridges and wastewater facilities and networks.
At a press conference staged at the Yorktown Highway Department offices on Sept. 13, officials with the CIC and the report's author, the Hudson Valley Pattern for Progress, were joined by members of organized labor.
Among the most alarming findings of the report was that only 11% of the more than $3.9 billion appropriated statewide in 2017 for water infrastructure projects was spent as of March 2020.
"While our federal and state governments allocate millions of dollars for road, bridge and sewer work, all too often the local municipalities who are responsible for most of the projects fail to tap into the funds. The primary reason is that the application process for the funding is time consuming and complicated," Mr. Cooney explained. "Many municipalities, particularly the smaller ones, simply don't have the time and staff needed to apply."
Mr. Cooney added, "That's one aspect of a complex problem that can no longer be ignored. The CIC is committed to using the report's findings as the basis for initiating a campaign to educate local governments on the extent of the problem and to offer solutions. We will begin by presenting our findings to our state legislators, followed by the county leaders for their input, and then move to the towns and villages."
Adam Bosch, president and CEO of Hudson Valley Pattern for Progress, said the report underscores the need for infrastructure planning, support, and a new model to help communities access government funds for infrastructure. He
noted that in many cases municipalities must first design and then bond infrastructure projects and then engage in a complex approval process for federal and state reimbursement funds.
"Communities across the Hudson Valley need help to plan for the maintenance of their infrastructure and to access the government funds that will allow them to upgrade roads, bridges, and their waterworks," Mr. Bosch said. "Our small towns and villages do not have the staff or time to navigate bureaucratic systems that make it too difficult for them receive infrastructure money. As a result, many of them are forgoing programs that are meant to help. Our communities are entitled to much of this money, and we ought to create systems that help them put our taxpayer dollars to work more effectively and efficiently."
For a municipal perspective, Yorktown Supervisor Matthew Slater, while noting the significant infrastructure projects the town is undertaking, affirmed many of the issues highlighted in the report that local governments are facing in securing funding for infrastructure projects.
"What you just heard is 100% accurate and it is a major problem," he said. "The report and what you are hearing really confirms what all of us in local government already know—we are on the verge of an infrastructure crisis and we need help. We need the state's help and we need the federal government's help."
Some of the key report findings include:
Many municipalities do not have the staffing and expertise to apply for grants and other federal funding programs, and thus don't apply.
A total of 250 counties, towns, villages and cities in the Hudson Valley are responsible for repairing most of the local roadways, yet 73% of local roads in the Hudson Valley are ineligible for federal funds.
State funds for road, bridge, sewer and water projects declined 11% between 2019 and 2020, aggravated by a halt in spending during the COVID-19 pandemic. Spending on infrastructure has been flat over the past decade.
411 or 17% of bridges in the Hudson Valley have been rated in "poor" condition by the Federal Highway Administration. It would take an estimated $671 million to improve municipal bridges and $1.8 billion to im-prove county bridges, yet only $28.4 million has been allotted by Bridge-NY (the major source of funding) over the past two years.
A municipal workforce labor shortage created by retirements, lack of training and overall changes in the workforce, are slowing construction projects.
A lack of capital planning and infrastructure management is resulting in problems in budgeting and scheduling repairs. The CIC-Pattern Hudson Valley Infrastructure Gap report also offered a series of recommendations to address the issue that Yorktown Supervisor Matthew Slater described at the press conference as "approaching an infrastructure crisis." Those recommendations were:
Develop strategic planning to upgrade infrastructure according to its life cycle.
Invest in asset management systems that will catalogue infrastructure assets, set maintenance schedules, track life cycles, and provide an objective basis for funding repairs and replacements.
Join relevant trade associations such as the NYS Association of Town Superintendents of Highways, American Public Works Association, New York State American Waterworks Association, to help create helpful connections for advocacy and problem-solving.
List projects in Statewide Transportation Improvement Plan (STIP). Projects cannot get federal aid unless they are listed as part of the four-year plan.
Initiate projects quickly to avoid cost increases, labor shortages, higher interest rates and materials costs/supply chain issues.
Consider outsourcing work to private contractors when it is safe, efficient and effective.
Ensure succession planning to capture the institutional knowledge of longtime employees before they retire.
Create an Infrastructure Academy through a public-private partnership to strengthen the workforce pipeline for those in trades related to infrastructure.
Create a capital asset and infrastructure council.
Make CHIPs funding more reliable by guaranteeing a minimum amount over a three year or five-year period, rather than making it a bargaining chip in the annual state budget.
The complete report can be found by visiting https://cicbca.org/news/#HudsonValleyInfrastructureGapReport