$739M Kew Gardens Interchange Project Honored by American Assoc. of State Highway and Transportation
ALBANY—New York Gov. Kathy Hochul announced earlier this month that a major project recently completed by the New York State Department of Transportation—The Kew Gardens Interchange—was named a winner of the Northeast Association of State Transportation Officials region in the "Best Use of Technology & Innovation, Large Project" category.
This year, 36 state transportation departments participated in the competition, nominating 81 total projects. The award was presented at the NASTO Annual Meeting on July 11 in Wilmington, DE.
"The Department of Transportation's Kew Gardens Interchange project was a massive undertaking that utilized innovation and technology to improve the transportation infrastructure in Queens, all while reducing bottlenecks and helping keep traffic moving," Gov. Hochul said. "To be recognized on a national level for this work is a testament to our efforts to make the lives of New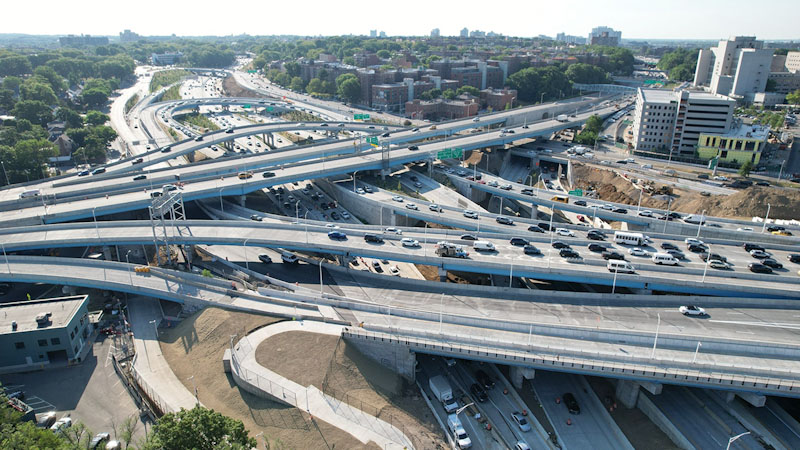 Yorkers better. I thank the American Association of State Highway and Transportation Officials for this recognition and send my sincere congratulations to the entire New York State Department of Transportation team for their hard work on this project." 
Sponsored by the American Association of State Highway and Transportation Officials (AASHTO), AAA, and the U.S. Chamber of Commerce, the America's Transportation Awards competition recognize the projects and programs that make their communities better places to live, work, and play. Now in its 16th year, the awards help to showcase why transportation infrastructure is so vital.
The $739-million Kew Gardens Interchange project in Queens, which was completed in late 2022, revamped one of the metropolitan area's most heavily traveled corridors, creating faster travel times, safer merging and exiting, and more reliable connections for the hundreds of thousands of commuters, travelers, and local businesses who use it daily to reach the John F. Kennedy International Airport, LaGuardia Airport, and other key destinations throughout the region. The Kew Gardens Interchange project also recently earned a National Recognition Award in the American Council of Engineering Companies (ACEC) Engineering Excellence Awards competition, which was announced by state officials in April 2023.
The fourth and final phase of the project, which cost approximately $366 million, was awarded in December 2018 to a design-build team led by Halmar International of Nanuet, NY.
The Best Use of Technology & Innovation category recognizes new technology and/or creative/innovative solutions implemented by a state department of transportation as part of a transportation project. Overall, there were three categories for the awards: Operations Excellence, Quality of Life/Community Development, and Best Use of Technology & Innovation.
After all regional meetings have taken place over the summer, the three highest scoring projects from each region will be named the "Top 12" and will go on to compete for the top two national prizes. The Grand Prize is chosen by an independent panel of judges while the People's Choice Award is determined by the public through online voting. Winners will be announced at the AASHTO Annual Meeting in Indianapolis, IN this November.
New York State Department of Transportation Commissioner Marie Therese Dominguez said, "The transformative Kew Gardens Interchange project has led to less congestion and enhanced safety while improving climate resiliency and promoting multi-modal transportation. This award belongs to all the dedicated women and men of the New York State Department of Transportation who make projects like this possible and whose focus is to advance safe transportation for all. Our sincere thanks to America's Transportation Awards—it is an honor to have the Kew Gardens Interchange recognized as a transformative, climate-conscious projects that has changed a transportation system for the better, in Queens and beyond."