Philadelphia Bridge Collapse Shines Spotlight On Need to Improve Bridge Conditions in U.S.
By JOHN JORDAN – June 22, 2023
TARRYTOWN—The names of failed bridges continue to haunt our nation's transportation legacy. Mianus River, Schoharie Creek, Tennessee Hatchie River Bridge, Cypress Street, San Francisco-Oakland Bay and I-35W—left scores of dead and injured and continue to serve as tragic reminders of the need to boost funding for the nation's and, in particular, New York State's aging and deteriorated bridges.
We now add to this list the section of I-95 in Philadelphia on June 11. The cause of the northbound bridge collapse was an explosion of a tanker truck exiting the highway and crashing under the I-95 span, which carried an average of 160,000 vehicles per day.
The I-95 bridge section is supported by steel girders, which are typically susceptible to heat. Inspection reports said the bridge was in good condition, but the tanker fire could easily have produced temperatures high enough for the steel to lose strength and collapse, the Philadelphia Inquirer reported.
Early investigations of the collapsed section of I-95 revealed that the span was actually part of a $212-million reconstruction project that was completed some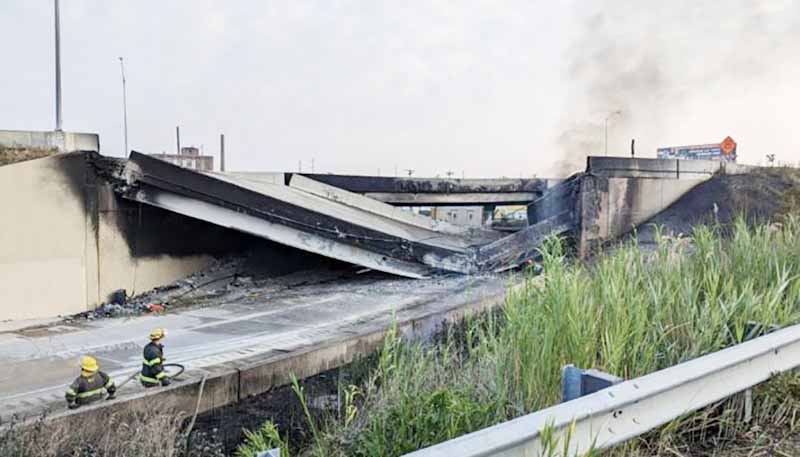 four years ago. PennDOT rated the 104-foot span in "good" condition earlier this year, with another inspection set for 2025. While 7.5% of U.S. bridges are considered structurally deficient, according to the American Society of Civil Engineers, the I-95 span was not one of them.
Less than a week after the collapse, Pennsylvania Gov. Josh Shapiro said, "I can state with confidence that we will have I-95 reopened within the next two weeks." Speaking at a briefing with President Joe Biden at Philadelphia International Airport on June 17, the governor added, "We are going to get traffic moving again thanks to the extraordinary work of those here and our incredible union trade workers."
Abbonizio Contractors of Sewell, N.J. was hired to handle the demolition of the damaged bridge and road, which was performed and completed in just four days – ahead of schedule and beating some experts' prediction of more than a week, according to the governor's office. "Members of the Philadelphia Building Trades, working for Philadelphia-based contractor Buckley & Company, have begun pouring the foamed glass aggregate into the gap in the roadway, building it up to the surface level of I-95."
So far, the federal government has earmarked $3 million in "quick release" Emergency Relief funds for use as a "down payment" by the Pennsylvania Department of Transportation to offset costs of repair work on the section of I-95 in Philadelphia. The State of Pennsylvania has set aside another $7 million for the project. A total cost for the bridge replacement project has not yet been released.
"Every day counts in this urgent reconstruction project, and the quick-release funding is an important step to help PennDOT rebuild the collapsed portion of I-95," said U.S. Transportation Sec. Pete Buttigieg while recently touring the scene of the collapse. "We will continue to use every federal resource we can to help Pennsylvania restore this key artery quickly and safely."
Pennsylvania Transportation Department is streaming live the construction of the I-95 overpass at www.pacast.com/live/I95.
Sec. Buttigieg visited New York State this past April to highlight $21 million in federal funding for the replacement of the Castleton-on-Hudson Bridge, calling attention to the increased investment by the Biden Administration on the nation's bridge system. However, he noted that there is much work to be done.
He said that over the decades, "we allowed significant parts of that system to fall into a state of disrepair. Around 43,000 bridges nationwide are in poor condition. Closures, or worse, have become more and more common. And the American people feel the impact." He noted, "bridges aren't just concrete asphalt and steel; they are engines of economic growth, and they are vital connections for communities."
Sec. Buttigieg added, "When bridges have to close for repairs—or when they begin to fail—it sometimes cuts off an entire community. It adds time to commutes. It costs money for businesses, as we were hearing about. It can even delay ambulances and fire trucks from getting where they need to be to respond to an emergency. It means truckers have to take longer routes, which means consumers have to pay more for deliveries, and working parents have to spend more money on gas, and more time away from their kids."
The federal funding was part of the first round of President Biden's Bipartisan Infrastructure Law's competitive $2.1-billion Bridge Investment Program. The 65-year-old Castleton-on-Hudson Bridge in Albany County, more commonly referred to as the Castleton Bridge, opened to traffic in 1958 and spans approximately one mile in length, connecting the Berkshire Spur section to the New York State Thruway's mainline. Approximately 6.2 million vehicles per year or 17,000 per day travel over the bridge that connects Albany and Rensselaer counties over the Hudson River.
Recently released reports analyzing bridge and road conditions in New York State were anything but flattering. The Reason Foundation ranked New York as 47th in capital and bridge spending per mile and 46th in maintenance spending per mile, according to the report released in April 2023.
"To improve in the rankings, New York should try to have its high costs better translate into things like good pavement condition, less traffic congestion and fewer deficient bridges," said Baruch Feigenbaum, a lead author of the Annual Highway Report and senior managing director of transportation policy at Reason Foundation. "For example, the state ranks in the bottom 20 in spending in all four disbursement categories but still ranks in the bottom 20 in all four pavement condition categories as well as in percent structurally deficient bridges."
"While it may be challenging for New York to reduce its spending, if the state could improve its pavement and bridge quality to the national average, it would move up in the overall rankings substantially," he said. "As it is, the state has the worst of both worlds: high spending and poor roadways."
An analysis of the New York State Thruway system by Washington, DC-based TRIP released last month stated that the New York State Thruway faces a $1.2-billion funding gap through 2031 to maintain its high levels of safety and service, maintain good infrastructure conditions, support operations and maintain debt service coverage at appropriate levels.
Annual investment in highway and bridge rehabilitation on the New York Thruway dropped from $322 million in 2012 to $236 million in 2022 – a 37% decrease. And, while annual investment in highway and bridge rehabilitation on the New York Thruway is expected to increase 24% from 2022 to 2031, reaching $294 million, this is still 9% below the level in 2012.
"It's beneficial for a group like TRIP to make a data-based assessment of New York's most important roadway," noted Michael Fleischer, former NYS Thruway Authority executive director and currently a senior advisor with Brown & Weinraub. "This review shows that the system is amongst the safest highways in the nation, but it requires continued and increased investments so it can continue to best serve its customers. The Thruway's proposed targeted toll adjustments clearly are critical and necessary to its ability to maintain and preserve this critical asset."
One percent (10 of 816) of the Thruway's bridges are rated in poor condition. A bridge is rated in poor condition if there is significant deterioration of the bridge deck, supports or other major components. Twelve percent (100 of 816) of the New York Thruway's bridges have been rated in fair condition. A fair rating indicates that a bridge's structural elements are sound but minor deterioration has occurred to the bridge's deck, substructure or superstructure. The remaining 87 percent of Thruway bridges are rated in good condition.
Average bridge condition ratings on the Thruway improved by 2% from 2015 to 2020, before eroding from 2020 to 2022 by 1%. Based on anticipated funding levels for bridge rehabilitation, the Thruway's average bridge rating is projected to decline by 2% between 2022 and 2027.