Congestion Pricing: The Whole World Is Watching; New York Has to Get it Right
By SAM SCHWARTZ – June 22, 2023
NEW YORK—The polluted air in early June, affecting much of the U.S. from wildfires in Canada, should remind us that we are all connected on this planet and that climate change is real. It should also spur our local politicians to support strategies that reduce greenhouse gases (GHGs) which contribute to extreme weather conditions that lead to widespread wildfires, floods, extreme heat and more.
The transportation sector contributes the most to GHGs, and motor vehicles make up 80% of that contribution. Per passenger-mile, a car emits nearly three times more carbon dioxide than rail transit. New York's congestion pricing (CP) plan will switch some drivers to transit by charging motor vehicles and applying the revenue to transit. It will also have an outsized impact: other cities in the Americas are considering pricing strategies and eyeing us for guidance. But, if you can't make it (it being CP) here, you can't make it anywhere — in the U.S. at least (apologies to Frank Sinatra). That's because New York has the highest transit usage and the fewest cars by far than any other city in the U.S.—and theoretically the easiest transition.
Past plans have been thwarted by Congress (1977), lawsuits (1980) and legislative inaction (2008). In the past decade, citizen-led coalitions from MOVE NY (I was part of the leadership), to the Riders Alliance and the Community Services Society, successfully got then-Gov. Andrew Cuomo, an avowed car guy, to not only support CP but become a champion. Kathy Hochul, are you paying attention?
In February 2019 the first congestion charges were applied to taxis, Ubers and Lyfts south of 96th St., followed by legislation to charge all drivers entering Manhattan south of 60th St. This month the federal government is expected to give final approval of the MTA's 4,000-page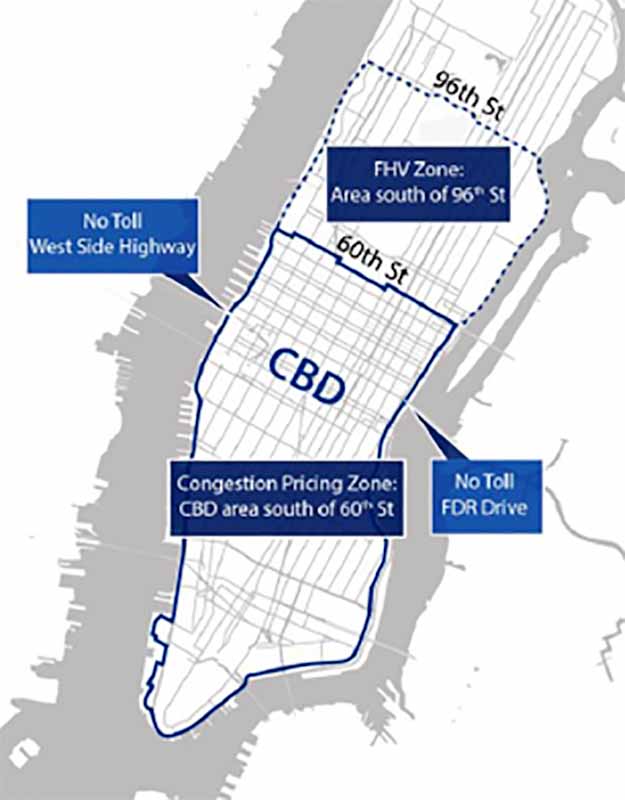 Environmental Assessment document. So why aren't I breaking out the champagne? Answer: "Chicken Littles" who warn of calamity and politicians (often interchangeable).
The "Chicken Littles" claim the city will collapse with CP as if it is something never seen by humankind. London, Stockholm, Milan, Singapore and a dozen other cities have successfully implemented CP and are thriving. Closer to home we've had our own version of CP with every car to Staten Island tolled for nearly a century. Additionally, all drivers from New Jersey to New York have been charged since 1927. In fact, all East River bridges were tolled from 1883 to 1911. Just in the New York Metropolitan Region we have a score of tolled facilities including 17 bridges and tunnels, the NJ Turnpike, Garden State Parkway and NYS Thruway.
Even though the MTA has yet to decide on the details of the plan, the bellyaching is palpable. Streetsblog counted 120 distinct groups asking for exemptions including civil servants, cops, musicians, residents of every or any borough, people with cancer and other serious diseases, parents and a hundred plus more. Reminds me of the New Yorker cartoon with two dogs conversing and one says, "I would not be opposed to a cat tax"— everyone wants the other guy to pay.
I canvassed the tolling authorities in our region and found very few exemptions. My suggestion is don't reinvent the wheel: follow the current protocol of the MTA or the Port Authority, sans exclusions for employees and retirees.
The loudest wailing against CP comes from the Garden State—and they have a solid argument when it comes to the Lincoln and Holland tunnels, where cars already pay up to $14.75. They should get a credit, as should users of the two other tolled tunnels, the Midtown and Battery. But not users of the George Washington Bridge.
N.J. Gov. Phil Murphy calls it a money grab and double tolling. The state's senior senator, Bob Menendez, has authored the Stop NJ Congestion Act also claiming charging a toll at the GW Bridge coupled with the CP Zone charge (Manhattan south of 60th St.) would amount to double taxation. Never mind their own state has more double and triple tolling than any other, with drivers routinely taking the Garden State Parkway (tolled) into the NJ Turnpike (tolled) across the Hudson River (tolled). And never mind Menendez's own website which highlights, "Bob knows that we need bold action on climate change, and we need it now." He's right, we need action now.
As I said, this is far bigger than just a New York strategy to cope with traffic congestion and reduce pollution. If we are successful, every major city in the Americas from Buenos Aires to Quebec will be encouraged to use road pricing as a tool to protect our planet. As Sinatra sang, "It's up to you New York, New York."
About the author: Sam Schwartz is a former NYC traffic commissioner