New Rochelle Picks Planning Partner To Reimage Downtown Transit Center
NEW ROCHELLE, NY—The City of New Rochelle announced on May 12 the selection of Brooklyn, NY-based FXCollaborative to transform the city's Train Station and Transit Center located in its redeveloping downtown area. As the busiest stop on the Metro-North New Haven line, New Rochelle's historic train station has long been an anchor through the decades.
Chosen after a competitive RFP process, FXCollaborative is an architecture, planning, and design firm with extensive experience in designing transportation hubs and urban landscapes. The firm's expertise in creating sustainable and accessible public spaces will be invaluable in helping New Rochelle achieve its goals of promoting equitable transportation and restoring vital connections to surrounding neighborhoods, connecting the new developments and residential buildings in the downtown, city officials stated.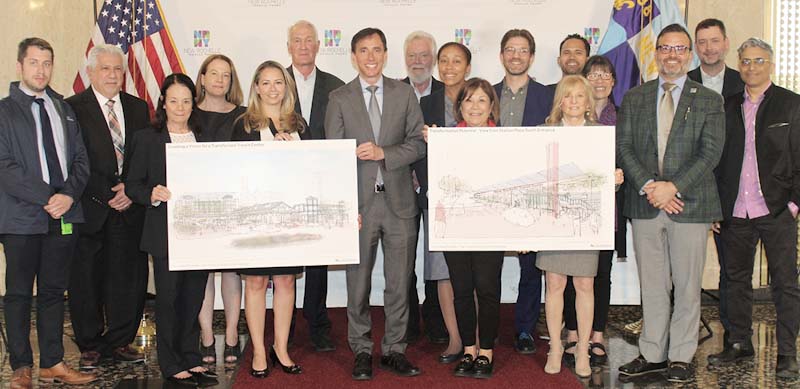 The New Rochelle train station currently services more than 6,000 outbound riders per weekday, and is the only Amtrak station stop in Westchester. That number will increase significantly with the completion of the MTA's Penn Access project in 2027, which will make New Rochelle the only city to offer direct access to both the East and West sides of Manhattan.
"This project represents a major opportunity to create a community hub connected to surrounding neighborhoods and provides venues for public events and activities," said Mayor Noam Bramson.
City Manager and Chair of the IDA Kathleen Gill, Esq., added that the partnership with FXCollaborative represents a major step forward in our efforts to create a more accessible and connected downtown area by improving walkability and enhancing transportation options. "We are creating a more livable and sustainable city that benefits everyone who lives, works, and visits here," she said.
The project will examine the entire transit center campus—from Station Plaza North to South, and from North Avenue to Memorial Highway and Division Street—as well as the West End neighborhood connection. The redesign of the transit center will complement other ongoing major initiatives such as "The LINC," which will transform an overbuilt highway into a walkable, bicycle-friendly street and linear park. The LINC development process is a significant investment to provide safe convenient connections between the Lincoln Avenue Corridor and the transit center and downtown.
Work Begins on Mount Vernon's $9M Third Street Sewer Project
MOUNT VERNON, NY—Construction work has commenced on a $150-million project to address long-standing water infrastructure problems in the City of Mount Vernon.
The state announced on May 11 that work had begun on the $9-million Third Street Sewer Project which will ensure reliable wastewater service and enhanced quality of life for more than 4,100 residents in Mount Vernon impacted by broken sewer infrastructure lines. Joining Gov. Kathy Hochul  at a briefing announcing the start of the initiative were Mount Vernon Mayor Shawyn Patterson-Howard and Westchester County Executive George Latimer.
The New York State-Westchester County-City of Mount Vernon partnership was memorialized in a MOU in April 2022 to expedite priority projects and outline roles, responsibilities, and available funding for the city-wide effort. The MOU formalizes the three-way partnership between the City of Mount Vernon, Westchester County, and New York State, including the use of $9 million in Clean Water Infrastructure Act funds for engineering, design, and construction work associated with the Third Street Sewer Project.
The Third Street Sewer project is breaking ground after an accelerated planning and design process and will ensure reliable wastewater service for the 4,100 nearby residents currently minimally served by temporary pumps and a makeshift system staged in the middle of Third Street. Further improvements across the city are set to take place in phases over five to seven years.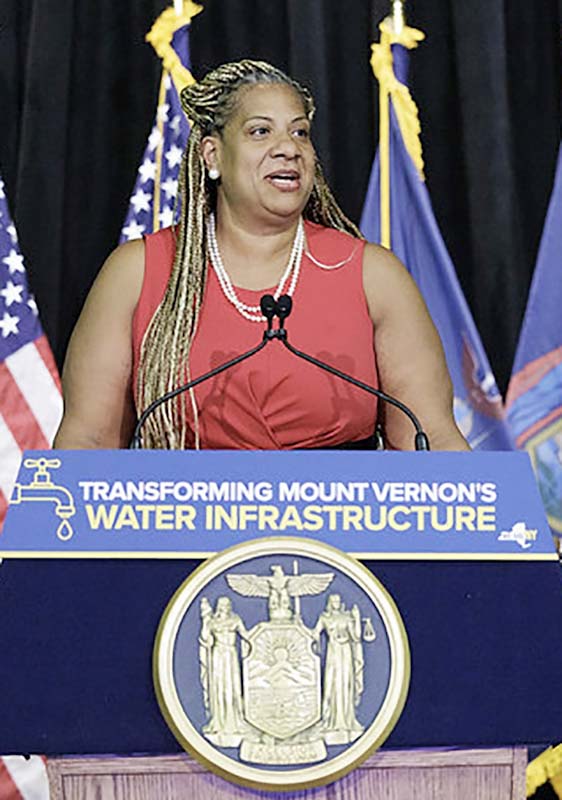 Westchester County Executive Latimer said, "The start of construction on the Third Street Sewer Project marks a major milestone in our historic partnership, and enhanced quality of life for more than 4,100 residents here in Mount Vernon."
Mount Vernon Mayor Shawyn Patterson-Howard added, "The Third Street Sewer Project is a collaborative effort between the City of Mount Vernon, the State of New York, and Westchester County. It aims to replace aging sewer infrastructure, address capacity issues, and mitigate the risk of sewer backups and related environmental concerns. The project's successful implementation will not only enhance public health and safety but also contribute to the overall revitalization and sustainability of our city."
Projects began immediately last year and are ongoing to provide an additional $6 million from the Environmental Facilities Corporation to fund 33 priority repair projects and $10 million from the Department of Environmental Conservation for the assessment, remedial design, and full repair of the "Outfall 24" collection line that discharges raw sewage to the Hutchinson River. EFC dedicated an additional $2 million for engineering consultant services to accelerate work. The City of Mount Vernon and DEC are also undertaking a $1-million asset management program to inventory, assess, and track the city's water infrastructure and help create a plan to fund and maintain Mount Vernon's water quality infrastructure over the long-term.
Lead Pipe Replacement
The New York State Department of Health is actively working with the Mount Vernon Board of Water Supply on the $1-million lead service line inventory project. The $1-million grant financing agreement with EFC was approved by Mount Vernon on Sept. 14, 2022, and MVBWS has begun their inventory efforts by reviewing its archive of more than 12,500 water accounts. Of the approximately 8,300 service line records reviewed to date, approximately 5,300 indicate the presence of a lead portion. In addition to the full archive review, anticipated to be completed by the fall of 2024, MVBWS launched community engagement efforts in April with public information mailings and the creation of a lead service line program website, as coordination with the public on this initiative is crucial to its long-term success. The lead service line inventory is a key step to comprehensive action to replace the lead lines.
Mount Vernon Healthy Homes Initiative
Construction has also begun on the first homes awarded under the Mount Vernon Healthy Homes pilot program. The $3-million program, administered by New York State Homes and Community Renewal's Office of Resilient Homes and Communities, is in addition to the state's $150-million investment and is installing residential sewer-related improvements in neighborhoods at high-risk for wastewater backflow.
Residents that are approved to participate in Mount Vernon Healthy Homes will be eligible to receive the following improvements: new sanitary sewer backflow prevention device, wastewater drainage improvements, new whole house water filtration system, replacement of up to two low-flow toilets, clean-up and remediation after damage or mold from wastewater flooding and other environmental remediation of hazards such as lead paint or asbestos.
Don Ranshte Joins GCA To Direct Government Relations
NEW YORK–Don Ranshte has joined the General Contractors Association of NY as Director of Government Relations. Most recently, Mr. Ranshte spent nine years as executive vice president of the  Building Trades Employers' Association (BTEA), where he worked alongside contractor members on the building side of the construction industry.
Mr. Ranshte has an extensive background in the building construction industry, having worked for more than a decade at the New York City Department of Buildings in the Bloomberg Administration as director of Community Affairs, Intergovernmental Affairs and Executive Analytics.
He also served as New York City Loft Board Chair, and he collaborated with city and state regulators to make housing units safer for its residents. He brings to the GCA nearly 25 years of advocacy, government and policy experience, having also worked for legislators in the New York State Assembly, the State's Office of the Comptroller and the New York City Council.