Gateway Project Secures $292M Federal Grant
WASHINGTON—On Jan. 31, President Biden and Transportation Sec. Pete Buttigieg announced that the Biden-Harris Administration had awarded nearly $1.2 billion from the new National Infrastructure Project Assistance (Mega) discretionary grant program for nine projects across the country.
Among the awards was $292 million for the Hudson Yards Concrete Casing, Section 3. The award will help fund the final section of concrete casing intended to preserve future right-of-way for the new Hudson River Tunnel and lay the groundwork for the much-anticipated Gateway Project.
Once completed, the future Hudson Tunnel project will improve commute times, Amtrak reliability on the Northeast Corridor (NEC), and support the NEC regional economy, which is home to 17% of the U.S. population. Amtrak expects the Hudson Tunnel project will result in 72,000 direct, indirect, and induced jobs during construction with union partnerships for job training.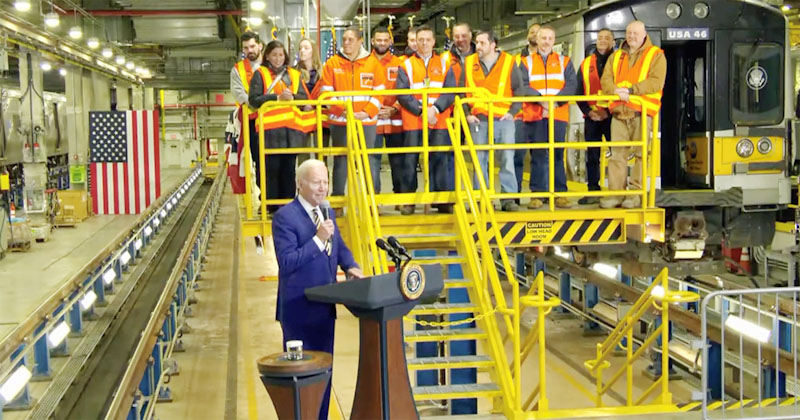 "From the Hoover Dam to the Golden Gate Bridge, some infrastructure projects are so large and complex that they defy traditional funding systems—and so significant that they become iconic parts of the American landscape," said Sec. Buttigieg. "After receiving over one hundred applications, we are proud to fund these nine infrastructure megaprojects across the country to create jobs, strengthen our supply chains, expand our economy, and renew America's built landscape."
The Mega grant program, created by the Bipartisan Infrastructure Law, funds projects that are too large or complex for traditional funding programs. Eligible projects include highway, bridge, freight, port, passenger rail, and public transportation projects that are a part of one of the other project types.
The Mega program will invest a total of $5 billion through 2026 to help rebuild the United States' infrastructure. For this application cycle specifically, the USDOT received applications requesting approximately $30 billion in funding, far exceeding the $1 billion of funding available in 2022.
Construction Material Prices Diverge Sharply As Demand Shifts to Factory, Infrastructure
WASHINGTON—Contractors encountered a wide range of price changes for key construction inputs in January, with steep increases for fuel, concrete, and gypsum products offsetting sharp declines in lumber and steel prices, according to an analysis by the Associated General Contractors of America of government data released earlier this month. Association officials said a lack of clarity from officials in Washington as to what materials may be used on federally assisted projects is adding to price disparities.
"Producer price indexes for construction inputs moderated over the past year but many items increased again in January," said Ken Simonson, the association's chief economist. "With demand shifting among project types, prices for many inputs are likely to diverge further in 2023."
The producer price index for inputs to new nonresidential construction—the prices charged by goods producers and service providers such as distributors and transportation firms—jumped 0.9% last month but rose by a relatively modest 4.3% from January 2022. Falling demand for new homes drove the index for new single-family construction down to a year-over-year increase of just 0.2%.
The increase in January was driven by several inputs. The producer price index for diesel fuel soared 7.1% for the month and 22.8% over 12 months. The index for cement leaped 7.7% in January and 17.8% compared to a year earlier. That, in turn, fueled an increase in the index for concrete products of 1.8% for the month and 14.8% year-over-year. The indexes for architectural coatings, such as paint, gypsum building materials, such as wallboard, were flat for the month but climbed 15.8% and 11.1%, respectively over the year.
These increases more than offset several declining prices. The producer price index for steel mill products slid 2.3% for the month and 30.1% over 12 months. The index for lumber and plywood was unchanged in January but fell 30.8% from a year earlier.
Trade officials said that left unanswered are many questions about what materials qualify to be used on infrastructure projects funded by the Bipartisan Infrastructure Law. The continuing uncertainty about eligible goods will make it hard for contractors to find materials to complete infrastructure projects, raise the cost of those materials and lead to delays in completing the work.
"Unfortunately, more than 15 months after enactment of the infrastructure law, the administration's guidance about materials is still confusing, contradictory, and incomplete," said Stephen E. Sandherr, the association's chief executive officer. "Uncertainty about eligible materials threatens to delay needed infrastructure projects and make them much more expensive."
Nominations Open for Industry Leader, Innovator For 2023 Transportation Development Hall of Fame
WASHINGTON—The American Road & Transportation Builders Association's Foundation is accepting nominations for the 2023 Transportation Development Hall of Fame class. Launched in 2010, the Hall "honors individuals or families from the public and private sectors who have made extraordinary contributions to U.S. transportation development during their careers."
There are two categories:
Transportation Design & Construction Industry Innovators: Honors the people who discovered or created a "game changing" product or process that significantly advanced transportation design, construction and/or safety.
Transportation Design & Construction Industry Leaders (Individuals or Families): Recognizes individuals and families who have made significant contributions—beyond just having successful businesses or careers—that have notably helped advance the interests and image of the transportation design, construction, and safety industry.
Nomination forms, available at artbahalloffame.org, are due by close of business Wednesday, March 1.
Anyone can nominate a candidate. ARTBA membership is not required. Individuals can be living or inducted into the Hall posthumously.
The 2022 and 2023 Hall classes will be recognized at a May 15 dinner in the Nation's Capital during ARTBA's Federal Issues program.
Established in 1985, the ARTBA Foundation is a 501© 3 tax-exempt entity designed to "promote research, education and public awareness" about the impacts of transportation investment. It supports an array of initiatives, including educational scholarships, awards, roadway work zone safety training and certificates, special economic research and reports, and an exhibition on transportation at the Smithsonian National Museum of American History.
Sen. Gillibrand Announces Infrastructure Funding To Improve NYS Roads, Address Traffic Deaths
NEW YORK—U.S. Senator Kirsten Gillibrand joined Reps. Adriano Espaillat, Dan Goldman and Nydia Velázquez, New York City Department of Transportation Commissioner Ydanis Rodriguez, New York City Council Members Chris Marte and Carlina Rivera, New York City Council Majority Whip Selvena N. Brooks-Powers, Assemblymember Grace Lee, and local advocates on Feb. 6 to announce more than $37 million in grant awards through the Safe Streets and Roads for All (SS4A) program, which will help improve road safety and address traffic fatalities throughout New York. This includes more than $21 million for projects in New York City.
The SS4A grant program, established by the historic Bipartisan Infrastructure Law, will provide $5 billion in grants over the next five years to prevent roadway deaths and serious injuries. New York City will receive a total of $21,481,306 through the program this funding cycle, with roughly $18 million going toward improving a segment of Delancey Street.
The funds are part of Senator Gillibrand's continuous efforts to work with officials at all levels to upgrade infrastructure and lower pedestrian fatalities. Senator Gillibrand and Representative Espaillat are also calling on the Office of Management and Budget to include funding for the Stopping Threats on Pedestrians (STOP) Act in the President's budget for Fiscal Year 2024. Passed in the Bipartisan Infrastructure Law, the STOP Act authorizes $5 million in annual grants for bollards and barricades to protect pedestrian spaces from large vehicles but has not yet been funded.
"I am proud to have worked to secure these millions of dollars in funding that will go toward improving roads and preventing future traffic tragedies in our communities," said Sen. Gillibrand. "Revamping our transportation infrastructure with innovative technology to upgrade street design, traffic sensors, and bikeways will promote safety for drivers and pedestrians alike. I'll keep fighting to bring federal dollars back home to New York."