Executive Budget Plan to Invest Billions In Clean Water, Climate Change, Housing
By JOHN JORDAN – February 27, 2023
ALBANY—New York Gov. Kathy Hochul's $227-billion Fiscal Year 2024 Executive Budget is now being debated in the halls of the State Legislature here and at stake are billions of dollars earmarked for climate change, transportation, clean water and housing projects throughout the state.
The governor recently highlighted a host of funding initiatives that would benefit the construction and building industries. Her budget address on Feb. 1 was generally met with support from construction and building interests. Her plan Is to fund clean water and clean energy projects, as well as dramatically increase the state's workforce housing stock.
Overall, the construction industry applauded the governor's environmental funding initiatives, along with her plan to add 800,000 new housing units statewide over the next decade.
"We applaud Gov. Hochul's commitment to clean water infrastructure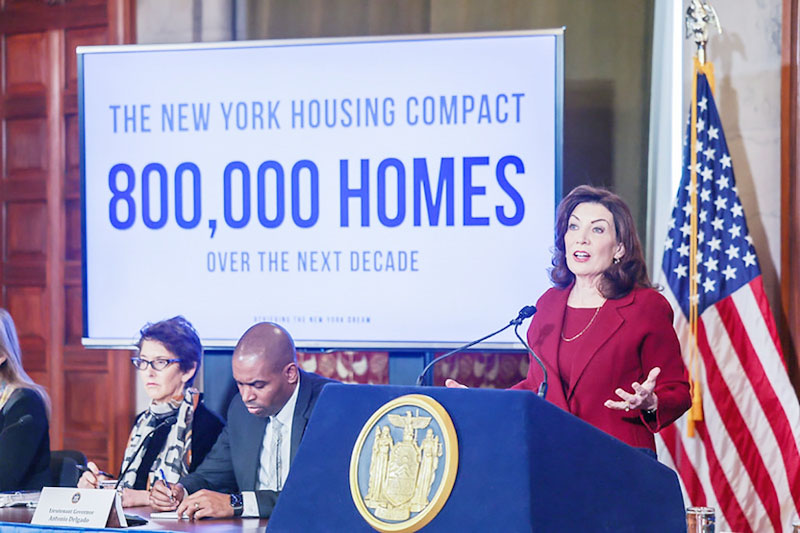 demonstrated by the authorized increase of $500 million of clean water infrastructure funding," stated John Cooney, Jr., executive director of the Construction Industry Council of Westchester & Hudson Valley, Inc. "This critical investment in our state's infrastructure will ensure New Yorkers have access to clean drinking water and will allow municipalities to invest in efficient and effective wastewater treatment strategies."
He said the CIC supports the administration's effort to make sure all local municipalities can access these critical funds.
Carlo A. Scissura, Esq., president and CEO of the New York Building Congress, also offered high praise for the governor's proposed Executive Budget. "Gov. Hochul's executive budget is infrastructure and housing forward, addressing today's critical issues and continuing to move us toward more growth, fairness, and opportunity in the year ahead," he said. "The governor rightly prioritizes initiatives that the Building Congress has long advocated for, including the extension of the 421-a tax abatement for affordable housing projects already underway and new incentives encouraging transit-oriented development across New York."
However, it should be noted that heavy highway construction industry trade groups have requested the governor increase funding for state roadway infrastructure work.
Mass Transit, DOT Highway Lettings
In 2022, Gov. Hochul advanced the completion of the Long Island Rail Road's Third Track project, broke ground on the Metro-North Penn Station Access project, and pushed other major projects forward, including the Second Avenue Subway and the Interborough Express.
The Executive Budget proposal calls for the following funding for mass transit: implementing more than $400 million in MTA operating efficiencies to reduce expenses and improve service to customers; increasing the top rate of the Payroll Mobility Tax (PMT), generating an additional $800 million annually; increasing New York City's share of funding for paratransit services generating nearly $500 million annually; providing $300 million in one-time state aid to address the extraordinary impact on MTA operating revenues; a $150-million annual commitment from the MTA for additional safety personnel; dedicating a share of $1.5 billion in the licensing fees if three casino licenses are awarded, and a share of an estimated $462 to $826 million in annual tax revenue from the casinos for MTA operations.
Her transportation plan calls for $9.1 billion in mass transit operating support, including $809 million in operating support for non-MTA authorities and nearly $7 billion for the second year of a record $32.8 billion, five-year DOT Capital Plan to improve highways, bridges, rail, aviation infrastructure, non-MTA transit, and DOT facilities including $1.2 billion for local roads and bridges; $1.3 billion for a commuter-first Penn Station; $20 million for bus electrification for non-MTA authorities, and $20 million to rehabilitate NFTA's light rail.
The Executive Budget proposes maintaining the Consolidated Highway Improvement Program (CHIPS) and the Marchiselli program at last year's level of $577.8 million. The budget provides the second year of an annual $100 million for the local Pave Our Potholes program, $150 million in highway aid through the PAVE NY program and $200 million to fund local projects from the BRIDGE NY program.
Climate Change, Green Energy Sectors
Gov. Hochul has proposed a total of $5.5 billion in funding to promote energy affordability, reduce emissions, and invest in clean air and water, building on more than $30 billion committed to climate action.
The governor directed the New York State Department of Environmental Conservation and New York State Energy Research and Development Authority to advance a Cap-and-Invest Program to establish a declining cap on greenhouse gas emissions and invest the proceeds in programs that drive emissions reductions and maintain the competitiveness of New York's industries. Included in the Executive Budget is a proposed Climate Action Fund which is expected to deliver more than $1 billion in future Cap-and-Invest proceeds to New Yorkers every year.
The Executive Budget includes a proposal to advance renewable generation in New York State by granting the New York Power Authority the ability to help the state meet its aggressive renewable energy targets. The Executive Budget also includes nation-leading building decarbonization proposals that will prohibit fossil fuel equipment and building systems in new construction, phase out the sale and installation of fossil fuel space and water heating equipment in existing buildings, and establish building benchmarking and energy grades. The new construction proposal includes certain exemptions such as commercial kitchens. The existing equipment phase out proposal does not impact stoves.
In addition to forthcoming investments from the $4.2-billion Environmental Bond Act passed by voters in 2022, the Executive Budget includes: $500 million in clean water infrastructure funding and $400 million for the Environmental Protection Fund and $200 million for the Office of Parks, Recreation and Historic Preservation to invest in enhancing the improving state parks. The budget also proposes a new grant program to provide funding for municipalities to investigate and remediate sites contaminated with emerging contaminants like PFAS.
Economic Development
The Executive Budget adds $425 million to invest in local economies, including $225 million in grant funding and tax credits for the Regional Economic Development Councils and $100 million each for the Downtown Revitalization Initiative and NY Forward; $60 million in grant funding to support locally-sourced school meals and food retailers in underserved communities and regions; $58.5 million to support the state's tourism industry, including funding to promote regional attractions and matching grants to assist counties and municipalities with local tourism efforts.
Other economic development-related funding programs include: $45 million to be made available to the Governor's Office of Semiconductor Expansion, Management, and Integration to lead the growth of the state's semiconductor industry. Also, the budget includes $18.8 million to rebuild New York State's government workforce through critical initiatives to be administered through the Department of Civil Service and Office of General Services;
'New York Compact' Housing Plan
The "New York Housing Compact" looks to address the housing shortage in New York State by building 800,000 new homes over the next decade.
The plan sets housing target growth rates at 3% for downstate municipalities and 1% for upstate communities. The plan also provides incentives to facilitate transit-oriented development, removes barriers to housing creation, and incentivizes new construction.
The governor's budget also had some welcome news for New York City developers as she has proposed extending the expired 421-a construction deadline through 2030. Currently, the deadline would mandate all construction that would fall under the tax exemption be completed by June 2026.
Other key facets of the governor's New York Housing Compact are:
 $250 million for infrastructure upgrades and improvements to support local housing growth and development;
 $20 million for planning and technical assistance to support local rezoning efforts and other solutions to drive growth;
 $15 million for a new statewide data collection effort;
 $4 million to create a new Housing Planning Office within Homes and Community Renewal to support localities in meeting their housing goals and coordinate planning efforts across the state;
 $39.8 million to reduce the risk of lead exposure in rental properties outside of New York City, including $20 million in assistance to property owners for building remediation;
 $50 million for the creation of a statewide Homeowner Stabilization Fund to provide critical home repairs in 10 key communities with a high concentration of low-income homeowners of color.
The budget also expands HCR's Tenant Protection Unit as part of a multi-year investment to provide targeted support for tenants in upstate New York.
Reaction from the business and housing sectors was mostly positive. For example, Tony D'Anzica, president of the Hudson Gateway Association of Realtors, termed the governor's compact plan: "a common-sense approach to dealing with the lack of housing and housing affordability at the same time."
Mr. D'Anzica noted that he supports the proposal to extend the 421a tax exemption construction deadline through 2030.
"With respect to The New York Housing Compact, I would say that it clearly recognizes that there is a public housing crisis in terms of both supply and affordability. Local communities need more tools and incentives that encourage the development of housing models that are more affordable, cost effective, sustainable and transit-oriented," Mr. D'Anzica said. "While the New York Housing Compact is a step forward, many details are still missing. Dealing with these issues requires a dialogue and a close collaboration between both the state and all local communities to address the barriers and delays preventing the development of new and affordable housing."
Timothy Foley, CEO and executive vice president of the Building and Realty Institute (BRI) and member of the Welcome Home Westchester campaign, said, "Westchester County is the poster child for why we need state leadership to help us through our housing shortage. We have so many communities like Ossining, Mamaroneck, Peekskill, Mount Vernon and others that have created transit-oriented developments that are climate-friendly, millennial- and senior-friendly, and have helped revitalize their downtowns, stabilize property taxes, and boost their local economies. We've also seen a handful of villages and towns move forward with thoughtful proposals to allow for accessory dwelling units. But just this month, we've also seen Greenburgh slam the breaks on the development of moderate-to-affordable condo and co-ops by increasing property taxes on them, and Pleasantville enact a moratorium on building housing not to address a specific problem with schools or parking near the train station or some other identifiable issue, but simply because the loudest voices of the community demanded it."
He added, "The governor's approach offers a lot of options for municipalities to choose from, but the important point is that everyone needs to be part of the solution. 'The way things have always been done' is what got us into this mess. It's time for something new."