Work Begins on $6B Champlain Hudson Power Express Transmission Line Job
By JOHN JORDAN – December 15, 2022
ALBANY—In the past few weeks work has begun on two major green energy projects, including the $6-billion Champlain Hudson Power Express 339-mile transmission line project that, when completed, will deliver reliable clean energy from Hydro-Québec in Canada directly to New York City.
The construction trades in the New York City metro region, including the Hudson Valley, as well as other parts of New York State, will participate in the project as the developer Transmission Developers Inc. has executed a Project Labor Agreement with the New York State Building and Construction Trades. The project is expected to bring $3.5 billion in economic benefits to New Yorkers while creating nearly 1,400 union jobs during construction.
Also, Champlain Hudson Power Express is projected to deliver 1,250 megawatts of clean hydroelectricity—enough to power over one million homes, and will reduce carbon emissions by 37 million metric tons statewide, the equivalent of taking more than a half a million cars off the road every year. The transmission line is expected to be fully operational in the spring of 2026.
The commencement of construction comes after the New York State Public Service Commission approved the project's first Environmental Management and Construction Plan for a 17.6-mile stretch of the transmission route between Putnam and Whitehall, NY. The initial stage of construction activities, including site preparation and construction of a laydown yard, will begin in Washington County, near Whitehall, and is anticipated to continue through November 2024.
State officials noted that Champlain Hudson Power Express's contractors, Kiewit, NKT, and Hitachi are executing Project Labor Agreements with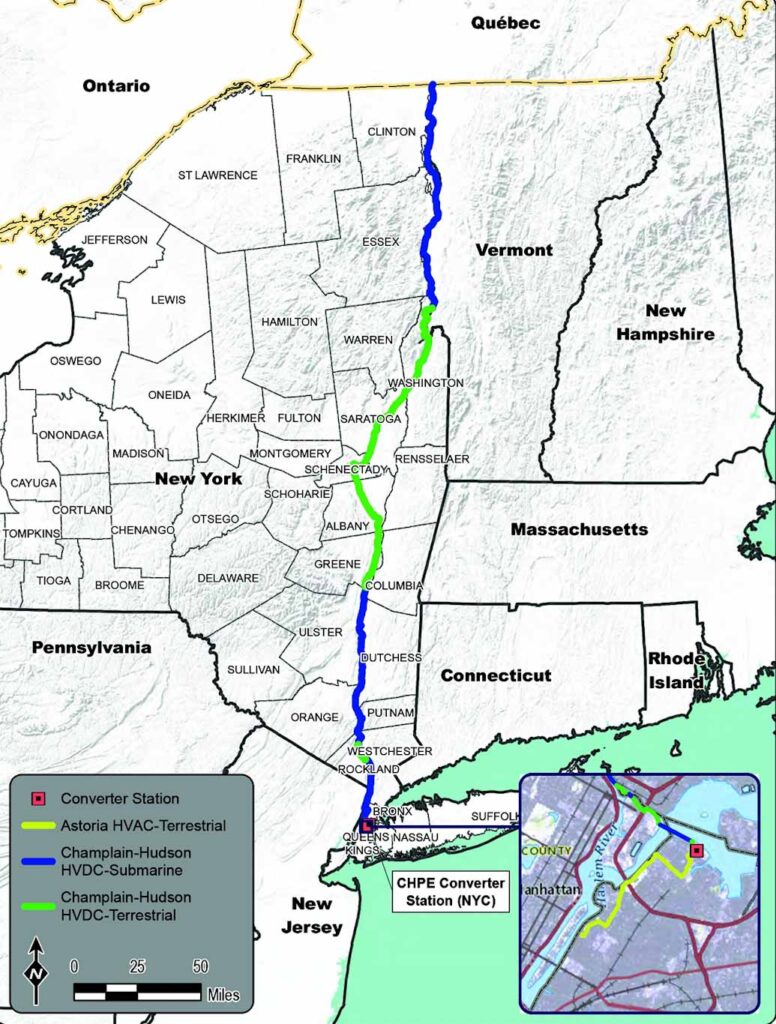 electrical and building trade unions for the line's construction by union workers. Covering more than 15 different local union chapters across 22 separate trade disciplines, the PLAs are expected to total more than three million work hours combined. In October, the unions and the Champlain Hudson Power Express project team agreed to the first PLA, reflecting almost two million of those labor work hours with work expected to begin in late 2022.
Among the trades participating in the 147-mile upstate underground portions of the project are Operating Engineers, Laborers and Teamsters. During the project construction, the contractors have committed to making efforts to employ Minority and Women-Owned Business Enterprises and utilize Service-Disabled Veteran-Owned Businesses, including focused efforts to include members of disadvantaged communities in the labor force throughout the project areas. Additional PLAs are expected to be executed in the coming months for the submarine portion of the transmission line, as well as the construction of Champlain Hudson Power Express's converter station in Astoria, Queens, state officials added.
As the project progresses, Champlain Hudson Power Express stated that it will work with unions and training programs to promote training and apprenticeship opportunities for workers in underserved communities. In addition to these efforts, the Champlain Hudson Power Express Green Economy Fund has been established to provide $40 million for climate industry training programs, designed to further stimulate new career opportunities for local and underserved communities along the planned route with a focus on building skills to succeed in the evolving green economy. Opportunities for secondary jobs becoming available as a direct result of this project will be advertised on the Champlain Hudson Power Express website and promoted through partnerships with local community leaders and civic organizations.
At the Nov. 30 groundbreaking event at Whitehall Castle, Gov. Kathy Hochul noted that the Champlain Hudson Power Express will help the state obtain 70% of electricity statewide from renewable sources by 2030 on the path to a zero-emission grid. She was joined by Transmission Developers CEO Donald Jessome who praised the effort of public officials, community partners, business organizations, labor unions and environmental groups.
Champlain Hudson Power Express is the first of two projects to start construction under the state's first-of-its-kind renewable energy and transmission program, known as Tier 4, that is administered by the New York State Energy Research and Development Authority. The program aims to responsibly deliver a significant increase of renewable energy to New York City, an area of the state that relies on aging fossil fuel-fired generation located largely in underserved communities, experiences the most significant air quality issues and health impacts from fossil fuel emissions, and has a marked need for improved grid reliability and resiliency.
In the coming weeks, Champlain Hudson Power Express will begin to disburse funding of nearly $30 million, including: $12 million to industrial development agencies in counties hosting the transmission line; the first $12 million through its $117-million Environmental Trust Fund to finance projects that enhance New York's eastern corridor waterways; the first $2.5 million to kickstart the $40-million Green Economy Fund to support workforce development and training initiatives in underserved communitie and $2 million to support the construction of the Randall's Island Nature Center and Queens Variety Boys and Girls Club STEM lab/programming.
The Champlain Hudson Power Express and Clean Path NY contracts were approved by the Public Service Commission in April 2022, making them the largest transmission infrastructure developments in New York State in the last 50 years. Together, these projects are capable of generating an expected 18 million megawatt-hours of clean energy per year, or more than a third of New York City's annual electric consumption, while delivering up to $5.8 billion in net societal benefits statewide, inclusive of greenhouse gas reductions and air quality improvements and 10,000 jobs statewide with $8.2 billion in economic development investments, including in disadvantaged communities.
On Dec. 9, state officials announced the start of construction on Smart Path Connect, a transmission project led by the New York Power Authority and National Grid NY to rebuild and strengthen approximately 100 miles of transmission in the North Country and the Mohawk Valley.
The Smart Path Connect project will help unbottle existing renewable resources in the region and yield significant production cost savings, emissions reductions, and decreases in transmission congestion. It is estimated to result in more than 1.16 million tons of CO2 emissions avoided annually on a statewide basis and an annual reduction of an estimated 160 tons of NOx emissions. New York Power Authority estimates the project will provide more than $447 million in annual savings in northern New York and create hundreds of clean energy jobs during construction.
Smart Path Connect is a multi-faceted project that includes rebuilding approximately 45 miles of transmission eastward from Massena, NY to the Town of Clinton, which will be led by the New York Power Authority; and rebuilding approximately 55 miles of transmission southward from Croghan to Marcy which will be led by National Grid NY. The work will involve construction of several new substations as well as refurbishment of several existing substations.
The two segments will be connected by Smart Path, a rebuild of the Moses to Adirondack transmission lines, which began in 2020 and is slated to conclude next year. Like Smart Path, Smart Path Connect falls primarily within existing transmission rights-of-way in Clinton, Franklin, St. Lawrence, Lewis and Oneida counties. When completed in 2025, Smart Path Connect and Smart Path will form one continuous 345 KV transmission line between Clinton and Oneida counties.
Following a competitive bidding process, the New York Power Authority Board of Trustees approved a six-year, $276 million contract to Michels Power, Inc., for the construction of the project's transmission lines and another five-year, $104 million contract in May for work on the project's substations.