Construction Begins on $3.2B Penn Station Access Project
By JOHN JORDAN – December 15, 2022
NEW YORK—Touted as the largest expansion of Metro North train service in its history—construction on the $3.18-billion Penn Station Access project has begun that will add four new Metro-North stations and bring rail service within one mile of 500,000 residents. The four new stations will be in Hunts Point, Parkchester/Van Nest, Morris Park, and Co-Op City and will be accessible to all in accordance with the Americans with Disabilities Act.
The expansion will use Amtrak's Hell Gate Line to access Penn Station, optimizing existing infrastructure and minimizing the construction impact on surrounding communities. Metro-North trains stopping at the four new Bronx stations will serve as an extension of the New Haven Line from the New Rochelle Station, offering transit options in the East Bronx to Midtown Manhattan as well as points in Westchester and Connecticut.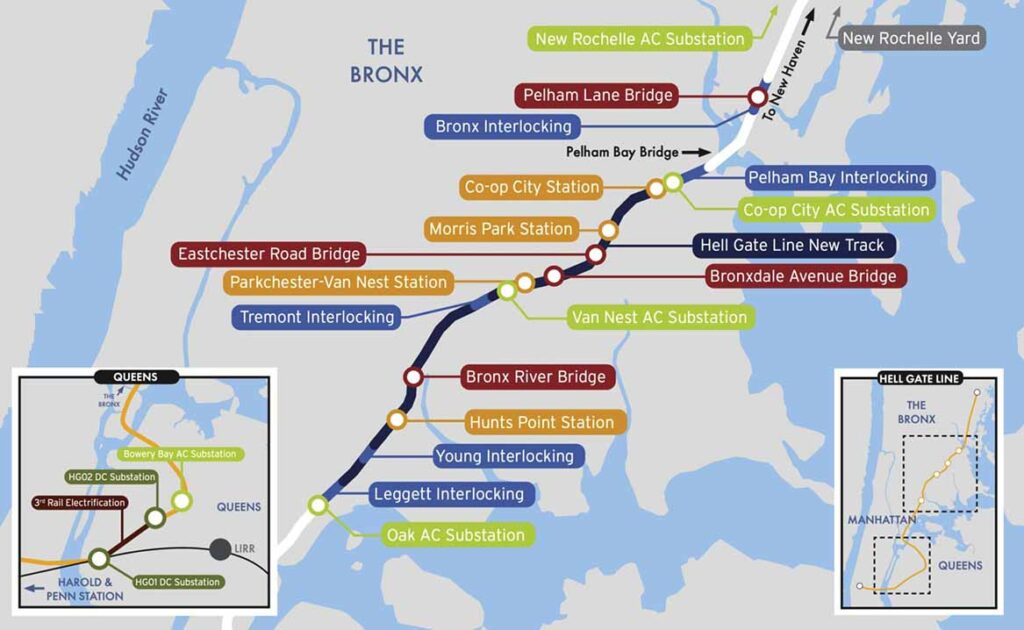 In Sept. 2021, the Federal Transit Administration issued a Finding of No Significant Impact, allowing the project to proceed. On Dec. 29, 2021, the MTA awarded the Design-Build contract to the joint venture of Halmar International, LLC and RailWorks and was valued at approximately $2.87 billion. The total cost of the project is projected at $3.18 billion, following a Capital Plan amendment announced in July to include additional funding for expansion of the New Rochelle Yard.
One of the first project elements to take place will be the construction of the Leggett interlocking, one of the four new interlockings. The Leggett interlocking will be located south of the proposed Hunts Point Station. Construction of actual passenger rail stations is expected to begin in 2024. The anticipated completion date for the Penn Station Access Project is 2027.
Metro-North Railroad President and Long Island Rail Road Interim President Catherine Rinaldi said, "Grand Central Madison is bringing the LIRR, Metro-North, and the subway under one roof for the first time. Bringing Metro-North service to Penn Station will connect the subway, LIRR, NJ Transit, PATH, and Amtrak, offering regional connections unlike anywhere else in the country. The completion of all transportation projects underway will redefine what transit looks like in the Tri-state area and provide essential transportation to communities with limited options. Today, we celebrate a milestone that brings us closer to that reality."
In addition to four new ADA stations, the project will turn the existing two-track railroad into a largely four-track railroad, with more than 19 miles of new and rehabilitated track work. The expansion to a four-track railroad will provide service flexibility to support the increase in Metro-North and Amtrak trains expected to operate through the area and allow for workarounds in the event of a service disruption, MTA officials stated.
The additional service necessitates an expansion of Metro-North's New Rochelle Yard in Westchester, along with modernization of signal, power and communication infrastructure. This will consist of four new interlockings, five new substations, reconfiguration of the Pelham Bay interlocking and upgrade of two existing substations.
The project also includes rehabilitation work to repair and strengthen the following four bridges to carry additional train traffic: Bronx River Bridge, Eastchester Road Bridge, Bronxdale Avenue Bridge and Pelham Lane Bridge.
Project Benefits
Significantly cuts down travel time. East Bronx passengers traveling to Penn Station can save up to 50 minutes each way, and those traveling to Connecticut can save up to 75 minutes. As an example, from the proposed Co-Op City station to Penn Station it takes about 75 minutes to reach Penn Station, with completion of Penn Station Access, the travel time is expected to be only about 25 minutes. Current New Haven Line riders with destinations on the west side can save up to 40 minutes per day.
Increase in reverse commuting opportunities. Reverse commuters will be able to more easily travel from Penn Station to Hunts Point, Parkchester/Van Nest, Morris Park, Co-op City, Westchester and southern Connecticut.
Local economy benefits and improved sustainability. Improving access to the East Bronx, Westchester and Connecticut will benefit local educational campuses, medical institutions, and retail centers. By greatly reducing travel times, Penn Station Access will make public transit a viable, attractive travel alternative, encouraging drivers to switch to mass transit, reducing traffic congestion and emissions.
With the additional options, Bronx residents and also those coming from the greater New York City area, Westchester, Connecticut, and the Northeast region, will be able to more easily reach destinations throughout the Northeast with connections to NJ Transit, LIRR, PATH, Amtrak and NYCT subways.