New Rochelle Names Kathleen Gill City Manager, to Succeed Strome
NEW ROCHELLE, NY—The New Rochelle City Council named Kathleen Gill to serve as New Rochelle's next City Manager. Ms. Gill will take office on Jan. 1, 2023, following the retirement at the end of this year of long-serving City Manager Chuck Strome. The council's selection completes a nationwide recruitment process that included interviews with multiple candidates.
Ms. Gil's appointment was announced by the City of New Rochelle on Nov. 29.
Ms. Gill steps up in her new role with a lengthy track record of service to the City of New Rochelle where she has been involved in many aspects of municipal administration, according to the City. She joined city government in 1995 as assistant corporation counsel, involved in the challenges of planning and real estate development matters. She was promoted the following year to deputy corporation counsel, a position she held until she became corporation counsel in 2009. In 2015 she was named chief of staff, and was promoted in 2022 to the position of deputy city manager—the role she currently holds.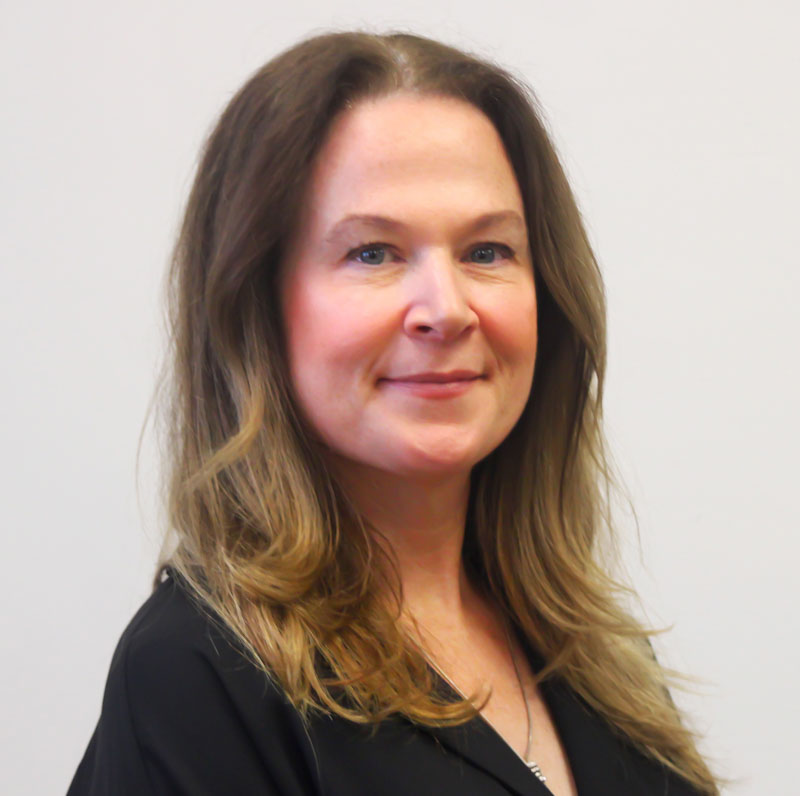 During her varied career, she has also served as General Counsel to Iona College (now University) and in private legal practice.
"I have known Kathleen for 27 years and have been consistently impressed by her intellect, energy and determination to get things done," New Rochelle Mayor Noam Bramson said in a statement. "She has been a valuable asset to the city government, with progressively larger responsibilities, and an unmatched depth and breadth of knowledge about municipal challenges and opportunities. For these reasons, Kathleen is well-positioned to extend New Rochelle's positive progress on multiple fronts. I look forward to working with her to ensure that the coming year—her first as City Manager and my last as Mayor—is successful, both for her new leadership team and for our community as a whole."
Ms. Gill holds a Juris Doctor degree from Pace University Law School, a Master of Science in Urban Planning and Environmental Science from Rensselaer Polytechnic University, and a Bachelor of Arts in Government from Skidmore College.
Thalle Industries' Elmsford Plant Recycling White Plains Mall Debris
ELMSFORD, NY­­—Debris from a defunct shopping center is being recycled into construction materials for one of the Hudson Valley's biggest construction projects.
Thalle Industries' Virtual Quarry in Elmsford, N.Y. is recycling remnants of the former, 50-year-old White Plains Mall, which was recently demolished to make way for new mixed-use residential towers in the heart of White Plains.
Rather than ship the mall's rubble to remote landfills, the tons of debris from the massive demolition are being transported a short distance to the Virtual Quarry, where the debris will be recycled into subbase to be used underneath asphalt roads at Regeneron's $1.8-billion expansion project in Tarrytown, Thalle Industries' officials reported.
The former White Plains Mall will be replaced by Hamilton Green, a $600-million transit-oriented development at 200 Hamilton Ave. in White Plains. Hamilton Green is the latest construction project by the Cappelli Organization and its LRC Construction division.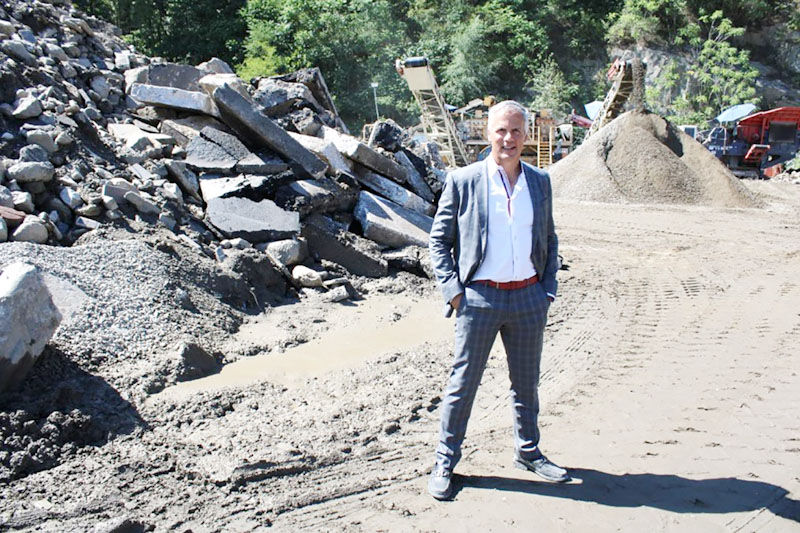 Regeneron's $1.8-billion expansion will enlarge the company's research, preclinical manufacturing and support facilities in Westchester County, creating 1,000 new full-time, high skill jobs.
Skanska USA Awarded $167 Million Williamsburg Bridge Rehab Project
NEW YORK—Skanska USA, a leading global construction and development firm, announced on Nov. 7 it had been awarded a contract by the New York City Department of Transportation to carry out the $167-million rehabilitation of the Williamsburg Bridge, providing needed improvements and replacement of aging components across the structure.
The project will significantly improve transportation flow across one of the major crossings of the East River, connecting Brooklyn to Manhattan.
"We're thrilled to be providing infrastructure improvements to one of New York City's vital East River crossings, which serves thousands of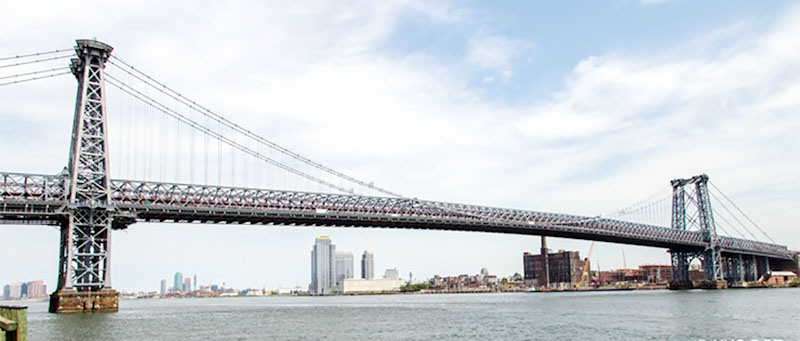 commuters each day, to and from Manhattan and Brooklyn," said Bill Matre, senior vice president and general manager for Skanska USA Civil.
The rehabilitation includes structural steel repairs throughout the bridge superstructure, inclusive of floor beam repairs, a transit hanger retrofit and temporary jacking system, gusset plate repairs, truss bottom chord repairs, top and bottom lateral bracing strengthening, overhead truss diagonal replacements, intermediate towers repairs and transit stringer repairs.
Additionally, the project includes the replacement of modular joints at the anchorages and approach piers and bearing rehabilitation at approach piers, a full replacement of the bridge fire standpipe system and the replacement of the existing bridge asphalt overlay system.
The project commenced in October 2022 and is expected to reach final completion in December 2025.
Grassi Adds Fox to Real Estate Practice
NEW YORK—Evan Fox, CPA, JD, LLM, has joined Grassi as a Tax Partner in the firm's Real Estate Practice, the firm announced on Nov. 14.
His expertise covers a wide range of real estate funds and transactions, including 1031 planning, financial analysis for acquisitions/sales, joint ventures, UPREIT formation, mergers, spin-offs, reorganizations, and financings, for a wide array of clients such as leading real estate owners, operators, investors, institutional funds, REITs, and developers. Mr. Fox has served clients with a broad scope of operations, including residential, commercial, retail, hospitality, mixed use, industrial and infrastructure. Fox also has experience in the affordable housing sector. He recently has been involved in structuring and consulting clients on the implementation of Qualified Opportunity Funds.
Mr. Fox has nearly 15 years of experience working across various industries including real estate, insurance, manufacturing, law firms, technology companies, and investment management. Most recently, he was a Tax Leader at a national accounting firm, and previously, a principal at a leading midsize firm based in New York.
Mr. Fox is a Certified Public Accountant and is licensed in New York State as an Attorney. He obtained his Juris Doctor from Brooklyn Law School, Master of Laws from New York University School of Law, and Bachelor of Science in Economics from the University of Michigan. In 2020, New York Real Estate Journal recognized Fox as "One to Watch."
Grassi, is the 57th largest accounting firm in the nation and is a leading provider of advisory, tax and accounting services to businesses and individuals. The firm maintains offices in New York, Jericho, Ronkonkoma and White Plains, NY; Park Ridge, NJ; Needham, MA; and Palm Beach, FL.