Nearly $61 Million in Bridge Projects Completed in Hudson Valley Region
ALBANY—The New York State Department of Transportation announced on Nov. 21 the completion of $60.5 million in bridge upgrade projects to enhance safety and resiliency in the Hudson Valley.
In Orange County, a $12.5-million project replaced one bridge and rehabilitated three others that carry Interstate 84 over the Monhagen Creek and McVeigh Road in the Town of Wawayanda. This project enhanced safety and improved travel conditions on this heavily traveled interstate that is vital for the east-west flow of people and commerce in the Hudson Valley and through the entire Northeast corridor. Michels Corp. of Brownsville, WI was the contractor working on the I-84/McVeigh Road project.
In Westchester, major construction is complete on a project that replaced the bridge carrying East Lincoln Avenue over the Hutchinson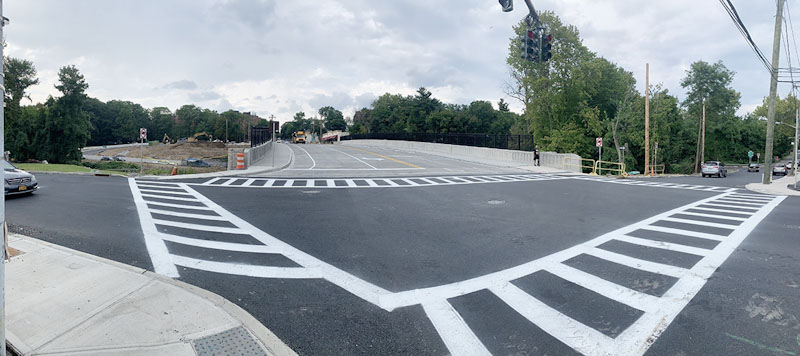 River Parkway and Hutchinson River, enhancing safety, mobility and resiliency along a heavily traveled corridor that links the Village of Pelham and City of Mount Vernon. The $48-million bridge replacement project was part of a larger, $115-million initiative to replace and renovate several bridges in Westchester County to improve travel and resiliency. Halmar International LLC of Nanuet, NY was the contractor working on the Westchester Bridge Bundle.
The project in Orange County will also provide new and improved access for hikers and bikers to the popular Heritage Trail. The project in lower Westchester was also designed to bring much-needed resiliency to a flood-prone area while also improving traffic flow and connectivity for area residents, the DOT noted.
The project in Orange County created a link between the northern and southern sections of the county's Heritage Trail, which runs underneath the McVeigh Road bridges and now provides area residents and visitors with expanded recreational opportunities along a continuous, nearly 19-mile multi-use path from Middletown to Harriman. The project, which began in the summer of 2020, replaced the existing four-span bridge that carried I-84 westbound over McVeigh Road and the Heritage Trail with a single-span, steel-girder bridge that features a concrete deck to reduce maintenance costs and wider shoulders to better accommodate emergency vehicles. Enhancements, including reconstructed approaches, surface improvements and new bridge barriers, were also made to three other bridges nearby. All four bridges were originally constructed in the 1960s.
As part of this project in Orange County, the New York State Department of Transportation also created a new section of the Heritage Trail that linked previously unconnected sections of the multi-use path and improved access for pedestrians and bicyclists. The multi-use trail includes a wildlife sanctuary, historic landmarks, streams, meadows and communities that offer users a wide array of recreational activities. To keep with the aesthetics of the trail, NYSDOT landscape architects constructed a grassy slope that concealed old railroad ballast stone. To safeguard the environment, a stormwater treatment swale was constructed to treat roadway run off and prevent contaminants from entering the Monhagen Brook during rain events. A special soil retaining wall–known as a geocell wall–that encourages vegetation growth and stormwater seepage was also utilized to limit impacts to wetlands in the median of I-84.
The project in Westchester County replaced two original structures, which were constructed in 1925, with a single, two-span bridge that features an additional three feet of clearance to help reduce collisions with over-height vehicles. The project began in the summer of 2020 and included the replacement of the bridge's approach slabs, as well as a large culvert that carries the northbound Hutchinson River Parkway off-ramp over the Hutchinson River, which will improve water flow and help reduce instances of flooding at this location.
Additionally, the Hutchinson River Parkway at East Lincoln Avenue was reconstructed to better withstand severe weather events. With new traffic signals and bridge rail, this wider, pedestrian-friendly bridge links residents and businesses along East Lincoln Avenue for daily commerce, work and school. While construction was ongoing, a temporary bridge was in place adjacent to the new bridge structure to maintain the flow of traffic.
As part of the larger Lower Westchester Bridge Bundle, the State Department of Transportation is also replacing two bridges on the Saw Mill River Parkway over the Saw Mill River in Pleasantville, and reinforcing the U.S. Route 1 bridge over the Mamaroneck River in Mamaroneck. These projects, which focus on drainage improvements and the reconstruction of roadways prone to flooding, will enhance safety and improve the region's resiliency during storm events.