Westchester's Exec. Latimer Unveils $662.5M Capital Budget Plan for '23
By JOHN JORDAN – October 27, 2022
WHITE PLAINS, NY – Westchester County Executive George Latimer released on Oct. 13 a $662.5-million proposed Capital Budget, which includes $448.8 million for general county purposes, $200 million for the Refuse, Sewer and Water districts and $13.7 million for the Westchester County Airport.
County Executive Latimer submitted his 2023 Capital Budget to the Westchester County Board of Legislators for its review and consideration. The budget includes investments in affordable housing, electric vehicles and charging infrastructure, recreational facilities such as Hilltop Hanover Farm & Environmental Center, Playland and Memorial Field, flood mitigation projects, including the Mamaroneck and Sheldrake River project, numerous sewer and water projects and the paving of the Bronx River Parkway.
"This Capital Budget continues the strategic investment in our county infrastructure. The overarching goal of this investment is to maintain our assets in a state of good repair, while at the same time supporting thousands of jobs within the county," Mr. Latimer said.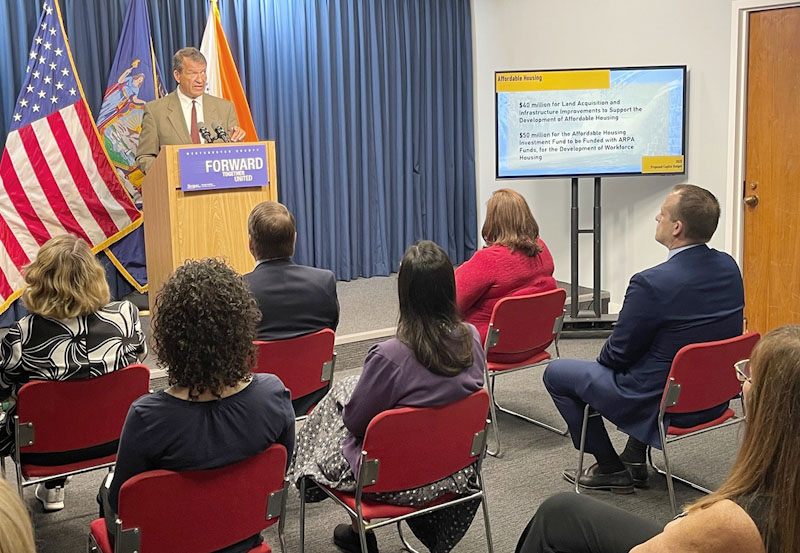 "Many of the projects in this budget focus on the environment and sustainability including the investment in electric vehicle infrastructure, purchase of hybrid and electric buses, flood mitigation funding and incorporation of energy efficiency goals. I made a promise to the people of this county years ago, that I would invest in our infrastructure, take care of our people, help the environment, raise the county's bond rating and cut taxes responsibly—we have done all of this and more."
The County Executive noted that the proposed capital budget calls for approximately $50 million for roads and bridges. Among the projects and locations listed were:
 Significant work on Central Park Avenue;
 The Austin Avenue Bridge over I-87 in Yonkers;
 Continued resurfacing of sections of the Bronx River Parkway;
 The Gallows Hill Road Bridge in the Town of Cortlandt;
 Route 22 Bridge in the Town of North Castle;
 Park Avenue Bridge at the Harrison-Rye border over the Beaver Swamp Brook;
 Bryant Avenue in White Plains;
 Virginia Road in Mount Pleasant and New Castle;
 Pearl Street in Port Chester;
 East and West Main Street and Division Street in Peekskill.
The capital budget also appropriates $125 million for environmental conservation and flood mitigation efforts.
A total of $95 million in appropriations are earmarked for the purchase of hybrid buses for the county's Bee-Line Bus System, $18 million for electric vehicle charging infrastructure at county and municipal locations, including $5 million for a county/municipal fund for electric charging stations, with an additional $12 million earmarked for other flood mitigation efforts.
The plan calls for a total of $41.1 million for capital projects related to the Westchester County Parks System. A combined $28 million has been slated for structural improvements at the Ice Casino and Playland Amusement Park. Another $7 million has been allocated for Hilltop Hanover Farm and Environmental Center, and $3.3 million for Cranberry Lake Preserve improvements.
The proposed capital plan earmarks a total of $198 million for county environmental facilities, including $25.5 million for continuing the improvements to the Mamaroneck wastewater recovery facility in 2023. Some $20 million is included for the New Rochelle Water Resource Recovery Facility and a total of $46.1 million is directed for improvements to the Yonkers Joint Water Resource Recovery Facility.
Commissioner of Environmental Facilities Vincent Kopicki said, "The Department of Environmental Facilities, working with our leadership team, is continuing to upgrade, improve and modernize all of our facilities. We are constantly looking for new technologies to improve our solid waste and wastewater treatment processes while being cost effective, energy efficient and sustainable."
Funding for Affordable Housing
Mr. Latimer highlighted his proposal for $90 million to be spent on affordable housing initiatives, including $25 million for land acquisition and $15 million for infrastructure improvements to support the development of affordable housing within Westchester. Another $50 million is included for the Affordable Housing Investment Fund to be funded with ARPA funds. County officials stated that there are plans to use these funds for further development of workforce housing. If approved by the Board, this would represent the largest single-year commitment to affordable housing in county history.
A public input session on the Westchester County 2023 Budget was scheduled on Oct. 20th at the Field Library in Peekskill. A second session is slated for Wednesday, Nov. 2 at the Pelham Town House beginning at 7 p.m.
The Westchester County Board of Legislators is charged with passing the County Budget by the end of December 2022.