New York City, State to Partner on $1.6B Science and Research Park in Kips Bay
NEW YORK—A $1.6-billion public-private partnership with The City University of New York to build a new science and research park at Hunter College's Brookdale Campus on East 25th Street and First Avenue in the Kips Bay section of Manhattan was announced in early October.
"SPARC Kips Bay" is projected to generate some $25 billion in economic impact to New York City over the next 30 years and create 10,000 jobs, including 2,000 permanent jobs on the Brookdale Campus. The commercial and teaching facility is also expected to impact an entire city block with more than 1.5 million square feet of academic, public health and life sciences space, more than doubling the life sciences footprint in Kips Bay. The project would also rebuild a new accessible pedestrian bridge on East 25th street connecting to the East River and Manhattan Waterfront Greenway.
The city estimates the project will create about 2,000 good-paying, quality jobs in the campus' new commercial lab space, which will attract new companies and startups, leading to additional good-paying jobs in the health care and life sciences fields. Construction of the campus will create an additional 8,000 construction jobs.
"This new Science Park and Research Campus in Kips Bay will be not only a hub for the life sciences industry and an anchor for the neighborhood, but also a bridge to the future for our city's young people," said Mayor Adams. "SPARC Kips Bay will transform an entire city block into a state-of-the-art destination for the life sciences industry and be a place where workforce development, economic opportunity, and public health come together seamlessly—attracting businesses and uplifting New Yorkers to bring our city back stronger than ever with $25 billion in new economic activity for our city over the next three decades. Thank you to all our partners for the vision and teamwork to 'Get Stuff Done.'"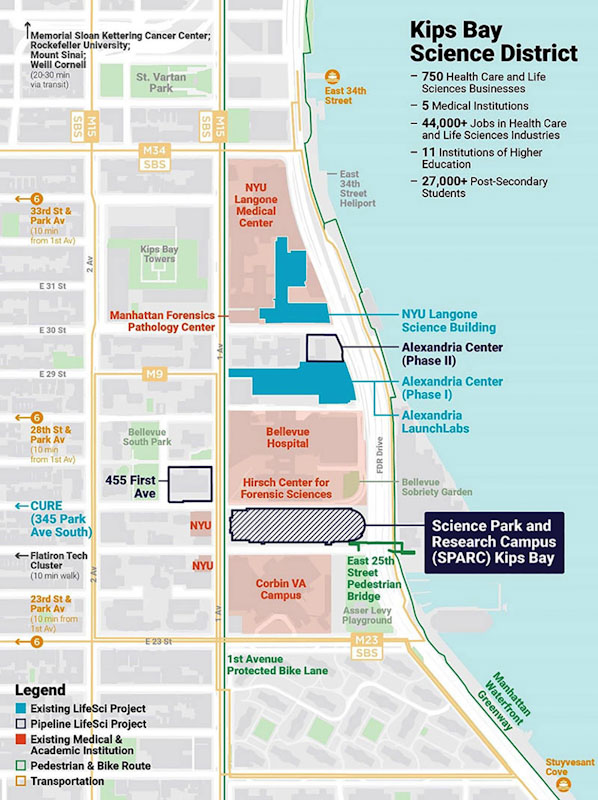 SPARC Kips Bay will cultivate the next generation of the scientific research and health care workforce, creating a single campus with space for the New York City Department of Education, CUNY, health and biotech companies, and public health institutions—providing pathways to good-paying careers for New York City high school, undergraduate and postgraduate students.
SPARC Kips Bay will be funded jointly by the city and state with additional investment from the private sector in life sciences. SPARC Kips Bay is expected to break ground in 2026 and be completed by the end of 2031. The announcement did not include any development firm connected with the project.