Hudson Valley Saw Nearly 5,000 People Leave Region Prompted by Pandemic
By JOHN JORDAN – May 19, 2023
NEWBURGH, NY—Despite the headlines of a population surge three years ago into the Hudson Valley region from New York City as Gothamists sought the safety of rural downstate counties, a new analysis of the population shift during the pandemic tells a slightly different story. The region lost 4,845 people due to migration to locations outside the region. A leading research firm released a report May 3 that chronicled the Hudson Valley's population loss during the height of the COVID-19 pandemic in 2019 and 2020.
The out-migration net loss is not new to the Hudson Valley, according to Hudson Valley Pattern for Progress, a non-profit research firm. The region has lost people to migration in 24 of the last 25 years, with more than 134,505 residents packing their bags and heading to neighboring states and to the South over that quarter of a century.
In the early days of the pandemic, rural Hudson Valley counties registered relatively large population gains from migration as people moved north from the New York City metro area. However, those gains were offset by large losses of population in Rockland and Westchester counties. West/Rock lost a combined net of 9,581 people to outward migration. It should be noted that the region gained a net of 31,258 people in 2020-2021 who moved from New York City into the Hudson Valley. In 2019-2020, the region posted a net gain of 33,394 people who moved from New York City to the Hudson Valley region.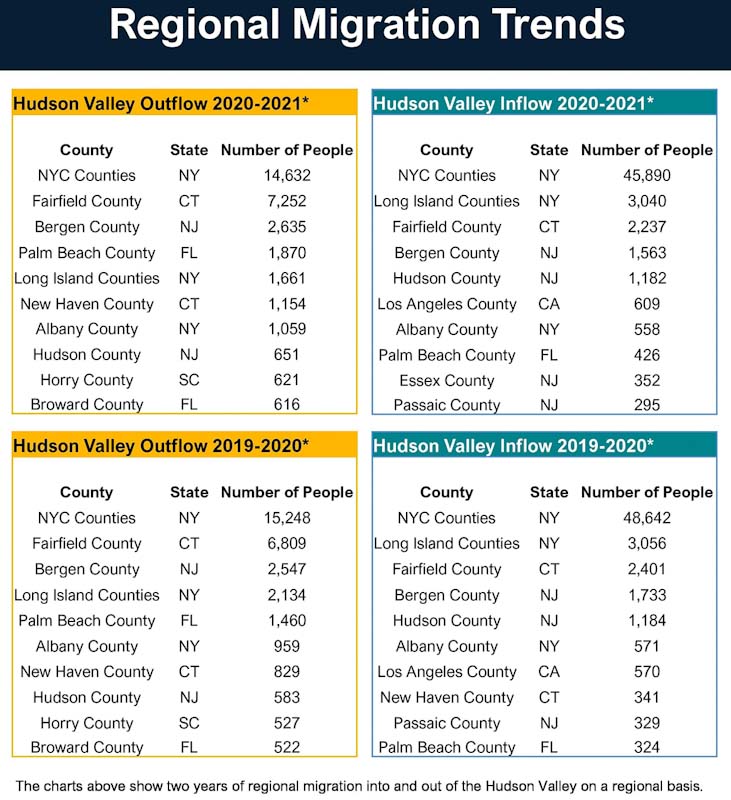 PFP officials noted that while the data does not show how many people stayed from the first wave (2019-2020), it is fair to estimate that the Hudson Valley gained a net of approximately 60,000 people from New York City during the brunt of the pandemic. HVPFP added that the data continue to show a north-south divide for migration.
"Migration continues the reshape of the composition of the Hudson Valley and puts stress on many of the systems that our civic society depends on," said the firm's CEO Adam Bosch. "The data analyzed in our report underscore a painful fact: our region has lost population to migration for 24 of the last 25 years. This steady loss of people strains our workforce and businesses, our schools, our system of taxation, and other institutions that allow our communities to survive and thrive. Leaders at every level must examine the complex mix of factors that are causing more people to leave the Hudson Valley so that we can preserve a strong future for our region."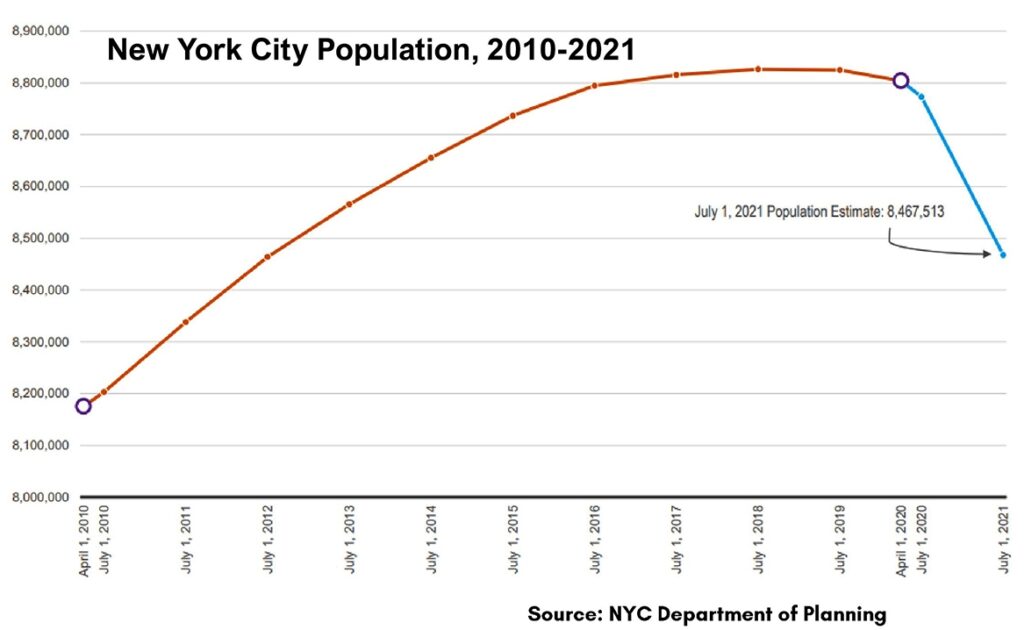 The "Moving In, Moving Out" report examined a new set of migration data released in the final week of April by the Internal Revenue Service. The data utilize information from tax returns to track domestic and international migration throughout the United States. The data are provided on a county-by-county basis, which allowed PFP to analyze the inflow and outflow of people for each county in the Hudson Valley, officials stated.
The data suggest that climate refugees are moving into the region from California. A total of 1,179 people from Los Angeles County have moved into the Hudson Valley from 2018-2020. Many assumed that New York's growing TV and film industries had attracted these West Coast transplants. While that might be partially true, Pattern stated it has also encountered several people, whom they described as "climate refugees" who moved from Los Angeles during that time because they were tired of water restrictions and wary of fires.
A full analysis of the regional, county-by-county, and New York City trends can be found by accessing the report on Pattern's website.
Out-Migration At-A-Glance
The region gained 104,071 people but lost 108,916 because of migration in 2019-2020, for a net loss of 4,845 people. Although seven out of our nine counties gained population from migration, large losses in Rockland County and Westchester County more than offset the gains to the north. Rockland and Westchester lost a combined net of 9,581 people to outward migration, an outflow that underscores the strong desire to move away from density during the pandemic, the report stated.
Communities south of I-84 generally lost population or stayed flat, while communities to the north saw a relatively large inflow of new residents. Again, these data highlight the movement away from density and into rural towns and smaller cities and villages. This trend was well documented in real estate data that showed people leaving high-population areas because they feared that density put them at a greater risk of contracting the novel coronavirus.
Migration affects counties on a proportional basis. Several of the less populated Hudson Valley counties saw large influxes of people from migration. For example, more than 1% of the total population in Sullivan and Greene counties came from a single year of migration.
A large number of people from the Hudson Valley continue to move just into bordering states. In fact, 12,841 people from the region moved into the bordering counties in Connecticut, Massachusetts, New Jersey and Pennsylvania during the last reporting period. A recent analysis by Pattern found that property taxes in these states are roughly 40%-70% of what Hudson Valley property owners pay.