Congressman Lawler Introduces Legislation To Eliminate SALT Cap Marriage Penalty
CLARKSTOWN, NY— New legislation with bipartisan support in the Congress was introduced on Jan. 23 that would eliminate the SALT Cap marriage penalty. At a press conference yesterday, local, county and national elected officials introduced the SALT Marriage Penalty Elimination Act, which, if enacted, would remove a penalty imposed on married individuals in the current tax code, doubling the cap for joint filers. 
"Hudson Valley families suffer under some of the highest taxes in the nation," said Congressman Mike Lawler (R-NY-17). "The misguided SALT tax cap has only added to their pain in recent years. That's why I'm proud to introduce the SALT Marriage Penalty Elimination Act."  He added, "This bill will double the cap for married couples filing jointly to $20,000. It's the first in a series of bills, which I'm calling the Hudson Valley Affordability Pact, that will tackle cost-of-living and affordability issues in the 17th Congressional District and beyond."
In 2022 there was a push by some area federal legislators, including members of the SALT Caucus, to repeal the SALT Cap (state and local tax). However, in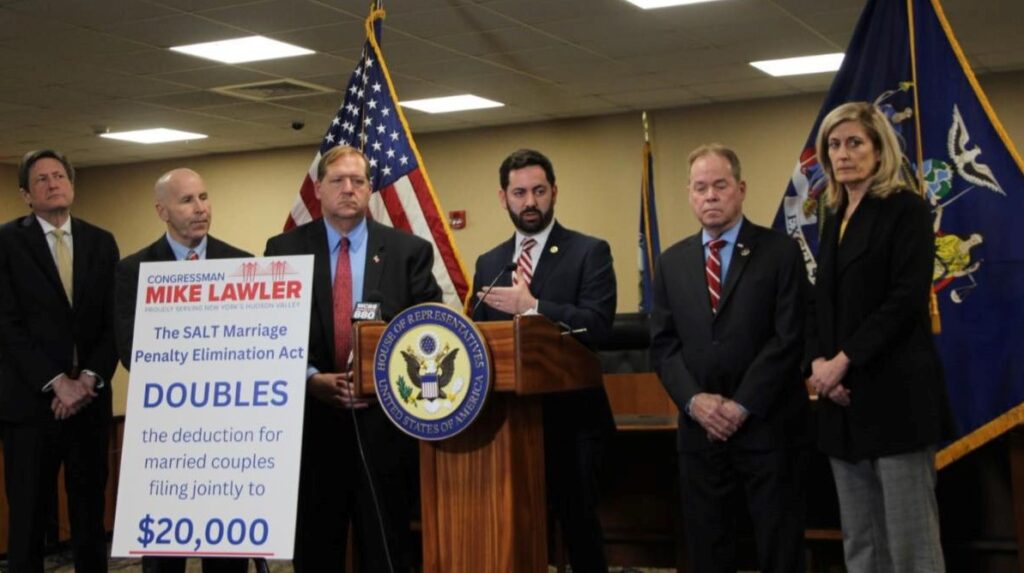 late budget negotiations, after fighting to repeal the $10,000 limit on the federal deduction for state and local taxes, the House in Congress approved the budget reconciliation without SALT reform. The SALT Cap was enacted as part of the Republicans' tax overhaul in 2017 and instituted a $10,000 cap in state and local taxes on their federal tax returns, which many lawmakers say target high-cost states such as New York, Connecticut and California.