Putnam County Executive Byrne Proposes Plans for New County Fire Training Center
CARMEL, NY—Putnam County Executive Kevin Byrne announced on Aug. 9 his plan to construct a new state-of-the-art Fire Training Center in Putnam County. The new facility will replace the former center, including the tower that has not been utilized for over a decade due to its poor safety conditions.
 The new project will also address the critical need for enhanced training opportunities for the county's firefighters and other emergency services personnel, the County Executive noted. The current fire training center has been significantly underutilized since the tower was deemed unsafe more than 10 years ago and the burn facility has been repeatedly closed due to ongoing costly repairs. The restricted use of the current facility forces many local fire departments to travel to neighboring counties for essential training, including as far as Valhalla, NY, creating an additional strain on recruitment and retention efforts within the volunteer emergency services community.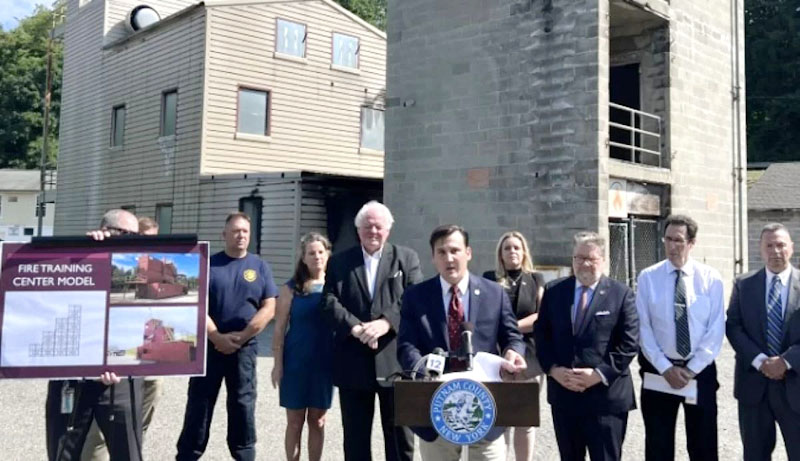 The new Fire Training Center will provide first responders with a modern, safe, and comprehensive environment to sharpen their skills and prepare for a variety of emergency situations. While the existing Fire Training Center is not a federally- or state-mandated service provided by Putnam County government, it is one that is considered to be an essential service and a high priority for County Executive Byrne and members of his administration.
Funding for the project will primarily come from the American Rescue Plan Act (ARPA), which had been previously committed to Putnam County specific projects, with additional funding coming from several grant opportunities. Both United States Senator Kirsten Gillibrand and State Senator Peter Harckham, in consultation with County Executive Byrne, have been actively working to secure funding for this important project. The project was expected to go before the Protective Services Committee on August 17th and to the County Legislature for a full vote on September 5th. If approved, partial demolition could begin on the old facility; with the fire tower being torn down and part of the old facility being re-purposed for other training opportunities. Pending all necessary approvals, the new state of the art center is estimated to be completed in the summer of 2024.
Skanska Names Sean Szatkowski GM Of New York Building Operations
NEW YORK, NY – Skanska, a global construction and development firm, recently promoted Sean Szatkowski to general manager of Skanska USA Building's New York operations. Elevating from his previous role as senior vice president, account manager in the region, Mr. Szatkowski will be responsible for overseeing the firm's business operations in New York, while simultaneously establishing new and maintaining existing client relationships.
"In his nearly three decades at Skanska, Sean has always shown exceptional leadership in each of the various positions he has held," said Kerim Evin, regional executive officer at Skanska USA Building. "This promotion is in recognition of Sean's unwavering commitment to our company as well as his lengthy track record of creating a collaborative and inclusive environment for his teams and clients, and most importantly, consistently delivering results."
Mr. Szatkowski replaces Tom Webb who previously held the position for 12 years. Mr. Webb has transitioned into a Regional Lead role, where he will focus on Skanska's efforts to further integrate the business operations of Pennsylvania, New Jersey, and New York districts into one combined region.
With three decades in the construction industry and at Skanska, Mr. Szatkowski has played integral roles in marquee projects, including the transformational redevelopment of LaGuardia's Terminal B, Metlife Stadium, and the construction of NYCEDC's East Midtown Greenway's in-water structure. Under his guidance, he has ensured projects are delivered with a high degree of quality, prioritizing operational and safety excellence amongst his teams.
Mr. Szatkowski holds a B.S. in Civil Engineering and M.B.A in Business Administration from Rutgers University. He has been a two-time Board Member for the NYC Building Contractor Association, as well as an executive committee representative for the Building Trades Employers Association.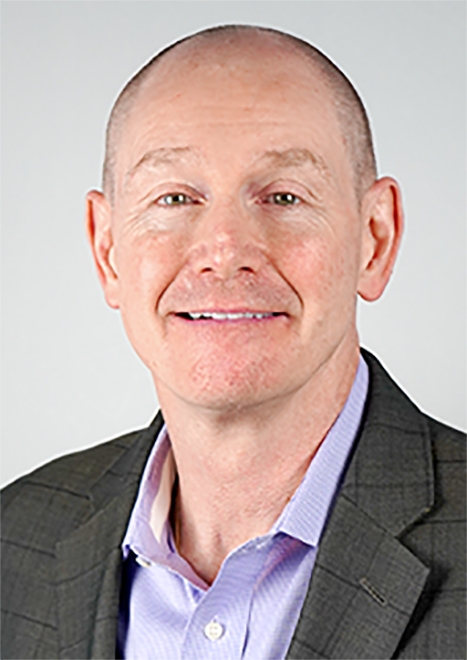 DEC Announces New Leadership Appointments
ALBANY—New York State Department of Environmental Conservation Commissioner Basil Seggos announced on Aug. 10 four appointments to new and existing leadership positions with DEC's Executive and Regional teams.
"I am excited to announce key DEC leadership additions and changes that are critical to sustaining the success of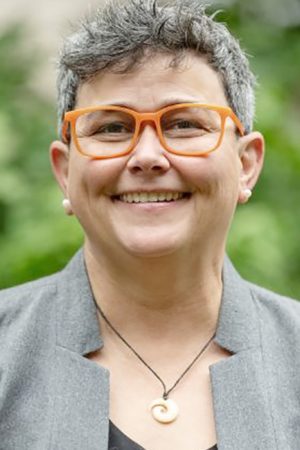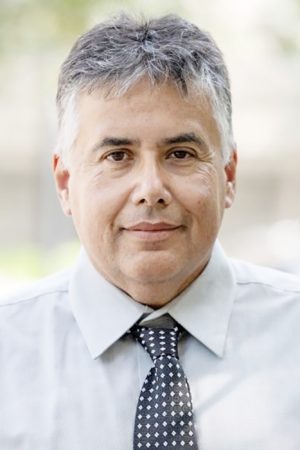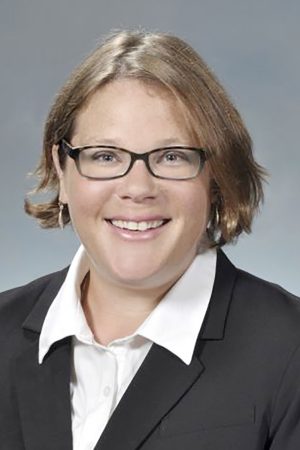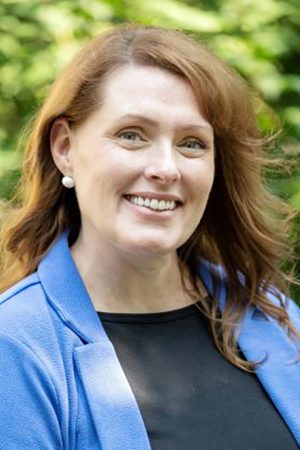 New York's environmental protection policies and programs," Commissioner Seggos said. "Suzanna Randall and Peter Reuben are bringing extensive experience and skills to two new and critically important agency roles that focus on enhancing resiliency and strengthening relationships with Indigenous Nations. Dereth Glance will continue bringing her energy and passion to a different role leading DEC's presence in Central New York and the Southern Tier, and Cecilia Walsh will help guide our extensive engagement with the media to inform the public. DEC is strengthening our team to bolster our efforts to meet the unique challenges and opportunities before New York State."
Ms. Randall was appointed DEC's first Chief Resiliency Officer. Ms. Randall will be responsible for administering the state's landmark Clean Water, Clean Air and Green Jobs Environmental Bond Act of 2022, leading the development and implementation of all major components of the program. She most recently served as Deputy Director of Project Delivery for the Office of Resilient Homes and Communities, formerly the Governor's Office of Storm Recovery. Additional experience includes serving as Special Projects and Sustainability Coordinator with the New York State Environmental Facilities Corporation, where she led the award-winning Green Innovation Grant Program, and Water Resources Planner at Philadelphia Water Department's Office of Watersheds.
Mr. Reuben was named the first-ever Director of DEC's Office of Indian Nation Affairs. Mr. Reuben has more than a decade of experience with DEC, most recently as the Regional Spills Supervisor in Western New York, as well as more than 15 years working closely with Indian Nations on a wide range of environmental projects and issues. Previously, Mr. Reuben served as Brownfield Program Manager for the Seneca Nation of Indians Environmental Protection Department, worked as a consultant to the Haudenosaunee Environmental Task Force, and Tonawanda, Seneca, and Tuscarora Nations. In 2012, he was elected Vice-Chair of the U.S. Environmental Protection Agency's Tribal Waste and Response Assistance Program's National Steering Committee.
Ms. Glance was named Regional Director in DEC's Region 7, which covers Broome, Cayuga, Chenango, Cortland, Madison, Onondaga, Oswego, Tioga, and Tompkins counties. She most recently served as DEC's Deputy Commissioner for Environmental Remediation and Materials Management, where she oversaw DEC's divisions of Environmental Remediation, Materials Management, and Mineral Resources.
Ms. Walsh was appointed DEC's Director of Media Relations. Ms. Walsh will oversee DEC's Press Office to ensure the effective communication of the agency's actions to statewide and national media outlets and the public. Most recently, she served as Project Coordinator for the Cannabis Education and Employment Development Program with the New York State Department of Labor. Previously, she was Director of Communications with the Albany County District Attorney's Office for more than a decade where she oversaw all media and public relations for the office and District Attorney.