Putnam Exec Byrne Hosts Public Meeting On Peekskill Hollow Road Construction Project
CARMEL, NY–Putnam County Executive Kevin Byrne hosted a townhall-style meeting on Aug. 3 to address Putnam Valley residents about the much-anticipated Peekskill Hollow Road construction project. Nearly 100 residents of Putnam Valley attended the event to hear from representatives of the county and from the selected contractor, ELQ Industries, Inc., about the company's plans to finish the project.
"We are committed to making this entire process more transparent for the residence of Putnam Valley," County Executive Byrne said. "With the help of Legislator William Gouldman we've made tremendous progress in accelerating the bidding process and selecting a new contractor that will finish construction on this critical infrastructure project." Mr. Gouldman is Chair of the Physical Services Committee in Putnam.
Mr. Byrne added county officials have been speaking about the Peekskill Hollow Road construction project with the community for many months, seeking to set reasonable expectations as well as respond to any outstanding resident concerns.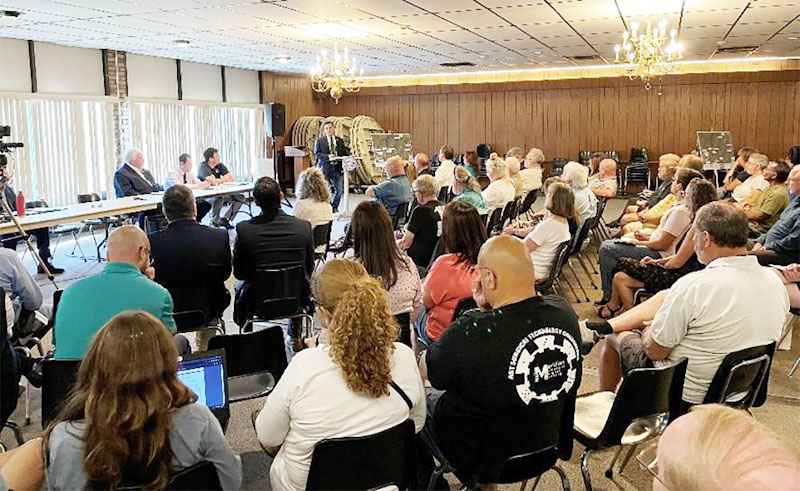 "Peekskill Hollow Road Bridge is a vital transportation link in our community, and we are eager to move forward and finally finish this project," said Sam Etre, CEO of ELQ Industries, Inc., of New Rochelle, NY, the new contractor on the project. "We are honored to be entrusted with it and we take our responsibility to the community very seriously."
At the town-hall style hearing, held at the Putnam Valley Firehouse, ELQ presented a timeline on the project to inform the public about what, when and where the new construction and repairs will take place to the various sections of the roadway. Construction activities began with two weeks of inspection and a corrective work process. There are two main bridges that are part of the project that are expected to take nine months to complete. The project also includes lane widening, new turning lanes, new signaling and sidewalks, 4' shoulders and spot drainage improvements.
With construction of Peekskill Hollow Road now ongoing, it is expected to be fully completed by July 2024.
Also, in attendance was Commissioner Bob Lipton of the Putnam County Bureau of Emergency Services to update residents on recovery and response efforts following the July 9–10 storm that devastated parts of Putnam Valley and the county