Popolopen Bridge Along Route 9W Reopened Following Repairs From Severe Flood Damage
HIGHLANDS, NY—U.S. Route 9W in the Town of Highlands in  Orange County has reopened following the devastating floods that struck the Hudson Valley on July 9-10.
Unprecedented rains caused a 20-foot-deep soil mass to wash down the southern slope, which supports the Popolopen Bridge. In less than four weeks, State Department of Transportation engineers expedited the design and construction of a new support system for this vital bridge, reopening the bridge and reconnecting U.S. Route 9W to the Bear Mountain Circle, allowing vital access between West Point and the Bear Mountain Bridge to Westchester and Putnam counties, Palisades Parkway to Rockland County, and U.S. Route 6 to western Orange County.
"Mother Nature wreaked havoc on New Yorkers earlier this month, but we are one step closer to recovering from the devastating rains and flooding that hit the Hudson Valley region," Gov. Kathy Hochul said. On Aug. 4 the state reopened the Popolopen Bridge, making travel easier between West Point and destinations to the south.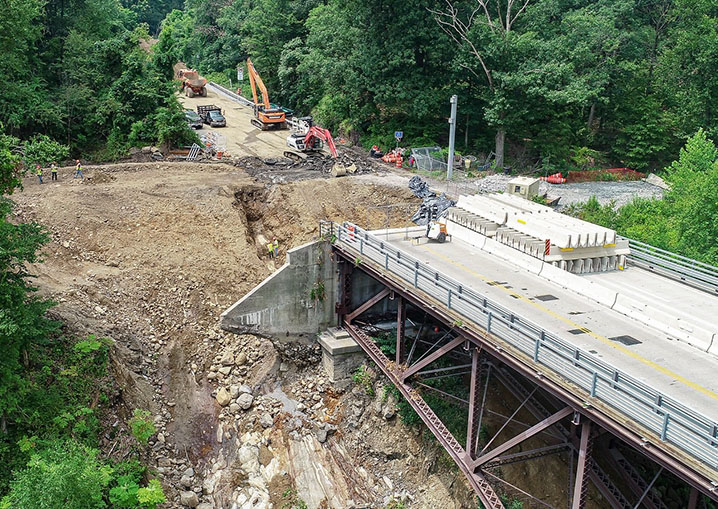 The extent of damage necessitated the removal of significant amounts of soil, and NYSDOT engineers coordinated a solution to install a new geosynthetic reinforced fill-type retaining wall system. The system is a type of reinforced soil wall that uses layers of materials, such as fabrics, grids, and meshes, to strengthen the soil and hold it in place. It can be used to support bridges, roads, slopes, and other structures that need a stable foundation. State and contract crews installed the system along the steep slope and re-established the roadway for travelers, NYSDOT officials stated.
U.S. Route 9W was one of many roads across New York that suffered significant damage from the severe weather that impacted the state earlier this month. From July 9 to July 10, more than eight inches of rain were reported in parts of the Mid-Hudson Region and more than five inches of rain in Ontario County, in the Finger Lakes Region. From July 10 to July 11, parts of the North Country saw several inches of rain in a short period of time, which caused devastating flooding, closing roadways, and damaging infrastructure across impacted regions.
Widespread Damage
In the aftermath of the storm, hundreds of NYSDOT crews and private contractors worked around the clock to repair and reopen numerous roadways in the Hudson Valley. Damaged locations included:
 U.S. Route 9W between Cornwall and the Stony Lonesome Gate entrance to West Point/Mountain Ave. in Orange County;
 U.S. Route 6/202 (Bear Mountain Bridge Road) between State Route 9D and U.S. Route 9 in the Town of Cortlandt in Westchester County;
 State Route 32 at Trout Brook Road in the Town of Woodbury in Orange County;
 Palisades Parkway between exit 15 and Bear Mountain Bridge in the Town of Highlands in Rockland County;
 The Long Mountain Circle between U.S. Route 6 and the Palisades Interstate Parkway in Rockland;
 State Route 9A between Skyline Drive and Saw Mill River Parkway in the Town of Mount Pleasant in Westchester County;
 State Route 116 between Norton Road and Hunt Lane in the Town of North Salem in Westchester County;
 State Route 35 eastbound west of Mark Mead Road in Cross River in Westchester County;
 Taconic State Parkway northbound, south of Exit 37A, in the Town of East Fishkill in Dutchess County;
 State Route 22 at Hurds Corners Road in the Town of Pawling in Dutchess County.
NYSDOT reported it will continue repairs to the damaged bridge in the coming weeks to include the removal of the exposed wingwall, slope remediation, drainage improvements and final roadway and sidewalk repairs. Independent of the storm damage, work continues on a renovation project to replace the support eyebars and pins on the Popolopen Bridge, with anticipated completion this construction season. Motorists are urged to use caution while traveling through this area.