Municipalities Face Numerous Hurdles To Access Environmental Bond Funds
By JOHN JORDAN – August 22, 2023
WHITE PLAINS—Despite the historic funding levels made available through the $4.2-billion environmental bond act that voters approved last November, the construction and environmental groups that overwhelmingly supported the referendum are eagerly awaiting the funding spigots to open so that the many-needed water, sewer and other green-related infrastructure projects in the region can move forward.
At a public hearing this month, one construction industry leader urged New York State to streamline the procurement process to make it easier for all municipalities—both large and small—to apply for funding. He said more engineering and planning resources are needed to design and deliver projects to rehabilitate or replace outdated dams, sewage treatment plants, drinking water facilities and more.
"The construction industry and its partners in organized labor and the conservation community are excited for the opportunity to be part of the great green investment this bond act will make across New York State," said John Cooney, Jr., executive director of the Construction Industry Council of Westchester & Hudson Valley, Inc. "Our largest concern regarding this great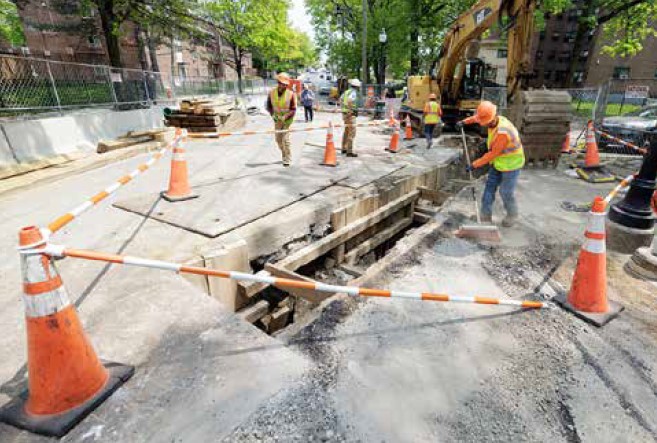 opportunity is in the mechanics of how government agencies and local municipalities will access public monies to build out the many projects the funding can be used for. We need to keep the process simple and attainable." 
The landmark Clean Water, Clean Air and Green Jobs Environmental Bond Act is the largest environmental bond in state history. The bond act prioritizes investments in environmental justice, climate change mitigation, shoreline restoration, flood resilience, water quality, open space land conservation, recreational resources and green jobs.
Community and industry stakeholders gathered Aug. 15 at the Westchester County Center in White Plains to hear state officials brief local municipal and business leaders on the goals and funding levels of the bond act.
In a statement prepared for the gathering, which was touted as a "Listening Tour," Mr. Cooney said grant writing for project funding and engineering assistance for some communities are critical—made even more acute in light of other major federal and state infrastructure funding programs that are now available, including the $1.2-trillion Infrastructure Investment and Jobs Act.
Attending the Aug. 15 hearing, Mr. Cooney pointed to a groundbreaking report released in September 2022 authored by the not-for-profit Hudson Valley Pattern for Progress. Among the report's chief findings was that millions of dollars in state and federal funds earmarked for the Hudson Valley's roads, bridges, sewers and other critically important infrastructure were going unspent.
The report, "Hudson Valley's Infrastructure Gap," covered how local municipalities counties, towns and villages pay for their infrastructure needs. The study, which was partially commissioned by the CIC, found overall infrastructure investment by municipalities was flat despite growing needs and aging facilities, and that the sources of money fueling this investment was a combination of local, state, and federal money.
"One of the largest findings of the study was that despite a New York State appropriation of funding to local governments of more than $5 billion since 2015 for local water and sewer projects, only 12% of this money has been used through today," Mr. Cooney told CONSTRUCTION NEWS.
Adam Bosch, president and CEO of Hudson Valley Pattern for Progress, said when the report was released that it underscored the need for infrastructure planning, support and a new model to help communities access government funds for infrastructure. He noted that in many cases municipalities must first design and then bond an infrastructure project—and then engage in a complex approval process for federal and state reimbursement funds.
"The question of how that (bond act) money is going to reach the communities that need it is still an open question," Mr. Bosch said. While large municipalities have the resources to access the funds, many mid-sized and small municipalities do not apply for the funding because they feel "they have to do handstands" to win funding awards. "They simply cannot understand the process."
"Communities across the Hudson Valley need help to plan for the maintenance of their infrastructure and to access the government funds that will allow them to upgrade roads, bridges, and their waterworks," he added. "Our small towns and villages do not have the staff nor time to navigate bureaucratic systems that make it too difficult for them to receive infrastructure money. As a result, many of them are forgoing programs that are meant to help."
Mr. Bosch added, "Our communities are entitled to much of this money, and we ought to create systems that help them put our taxpayer dollars to work more effectively and efficiently."
Mr. Cooney added that the CIC and Hudson Valley Pattern for Progress conducted focus groups with New York State municipalities and undertook further study, which found that many smaller to midsize municipalities either were unaware of the multitude of state grants available for infrastructure projects or could not complete the often complicated and demanding application for these funds. The effort also revealed that many of the state agencies responsible for the distribution of these funds were lacking the proper number of people necessary to distribute those monies.
"New York State government, Gov. Kathy Hochul, the New York State Senate, and the New York State Assembly have put the money towards the environmental needs of our local governments. Now is the time to make sure the money gets spent," Mr. Cooney said. "The answer is not hiring more people in the government agencies; this simply will take too long and there simply are not enough people. New York State needs to leverage the private sector through ready-set programs that need to be expanded so that the money that is available actually meets the needs of New York State's environment."
Among the successful programs that could be emulated are Engineering Planning Grants, which have been used to help local governments design projects and complete the detailed applications necessary for sewer projects. Drinking water projects also need this type of planning grant. Currently, New York State does not have this planning grant model available, he noted.
NYSERDA's "Facilitated Application Grant" was also cited as a prime example how agencies can work with local governments. "The program puts private engineering firms to work with local governments to promote and create energy reduction and the use of green energy technology, Mr. Cooney explained.
New York State Assemblyman Steve Otis (D-91st District-Port Chester), a longtime champion of drinking and wastewater infrastructure grant funding, said, "Happily I have been a partner with the CIC on encouraging local governments to apply (for funding)." Given the historic funding levels now available, he said, "It is very important that Westchester and the Hudson Valley local governments take advantage of the opportunity to apply because there is more money and hopefully (the state) will plan more grants."
He stressed the propitiousness of the moment and called upon municipalities to put in quality applications— and not let a year pass to apply for funding.