Widespread H.V. Storm Damage Likely to Cost Billions to Repair
By JOHN JORDAN – July 21, 2023
WHITE PLAINS—The destruction caused by torrential rains and flooding that battered the region this month was historic in sections—and the expense is likely to be equally unpresented as damage assessment totals are still being tallied. First-hand reports and pictures from impacted areas showed extensive road, bridge, rail and infrastructure damage will likely soar to billions of dollars.
At press time, damage assessments continue in Orange, Rockland, Putnam and Westchester counties from the severe weather on July 9-10. AccuWeather issued a preliminarily estimate of the total storm damage and economic loss from the between $3 billion to $5 billion. That estimate was given before heavy rains impacted the Northeast once again the weekend of July 14-16. MTA officials believe the storm damage rivals the costs incurred from Hurricane Ida, which was approximately $100 million. Orange County Executive Steve Neuhaus said on July 10 that the damage in the Highland Falls/West Point area alone was in the "tens of millions of dollars." U.S. Sen. Charles Schumer during a tour of West Point on July 17 estimated the storm damage there at more than $100 million.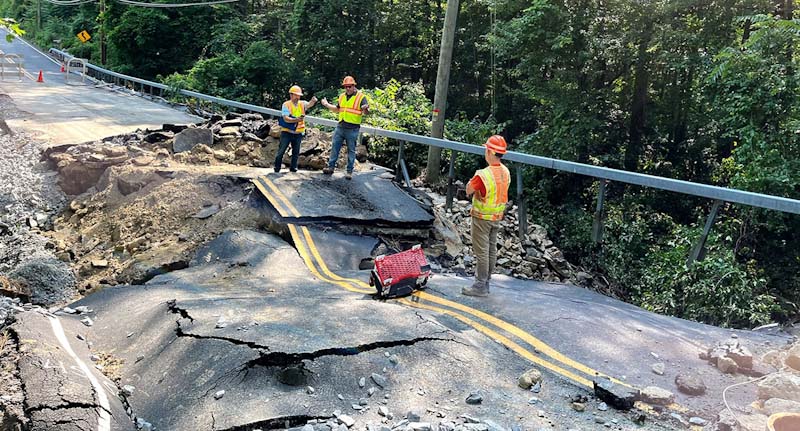 On July 14, Gov. Kathy Hochul requested a Major Disaster Declaration from President Biden to support the ongoing recovery of communities impacted by devastating flooding stemming from the week's heavy rainstorms, which spanned across much of Upstate New York. The declaration would release critical federal financial assistance that will support recovery and reconstruction efforts in Albany, Clinton, Dutchess, Essex, Hamilton, Ontario, Orange, Oswego, Putnam, Rensselaer, Rockland, and Westchester counties, with the opportunity for additional counties to be added in the coming weeks as the damage assessment process continues.
Additionally, Gov. Hochul said she is requesting federal support for homeowners in Ontario and Orange counties, as well as an expedited damage assessment process. New York will also be engaging with the U.S. Small Business Administration to pursue low-interest recovery loans for impacted private businesses in the coming weeks.
Flooding from the storm caused numerous closures of state and local roads, as well as disruption of Metro-North commuter rail service due to damaged rail lines, particularly on the Hudson Line. In addition to Orange County, sections of Rockland, Putnam and Westchester counties also experienced significant storm damage.
MTA Metro-North Railroad announced the return of full Hudson Line service Thursday, July 13, following clean up from severe storm damage. Metro-North was able to restore nearly full service on the line with a few cancelled trains due to continued work on the tracks.
"The damage to the Hudson Line and Wassaic Branch caused by Sunday's storm resembled the aftermath of Hurricane Ida, so to be able to get service back in three days is remarkable," said Metro-North Railroad President and LIRR Interim President Catherine Rinaldi. "Metro-North crews literally worked around-the-clock to get us here. I want to thank the riders that were impacted most by the storm for their patience, and of course to the Metro-North family for stepping up once again."
After the first weekend of heavy rain, Gov. Kathy Hochul, Orange County Executive Neuhaus and other state, county and local officials chronicled the road, bridge and sewer infrastructure damage and power outages in the area from the storm that claimed the life of one Orange County resident. First responders rescued people from flooded homes, and from cars stranded on flooded roadways throughout the region. Mr. Mr. Neuhaus and Gov. Hocul, who both declared a State of Emergency for Orange County, said the state would be looking for financial assistance from the federal government to help pay for and expedite repairs. Putnam County Executive Kevin Byrne declared a state of emergency in Putnam County due to the storm damage there.
Rockland County, however, was spared the havoc experienced in other Hudson Valley counties.
"We were very fortunate that the storm tracked to the north, and that the damage in Rockland was mostly shoulder work caused by torrents of runoff," said Superintendent of Highways Charles "Skip" Vezzetti in Rockland County. "There's just so much you can do and then it becomes overwhelming," he explained from past experiences and costly recoveries.
Among the major public assets in the Hudson Valley still crippled by the storms included equipment such as loads, trucks and excavators that were damaged by flooding. At press time, the Palisades Interstate Park Commission was still assessing the full extent of equipment damage from the flooding which shut down the Bear Mountain Traffic Circle.
Locally, Town of Yorktown Supervisor Tom Diana declared a state of emergency on July 10 in response to significant storm damage that included a sinkhole behind Town Hall, compromised culverts, boulders moved into roads, washed out roads and flooding.
"As the water recedes, I'm sure we're going to find more damage,"  Supervisor Diana said. "There are roads washed out all over the place, so we advise everyone to use caution when they drive. Do not drive into standing water because you don't know how deep it might be."
Responding to initial storm damage, Gov. Hochul explained the first step is assessment. "Assess the damage, assess the monetary value of the damage so we can put in our request for FEMA assistance to help the communities have the resources they need to rebuild we'll be putting in all those requests, working with our local partners to make sure we have an accurate assessment of the cost and the damage done."
She later noted that in the past nine months, New York State has seen a storm that caused more snow fall in a 24-hour period in the history of the state and a few weeks ago Canadian wildfires brought some of the most unhealthy air that state has seen in a generation.
The storm on Sunday and Monday, July 9-10, was categorized as a 1,000-year event that resulted in only the second time ever, the National Weather Service issued a flash flood emergency in the state. The last time was Hurricane Ida.
As of July 18, state and municipal governments have made great strides since the initial storms in opening impacted roads, but weather forecasts call for more rain in July, which could add to the damage and possibly impact roads and bridges that were re-opened days earlier.
State officials credited Department of Transportation highway maintenance crews and contractor forces, damage assessment and bridge inspection teams who have worked tirelessly to safely reopen state roads across Central New York, the North Country, Long Island and the Hudson Valley Regions.
On July 16, state officials announced the following roads/bridges had been reopened in the Hudson Valley region:
 U.S. Route 6/202 (Bear Mountain Bridge Road) is open in both directions between State Route 9D and U.S. Route 9 in the Town of Cortlandt, Westchester County
 U.S. Route 9W is open in both directions with reduced lanes in the areas between Cornwall and the Stony Lonesome Gate entrance to West Point/Mountain Ave. This encompasses 4.8 miles of roadway including the major entrance into West Point from the north, restoring the main commuter route.
 State Route 32 at Trout Brook Road, Town of Woodbury, Orange County is open with one lane of alternating traffic via a temporary signal.
 U.S. Route 9W is open in both directions south of the Bear Mountain Bridge through Rockland County. The vital connection from Route 9W to Bear Mountain Circle, over the Bear Mountain Bridge to Route 6 (Goat Trail) has been re-established.
 The New York State Bridge Authority has reopened the Bear Mountain Bridge to all traffic.