Bruckner Expressway Bridge Rehab Begins
ALBANY— New York State officials announced recently the start of a $44.7-million project to rehabilitate the bridge carrying the Bruckner Expressway over Rosedale Avenue in the Bronx.
The project will restore and modernize the bridge to enhance safety and ease travel along this vital commuter and commercial artery in the New York City Region. Around 104,000 vehicles pass over the Bruckner Expressway bridge daily—approximately 38 million vehicles every year. State-of-the-art construction materials and techniques will be used to help reduce the bridge's long-term maintenance costs and extend the structure's lifespan by more than 40 years. The project will build on the state's investments to enhance infrastructure in the South Bronx and improve the quality of life for residents – investments that include the ongoing $1.7-billion Hunts Point Access Improvement Project.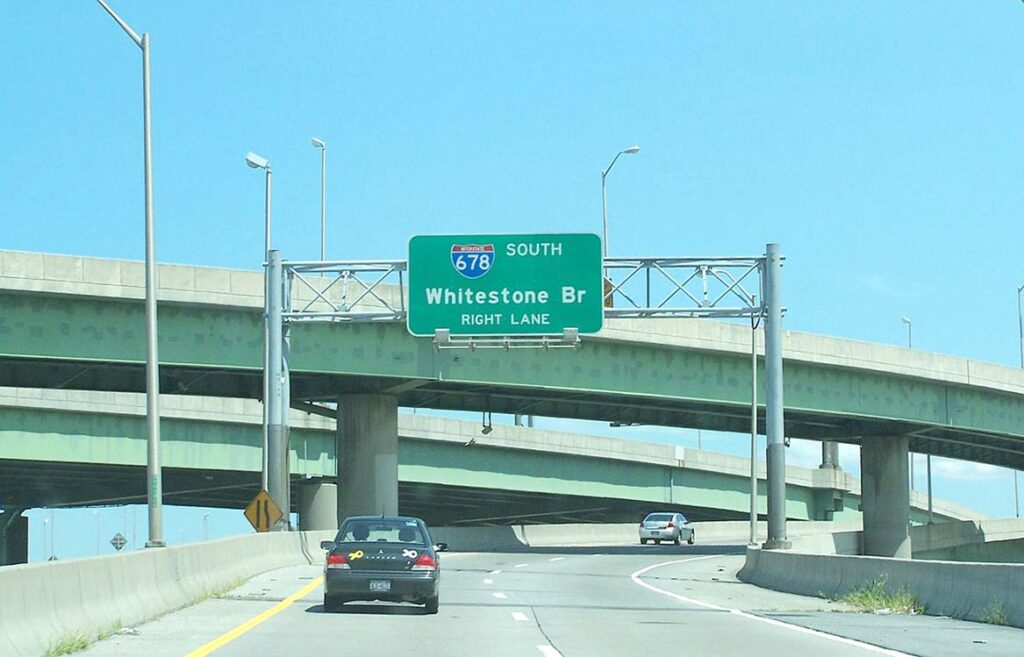 The New York State Department of Transportation announced in early 2023 that El Sol Contracting/ES II Enterprises JV won a best value selection designation for the contract. The El Sol joint venture bested seven other bidders for the project work.
"New York State continues to make historic investments in infrastructure that will reconnect communities, promote economic activity and competitiveness, and improve quality of life for New Yorkers," Gov. Kathy Hochul said. "The Bruckner Expressway bridge over Rosedale Avenue is a vital connection in the South Bronx, and these improvements will improve its safety and resiliency to benefit the surrounding community for decades to come."
As part of the rehabilitation, multiple bridge spans will be eliminated and stainless steel will be used to reinforce the deck of the bridge, which will reduce the bridge's life-cycle maintenance costs. The existing 27 span-bridge will be converted to a three-span structure, with the remaining 24 spans filled with light-weight concrete and converted to an on-grade highway section to reduce maintenance requirements. The rehabilitated bridge will also be jointless, so moisture will no longer penetrate through joints and corrode the underside of the bridge. The wall façade of the bridge, which is currently brick, will be replaced with fibrous cement—precast concrete panels on the top and precast concrete "stone slabs" on the bottom—that are more durable and easier to maintain.
Other upgrades include new lighting as well as a new drainage system for improved resiliency. Steel girders will be painted, and some portions of Bruckner Boulevard and Rosedale Avenue under the Bruckner Expressway will be milled and paved with an asphalt overlay. Standard barriers will be installed to enhance safety for the traveling public in the event of potential impacts. The existing drainage catch basins will be removed from the traffic lanes and new ones will be installed on shoulders, enhancing rideability and ensuring that traffic is not interrupted should the catch basins need to be inspected or maintained. New traffic signal heads will also be installed on the outermost beams of the bridge. Existing light poles on the expressway and lighting under the bridge will be removed and replaced with new LED lighting. The project is slated for completion in the spring of 2026.
EFC Accepting Applications for $425M in Grants For Local Critical Water Infrastructure Projects
ALBANY—The New York State Environmental Facilities Corporation recently announced the application period is open for $425 million in state grants made available for critical water infrastructure projects that protect public health and the environment. Bolstered by the first spending under the Clean Water, Clean Air, and Green Jobs Environmental Bond Act of 2022, the infusion of funds will continue to help make water infrastructure investments more affordable for local governments, strengthen resiliency, combat climate change and create jobs in the manufacturing, engineering, construction, plant operations, and related industry sectors.
"EFC's grants are a direct investment in the future of communities across New York State," President and CEO Maureen A. Coleman said. "Coupled with the continued high level of investment for water infrastructure in the State Budget, funding from the Environmental Bond Act will help ensure that residents have safe drinking water and a clean, resilient environment while creating jobs to support local economies. Our Community Assistance Teams are ready to help small, rural and disadvantaged communities access this funding for their critical environmental infrastructure projects."
EFC administers the Water Infrastructure Improvement (WIIA) and Intermunicipal Grant (IMG) programs working closely with the Departments of Health (DOH) and Environmental Conservation (DEC). The state has awarded more than $2 billion in water infrastructure grants through EFC since 2015. The $4.2 billion Environmental Bond Act approved by voters in November 2022 specifically named WIIA and IMG programs as tools to help leverage water quality improvement and resilient infrastructure funding.
The infusion of Environmental Bond Act funding will help expand the WIIA/IMG grant programs' legacy of modernizing aging wastewater systems and protecting drinking water. This round will continue to prioritize grant awards for drinking water projects that address emerging contaminants as well as critical wastewater projects. Disadvantaged Communities will receive at least 35 percent of the benefits of this funding. 
Local units of government are eligible to apply for funding for:
 WIIA grant awards for critical wastewater projects.
 WIIA grant awards for projects that address emerging contaminants above the State determined Maximum Contaminant Level (MCL).
 WIIA grant awards for other drinking water projects.
 IMG awards for joint wastewater or drinking water projects undertaken by two or more communities to consolidate services.
Complete eligibility information and application materials are available on EFC's website at www.efc.ny.gov/wiia.. Grant applications and required supporting documentation must be submitted by 5 p.m. on Fri., Aug. 11.