Congestion Pricing Program Works; Data from Other Cities Proves It
By MARY BARBER – May 19, 2023
New York is poised to be the first city in the United States to implement a tolling program to combat traffic congestion and incentivize the use of public transportation. This approach has successfully reduced traffic and improved air quality in London, Stockholm and Singapore and raised significant funding for public transit. While each city faces unique challenges, evidence from around the world shows that these programs reduce traffic, improve air quality and raise revenue to modernize public transportation.
The concept of congestion pricing isn't new. Given the return to prepandemic traffic, congestion pricing is more necessary than ever to reduce traffic, slash pollution and provide the funding needed to modernize trains, buses and subways throughout the region. In addition, the city and the state are developing complementary policies to electrify trucks and incentivize freight movement with rail and maritime solutions.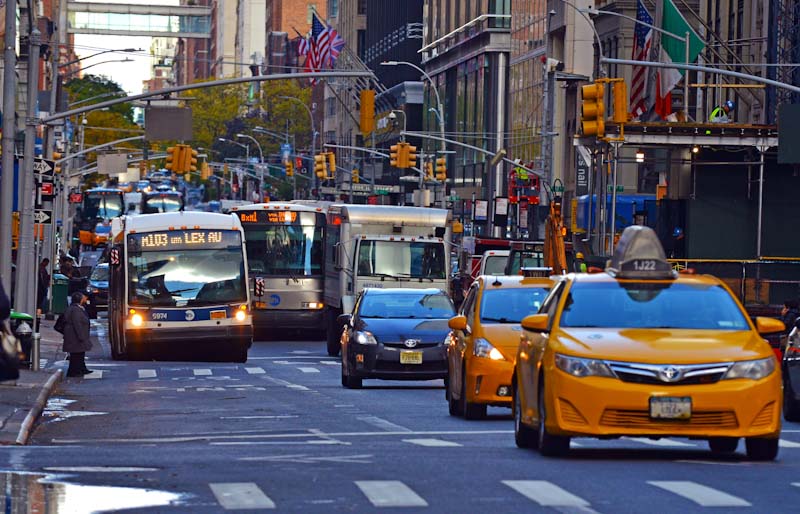 As transportation is one of the state's most polluting sectors, it is critical that New York––which has some of the most robust climate goals in the country––reduce transportation emissions to achieve these goals and improve public health. Transportation emissions directly affect the health of millions of New Yorkers, leading to significant health issues, particularly in low-income and environmental justice communities.
London implemented its congestion pricing program 20 years ago in response to severe gridlock, slow- moving vehicles and long commute times. After the first year, traffic in the congestion pricing zone fell by 30% and continued to decrease despite a 15% increase in London's population. Public transportation ridership and bike use increased immediately. In 10 years the program raised more than $1.4 billion for public transportation improvements. This significant reduction in vehicle travel had real health and environmental benefits from decreased carbon dioxide, nitrogen oxides and particulate matter emissions.
This success wasn't unique to London. In every city, congestion pricing provided funds for public transportation and reduced vehicle congestion harmful pollution.
In Stockholm, traffic and emissions both in and out of the congestion zone fell. In Singapore, despite population growth, traffic congestion fell and average vehicle speeds increased significantly. With funding from the city's tolling program, Singapore expanded public transit systems, increasing ridership and reducing greenhouse gas emissions.
The Metropolitan Transportation Authority's environmental assessment of New York City's tolling program found that the city would expect successes similar to those seen abroad. Under every proposed tolling scenario, total vehicle miles traveled would fall and the program would generate more than $1 billion per year for critically needed renovations to transit across the region.
Congestion pricing will benefit all New Yorkers, but it is critical that particular attention is given to overburdened communities, such as the South Bronx, where high asthma rates are driven by exposure to emissions from truck exhaust on the Cross Bronx Expressway. The Transit Mobility Review Board must ensure the program reduces emissions in these communities, and the MTA and the state have to guarantee complementary programs such as truck and bus electrification are prioritized for environmental justice communities.
Congestion pricing works, and the data backs it up. It's time for the state and the MTA to make it a reality. It must be implemented quickly with expanded zero-emission vehicle infrastructure and bus electrification to keep New Yorkers healthy and moving again.
About the author: Mary Barber is director of state affairs at the Environmental Defense Fund