State-of-the-Union Address: President Biden Offers Promising Blueprint for Blue Collar America
WASHINGTON—Highways and bridges served as trusted agents of leadership at last night's State of the Union address, when President Joe Biden doubled down on the Bipartisan Infrastructure Law to tout his administration's accomplishments after two years in office.
In his 72-minute address last night before a packed House but a clearly divided Congress, he ran through highlights of his economic agenda that includes trillions of dollars in funding for infrastructure, climate change and semiconductor manufacturing – which are beginning to create tens of thousands of new jobs in the construction industry alone.
During his speech, he touted the passage of the infrastructure bill, the CHIPs Act, the creation of more than 800,000 jobs in the manufacturing sector and low unemployment at 3.4%, a 50-year low. The President also noted that inflation has fallen from its peak last summer and gas prices have also declined by $1.50-per-gallon.
But it was the IIJA that drove home his theme of what bipartisanship has accomplished so far, resulting in 20,000 projects already funded by the new infrastructure law. He thanked those Republican lawmakers (13) who voted for the bill and threw a sharp jab at those who voted against it but whose constituents would benefit from IIJA. "I sincerely thank my Republican friends who voted for the law. And to my Republican friends who voted against it but still ask to fund projects in their districts, don't worry. I promised to be the president for all Americans. We'll fund your projects. And I'll see you at the groundbreaking."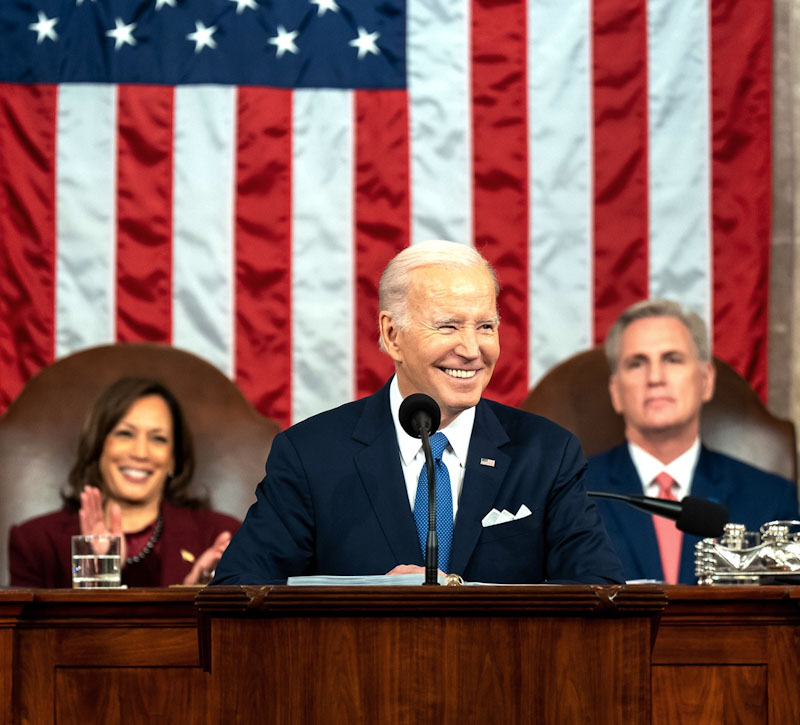 He also announced new proposed standards to require all construction materials used in federal infrastructure projects, such as lumber, glass, drywall and fiber optic cables, to be made in America. He said that on his watch, "American roads, American bridges and American highways will be made with American products."
Initial reaction from construction trades groups has been positive so far.
"President Biden has proven time and time again that his administration believes in the power of infrastructure investment as a key contributor to job creation and economic growth," said Carlo A. Scissura, Esq., president and CEO of the New York Building Congress. "After hearing this idea echoed throughout his State of the Union address, our members stand ready to deliver the U.S. back to infrastructure prominence on the big-ticket projects that will lead to increased livability, accessibility, equity and resiliency for all. Because the President is right: 'We used to be number one in the world in infrastructure… we've sunk to thirteenth…but we're coming back … and we're just getting started!' To that end, our advocacy on this front will remain steadfast, as we seek to expedite funding, and get our industry doing what it does best — building a better America. Let's 'finish the job' indeed."
New York Gov. Kathy Hochul also released a statement that supported the President's speech, "In his address to the nation, President Biden highlighted significant achievements that are making a difference in the lives of all Americans —including New Yorkers: the Inflation Reduction Act is creating green jobs while fighting the climate crisis, the CHIPS and Science Act is attracting growing, innovative companies like Micron, and the Bipartisan Infrastructure Law is helping once-in-a-generation projects like Gateway to move forward. "There is more work to do in order to make New York and the nation more affordable, more livable and safer."
Earlier this month, President Biden was in the New York City region to call media attention to the U.S. DOT awarding $1.2 billion in mega grants that includes NY-NJ's Gateway Project. Here he announced the largest of nine grants, at $292 million, to help support the rail tunnel construction on the Gateway Program, designed to improve the most congested 10-mile section of the Northeast Corridor in New Jersey and New York.
The Gateway construction project will receive discretionary grants for large national and regional transportation projects through the IIJA's National Infrastructure Project Assistance (Mega) Grant program, which is dispensing $5 billion over five years. Last month President Biden and Sen. Mitch McConnell (R-Ky.) announced another Mega Grant to upgrade the Brent Spence Bridge in Cincinnati, improving the link between Kentucky and Ohio.
This U.S. DOT funding will cover construction of the third and final section of the concrete casing intended to preserve future right-of-way for the new Hudson River Tunnel and allow for the continued redevelopment of Hudson Yards. This is a part of the larger Gateway Project and a critical step towards creating a new Hudson River Tunnel.