$32M Newburgh Sewer Tunneling Project is First To Secure Funds from Fed. Infrastructure Law in NYS
By JOHN JORDAN – January 20, 2023
NEWBURGH—The City of Newburgh announced on Jan. 12, in partnership with New York Gov. Kathy Hochul and United States Senate Majority Leader Charles Schumer, the start of the next phase of the $32-million North Interceptor Improvement Project—an innovative microtunneling process that will expedite completion of the project while reducing disruption for city residents.
Microtunneling is a remote-operated trenchless construction method that allows for simultaneous excavation and pipe laying. A specially designed boring machine delivered to the city earlier this month will excavate the tunnel through bedrock, city officials noted.
The North Interceptor Sewer Improvement Project is the largest and most significant infrastructure project to take place in the city in decades. The project commenced construction in April 2022 and will be completed in the Spring of 2024.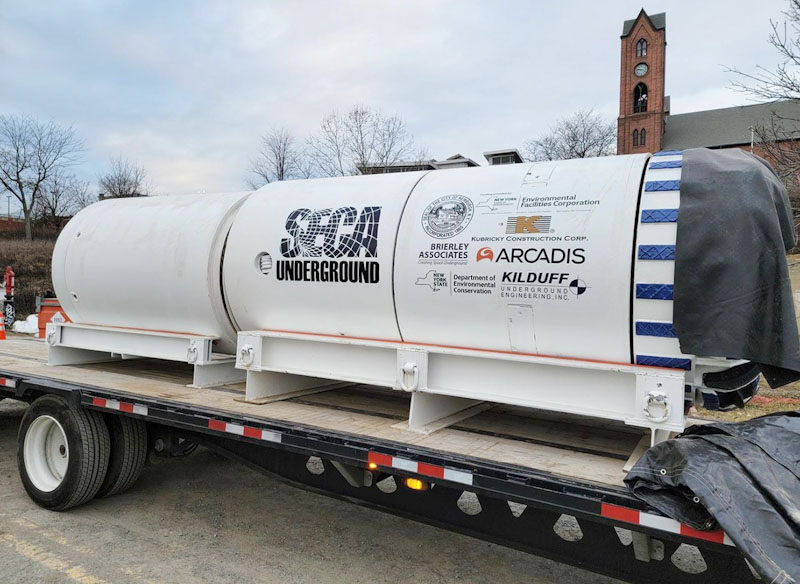 The project received more than $6.1 million in federal Bipartisan Infrastructure Law funds in November. New York State is also contributing more than $21 million in state grants and interest-free financing to support the city's construction of new, larger sewer pipes and other crucial upgrades to strengthen the city's ability to withstand high water events and reduce pollution in the Hudson River.
At completion, the project will have installed 8,700 linear feet of new, larger-gravity sanitary piping to make upgrades to the city's combined sewer infrastructure that are crucial to protecting the water quality of the Hudson River.
"Combined with our state's significant clean water investments, the unprecedented funding from the Bipartisan Infrastructure Law provides a crucial opportunity to make significant environmental improvements that will protect public health across the state for generations to come," Gov. Hochul said. "These wastewater and stormwater upgrades are vital to protecting the environment and enhancing quality of life in Newburgh, and my administration will continue to work hard to get funding out the door efficiently and equitably to help communities get shovels in the ground for critical projects."
City of Newburgh officials told CONSTRUCTION NEWS that contractors working on the project include ARCADIS, Kubricky/DA Collins, and SECA Underground. The project is a prevailing wage job and union workers will be employed, city officials noted.
Senate Majority Leader Schumer said, "I am proud to deliver this historic $27-million investment to upgrade the City of Newburgh's clean-water infrastructure through the federal Bipartisan Infrastructure & Jobs Law, that I championed in the Senate. For years, I've worked with the City of Newburgh, Riverkeeper, the Newburgh Clean Water Project, and local advocates to improve Newburgh's water infrastructure, with the goal of making our beloved Newburgh neighborhoods healthier and safer places to live and work."
He added, "Last year, I was proud to secure $12.8 million for Newburgh's North Interceptor Sewer Project through the annual federal budget so Newburgh could begin this important work. I thank the New York State Department of Environmental Conservation and Environmental Facilities Corporation for directing New York's first-ever, clean-water infrastructure construction funding from the Bipartisan Infrastructure & Jobs Law to build on this critical work and will continue fighting alongside them to deliver this funding to our Hudson Valley communities."
City Councilmember Ramona Monteverde said, "The City Council has approved more than $100 million in infrastructure upgrades throughout the city, funded with state and federal dollars at minimal cost to City taxpayers. The $32-million North Interceptor Sewer Improvement project demonstrates the City Council's commitment to finding innovative solutions to jumpstart economic development while protecting our most valuable natural resource, the Hudson River."
The City of Newburgh's City Council has repeatedly, successfully advocated for infrastructure funding from New York State and federal partners to complete major projects at minimal cost to city residents. The $32 million North Interceptor Sewer Improvement Project —being completed at minimal cost to city taxpayers—is the most significant example, city officials stated.
Dan Shapley, Co-Director of Science and Patrol, Riverkeeper said, "Newburgh is exemplary in being proactive to get federal funding, and that is something we need all communities up and down the Hudson River to model and emulate."