Mandate Shown for Clean Air, Clean Water, Green Mitigation
Voters Overwhelmingly Approve $4.2B Environmental Bond Act
By JOHN JORDAN – November 25, 2022
TARRYTOWN—New York State voters marked their ballots on Election Day overwhelmingly in favor of the $4.2 billion in bond financing to fund sorely-needed clean water, clean air and green construction projects.
The measure passed by a more than two-to-one margin, with 59.28% of cast ballots (3,416,894) in favor of Proposition 1, called The Clean Water, Clean Air, Green Jobs Bond Act. According to the New York State Board of Elections, some 28.70% (1,654,091) of the voters rejected the measure, with the remaining ballots cast on Election Day either blank or voided.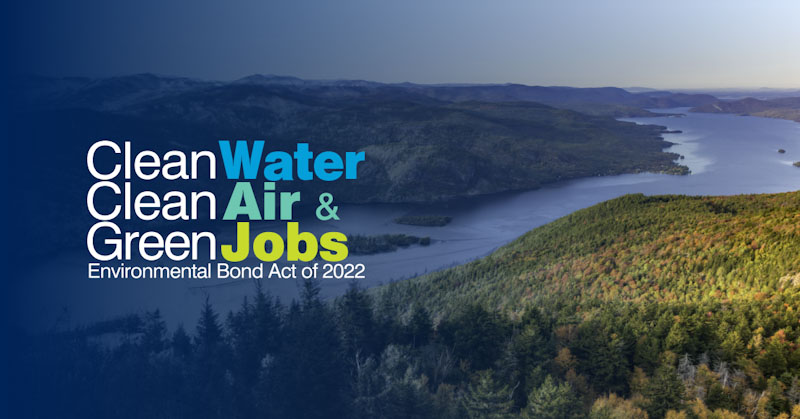 Construction industry organizations statewide banded with major environmental groups to support the legislation. New York Gov. Kathy Hochul advanced the measure by increasing the funding cap by $1.2 billion from the $3 billion that was initially sought by former Gov. Andrew Cuomo under the "Restore Mother Nature Bond Act" in early 2020. (The vote on that proposed referendum was postponed due to the economic uncertainty caused by the pandemic.) The Construction Industry Council of Westchester & Hudson Valley, Inc., and the Building Contractors Association of Westchester & The Hudson Valley, Inc., are members of the "Vote Yes for Clean Water and Jobs Coalition."
Bond act proponents say that the bond financing, in addition to existing state funding for clean water, clean air and green projects, will generate thousands of construction jobs and multi-billions in investment. Earlier this year, a study authored by infrastructure consulting firm AECOM and Rebuild by Design, an advocate for resilient infrastructure, found that the construction industry will reap tens of thousands of jobs and an overall economic impact of $8.7 billion in direct and indirect project spending if the bond act was approved by voters.
The 2022 Clean Water, Clean Air, Green Jobs Bond Act is the largest bond measure approved by voters in New York history. The report found that the Environmental Bond Act would support 84,000 jobs in New York. The measure was also the largest bond initiative on November ballots nationwide.
"We built a diverse and engaged coalition of over 300 environmental organizations, unions and business groups that propelled this measure to success," said Jessica Ottney Mahar, The Nature Conservancy's New York Policy and Strategy Director, describing the coalition and its activities of distributing tens of thousands of palm cards, window signs and lawn signs, and firing up enthusiasm among New Yorkers. "We have delivered the first environmental bond act in a generation," she added. (The previous statewide bond act passed 26 years ago in 1996 under then Gov. George Pataki.)
"The coalition also funded a robust paid media operation that educated voters on both sides of the aisle on the importance of voting 'Yes' on the Clean Water, Clean Air and Green Jobs Environmental Bond Act," Ms. Ottney Mahar added. "The passage of this measure will pay for projects that protect clean drinking water, tackle climate change and conserve natural resources while creating jobs and delivering environmental justice across New York State. Now we start the important work of implementation. Onward!"
John Cooney, Jr., executive director of the CIC, said that the "Vote Yes" campaign eventually included more than 200 organizations representing the environmental, open space, construction, organized labor and business associations across the state. He listed some of the significant areas of need where funding for municipal, county and state projects will be available. Sewer and wastewater infrastructure upgrades are slated to receive $650 million from the bond act.
"The funding authorization now allows municipalities across New York State to upgrade their wastewater infrastructure to protect any kind of outfall from getting into our clean water or storm water overflow," Mr. Cooney said. Wastewater projects could include sewer line and sewer plant upgrades and the construction of new wastewater facilities.
Highlights of the Bond Act
Under the Bond Act, there will be four major funding buckets—$1.5 billion is earmarked for Climate Change Mitigation; another $1.1 billion is for Restoration and Flood Risk Reduction; $650 million is for Open Space Land Conservation and Recreation and $650 million is for Water Quality Improvement and Resilient Infrastructure. A total of $300 million is unallocated, according to the Nature Conservancy.
Under Climate Change Mitigation, not less than $400 million will be spent on Green Building Projects; not less than $100 million on climate adaption and mitigation projects; not less than $500 million for zero emission school buses and supporting infrastructure; not less than $200 million for air and water pollution elimination in environmental justice communities and up to $300 million for urban heat reduction, urban forsttry projects and reducing or eliminating air or water pollution in environmental justice communities.
According to the Nature Conservancy, under Restoration and Flood Risk Reduction, the lion's share of the funding—up to $650 million—will go for wetland stream, forest and wildlife habitat restoration, protecting people, roads and building from flooding through acquisition moving, lifting or raising flood prone properties, structures and infrastructure, as well as relocating, repairing or raising flood-prone roadways and updating dams, bridges and culverts. Other facets of this initiative include no less than $100 million for coastal rehabilitation and shoreline restoration projects; no less than $100 million for projects to reduce inland flooding and revitalize waterfronts and not more than $250 million for voluntary buyout and restoration projects.
The Water Quality Improvement and Resilient Infrastructure component breakdown calls for no less than $250 million for wastewater infrastructure repairs and upgrades; no less than $250 million for municipal stormwater projects and up to $200 million for other eligible projects.
The New York State Department of Environmental Conservation stated that the Bond Act authorizes the state to issue $4.2 billion in general obligation bonds to finance projects that benefit the environment, including projects that help provide clean water, combat climate change, and modernize infrastructure. Debt service payments associated with the Bond Act will be paid for by the state's General Fund throughout the term of the state bonds. These projected payments are already accounted for in the state's long-term financial plan; and therefore, taxpayers will not see an increase in their state taxes as a result of the environmental bond act moving forward.
Lori Severino, a public information officer for the New York State DEC, said, "Competitive procurements and Requests for Proposals would need to be established or utilize existing program calls for projects later in Fiscal Year 2024. It is anticipated that the processes to initiate project identification and selection and allocation of funds will begin very soon."
In addition to the public sector and environmental groups, organized labor representatives also praised the Bond Act and hailed its passage.
Thomas A. Callahan, president of the NYS Conference of Operating Engineers said prior to Election Day, "New York has been operating on a century-old infrastructure for water and energy. A system that will simply not be able to handle the uncertainty of our changing environment and energy needs. The Bond Act will not only help us with retrofitting outdated systems and replacing dangerous leaking pipes, but it will also be a direct investment into New York's communities, especially those that have been most disadvantaged by the state's aging infrastructure and create good-paying jobs."
Of special importance for downstate counties will be funding for flood resiliency projects, clean water and a variety of grants that will be available to local governments and school districts. Electric school buses and electric vehicle charging infrastructure will receive support to match the growth in availability of these vehicles in upcoming years.
Many census tracts in lower Westchester have already been identified as environmental justice areas. The bond act includes priority funding for neglected areas that have the greatest need to correct existing water and air-quality pollution.
The water-quality improvement category of the Bond Act will provide additional funding for the water quality improvements, such as the Water Infrastructure Improvement Act grant program, which was initiated in 2015. With the recent announcement of Water Infrastructure Improvement and Intermunicipal Grants (WIIA & IMG), Westchester projects have now been awarded over $60 million in state grants from this program. The new bond act funding is expected to further reduce the cost local taxpayers must shoulder for these clean water projects.
The bond act also includes the creation of a new stormwater grant program. Flooding from Hurricane Ida in 2021 highlighted the need to rebuild or upgrade municipal stormwater systems. "State assistance is the only way to make these improvements affordable at the local level," said New York Assemblyman Steve Otis (Rye). "Environmental bond acts have historically been passed every decade with the most recent propositions approved by voters in 1966, 1972, 1986 and 1996. The gap in years since 1996 underscored the need for new capital funding for environmental projects."
Rep. Otis added, "Environmental bond act funds are not awarded all at once. They will be appropriated over a number of years. I know that there will be opportunities to combine these state funds with federal programs that support some of the same program categories included in the bond act."