Thruway Authority's Driscoll Unveils $1.7B Capital Plan
By JOHN JORDAN – October 27, 2022
TARRYTOWN, NY – Representatives of the Hudson Valley region's building and construction contracting community and union trades recently received a lengthy presentation from New York State Thruway Authority Executive Director Matthew J. Driscoll on the agency's ongoing $1.9-billion capital program of projects to be let in the coming years.
As a keynote speaker at the 2022 Fall Membership Meeting on Oct. 6 of two leading trade associations in the downstate region, Mr. Driscoll painted a detailed picture of the challenges the authority faces in an economy racked by inflation and supply chain shortages. The sponsors of the meeting, the Construction Industry Council of Westchester & Hudson Valley, Inc., and the Building Contractors Association of Westchester & the Mid-Hudson Region, staged the meeting at the Westchester Marriott Hotel here near its Tarrytown, NY headquarters.
Adam Bosch, president and CEO of Hudson Valley Pattern for Progress, was the second keynote speaker of the evening. He highlighted the key recommendations of a recently released major study commissioned by the CIC entitled "The Hudson Valley Infrastructure Gap."
CIC Executive Director John Cooney, Jr., launched the program on an upbeat note, commenting that although there are economic and regulatory headwinds facing the construction industry and the threat of a looming recession in 2023, he believes the strength of the construction industry will prevail.
"We are living through interesting times, but I believe that the construction industry has and will weather these interesting times in great fashion," Mr. Cooney said. "I think we have an exciting future to look forward to between the IIJA (Infrastructure Investment and Jobs Act) investments and the green energy investments…"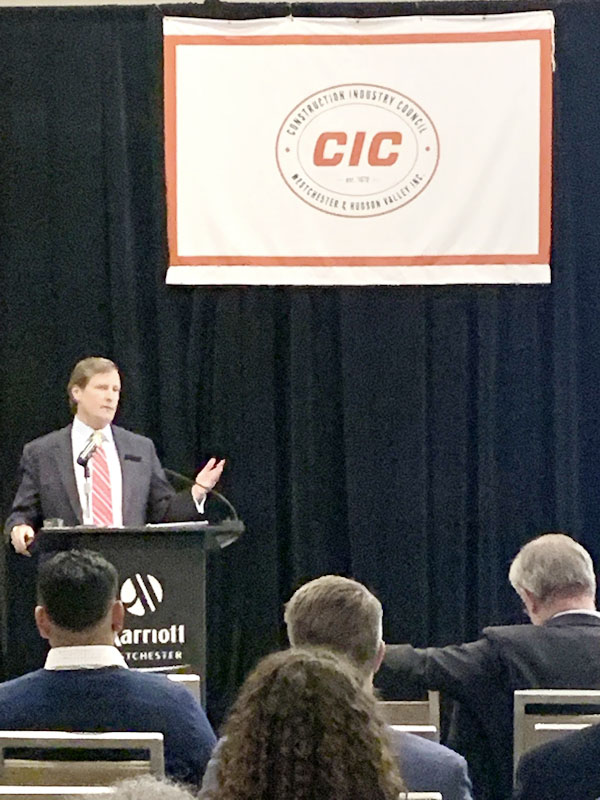 He continued, "I do believe that in the next two to three years the (strong forecasts in construction) will be borne out in a way that will be truly exciting for New York State, the United States, but really for our industry."
Mr. Driscoll chronicled some of the recent Thruway Authority accomplishments, highlighted by the seven-year completion of the new Mario M. Cuomo Bridge. He admitted, however, that since the onset of the coronavirus, the job of managing and maintaining the 570-mile road network has been challenging. He specifically cited supply chain issues as a significant problem.
"Every project we do has its own set of challenges, including cost increases related to steel, asphalt and fuel that are impacting our remaining projects in 2022 that are under construction by as much as $9 million this year alone," he told the gathering.
He related that during COVID the authority completed work to convert to Cashless Tolling systemwide and noted that when completed 23 of the 27 service areas will be rebuilt or upgraded as part of a $450-billion private investment. The Thruway Authority is in the process of installing 140 EV (electronic vehicle) charging stations at service areas systemwide.
The Thruway Authority is responsible for 2,800 lane miles, 815 bridges, 118 interchanges, 27 service areas and three welcome centers. He added that in an average year, more than 250 million drivers travel more than eight billion vehicle miles on the Thruway, which calculates out to approximately 23 million vehicle miles per day.
Mr. Driscoll then noted the New York State Thruway was built during the Eisenhower Administration and was not designed to accommodate today's traffic demands, volume and vehicle weights. He noted only 15% of the original New York State Thruway has been fully reconstructed, and that eight of every 10 Thruway bridges are nearing the end of their useful service life.
In 2021, the New York State Thruway spent $317 million for infrastructure improvements to the system that involved 67-lane miles reconstructed or resurfaced, nine bridges replaced, 42 bridges reconstructed or rehabilitated and 52 interchanges modified or upgraded as part of the authority's Cashless Tolling project.
Stating that the capital planning process is more important than ever, he said this year the Thruway Authority has redesigned and redeveloped its capital program. "Our goal is to have greater certainty and deliverability of projects in our capital plan," he said.
Mr. Driscoll reported that as part of that effort, the Thruway Authority is re-focusing on "more robust, long-term projects that will help ensure a truly viable highway for future generations." This new effort will result in less "mill and fill" projects, he noted.
Mr. Driscoll announced that beginning in 2025 the Thruway Authority's capital program will include at a minimum $50 million in lettings every year going forward as part of a mandate to create a "dedicated and disciplined approach to rebuilding the entire New York State Thruway end-to-end."
"Obviously this is a monumental endeavor and it is not going to happen overnight," he said. "But it is a commitment we must make and must keep." He said that it is estimated it will cost $3 million per-lane mile to reconstruct the entire New York State Thruway.
While noting the Thruway Authority is aggressively seeking federal funding for projects, he said the Thruway Authority has let $1.6 billion in projects over the last five years, including the completed $138-million last mile of I-95 (New England Thruway) project in Westchester County.
In 2022, the New York Division of the New York State Thruway let $135 million so far, with another $56 million in estimated work to be let in November. Among some recent and ongoing projects include significant work in Rockland County involving the $30-million replacement of three bridges along I-87 and repaving work from the Mario M. Cuomo Bridge to just past Spring Valley. There is further repaving work planned for a stretch in Rockland County extending into Orange County and at the Garden State Parkway connector.
The $1.9-billion capital program over the next five years includes $1.7 billion for system-wide projects. A total of 85% of the program's funding will be dedicated to highway and bridge repair, Mr. Driscoll said. He also said that the authority will seek to strengthen its MWBE program going forward. In the past three years, the Thruway Authority has increased its MWBE participation rate, thanks to cooperation from the construction industry, from 16% in 2019 to 24% in 2022.
Among the notable projects to be let as part of that capital program in 2023 include:
 Replacement of the North Avenue Bridge in New Rochelle, NY.
 Addition of a pedestrian bridge on South Broadway over the New York State Thruway in Tarrytown, NY.
Mr. Driscoll concluded his remarks by saying that the Thruway Authority's goal to modernize the system can only succeed with the help from the construction industry.
"The Thruway Authority, CIC and BCA have enjoyed a strong and long-standing partnership," he said, "It is unique because we largely rely on private sector funds to perform a majority of our capital projects and so, consequently we share many of the same goals and challenges that you do."
Mr. Bosch of Pattern for Progress then spoke about the hundreds of millions of dollars in state and federal funds for infrastructure that are going unspent as the condition of Hudson Valley roads, bridges, sewers, and other critically important infrastructure continues to worsen.
One of the more alarming findings of the report was that only 11% of the more than $3.9 billion appropriated statewide in 2017 for water infrastructure projects was spent as of March 2020.
Some of the other key report findings include:
 Many municipalities do not have the staffing and expertise to apply for grants and other federal funding programs, so they don't apply.
 A total of 250 counties, towns, villages and cities in the Hudson Valley are responsible for repairing most of the local roadways, yet 73% of local roads in the Hudson Valley are ineligible for federal funds.
 State funds for road, bridge, sewer and water projects declined 11% between 2019 and 2020, aggravated by a halt in spending during the COVID-19 pandemic. Spending on infrastructure has been flat over the past decade.
 411 or 17% of bridges in the Hudson Valley have been rated in "poor" condition by the Federal Highway Administration. It would take an estimated $671 million to improve municipal bridges and $1.8 billion to improve county bridges, yet only $28.4 million has been allotted by Bridge-NY (the major source of funding) over the past two years.
 A municipal workforce labor shortage created by retirements, lack of training and overall changes in the workforce are slowing construction projects.
 A lack of capital planning and infrastructure management is resulting in problems in budgeting and scheduling repairs.
The full report, including recommendations for helping bridge the infrastructure gap, is available at: https://cicbca.org/news/#HudsonValleyInfrastructureGapReport
Also part of the Fall Meeting, Rev. Kiril Angelov, pastor of St. Michael's Ukrainian Catholic Church in Yonkers, thanked the CIC/BCA for organizing a benefit softball game in July that raised some $25,000 to help fund food relief efforts in Ukraine.