Regeneron's Multi-Year Expansion Now Pegged at Nearly $2 Billion
By JOHN JORDAN – July 26, 2021
TARRYTOWN — The planned expansion of Westchester County-based Regeneron Pharmaceuticals has exponentially increased and is now valued at $1.8 billion.
The firm, which is seeking approvals from the Town of Greenburgh for an expansion plan valued at $480 million, is now moving forward with a multi-year expansion that will approach nearly $2 billion. The Tarrytown-headquartered firm's updated expansion plans were announced by New York Gov. Andrew Cuomo on July 15.
The company will expand its research, preclinical manufacturing and support facilities at the company's Westchester County campus in Tarrytown and 
create 1,000 new full-time, high-skill jobs in the Mid-Hudson region over the next five years. Gov. Cuomo said that inreturn, Empire State Development is offering the company up to $100 million  in Excelsior Jobs Program tax credits if its hiring goals are achieved. Regeneron considered several potential sites in the tri-state area before deciding to expand in the Mid-Hudson region, according to the governor's announcement.
Regeneron intends to substantially expand its research and development capabilities in Tarrytown, which will include the addition of new preclinical manufacturing and process development suites, laboratories and office space. The project will encompass the design and construction and fit out of up to eight buildings, three parking garages and a central utility plant totaling approximately 900,000 square feet. Road infrastructure improvements will be necessary to support additional buildings at their existing headquarters and R&D campus. The project is planned to take place in two phases over six years.
The direct and indirect fiscal benefit to state and local government is estimated to be more than $283.3 million and the estimated economic benefit to New York is nearly $2 billion. Construction planning will begin this summer and project construction will be completed in 2027.
"New York is proud to be at the forefront of the life sciences industry and the home of global biotech leaders like Regeneron," Gov. Cuomo said. "The continued growth of Regeneron here in New York is yet another indication that we are leading the way in the life sciences and attracting the jobs of tomorrow. Not only will this expansion further drive economic growth in the Mid-Hudson region, but fuel lifesaving innovation and development that benefits the entire world."
Regeneron President and Chief Executive Officer Leonard S. Schleifer, M.D., Ph.D., said, "The COVID-19 pandemic has highlighted the importance of continued and long-term investment in the biopharmaceutical industry, and Regeneron is proud to pursue lifechanging science and technology from our labs and manufacturing facilities in New York State. In 2020 and 2021, the Regeneron team has worked tirelessly, bringing forward new treatments for people with COVID-19, Ebola, multiple forms of cancer and pediatric atopic dermatitis. As we expand our team and site, we look forward to bringing even more medical breakthroughs to patients in need."
Regeneron had recently amended an earlier expansion plan on property in the Town of Greenburgh from approximately $149 million to $480 million. Greenburgh Town Supervisor Paul Feiner told CONSTRUCTION NEWS that the proposal is nearing final approvals.
Garrett Duquesne, commissioner of community development & conservation for the Town of Greenburgh, stated that Regeneron's expansion plan is before the Town Board, Planning Board, Zoning Board of Appeals. Decisions on the proposal are anticipated in August and September. Regeneron has previously secured approvals for an expansion of its campus of approximately 1 million square feet at 555 Saw Mill River Road. That project has yet to be constructed.
"We are very excited that Regeneron is expanding their Greenburgh campus- creating jobs, helping us with our tax base. It's also great for property values—their future employees will want to live nearby. Many will purchase homes here," Greenburgh Supervisor Paul Feiner said.
On April 22, representatives of Regeneron Pharmaceuticals, Inc. made a presentation to the Westchester County Industrial Development Agency on an amended expansion plan for property in the Town of Greenburgh.
Janet Giris, a partner with the law firm DelBello, Donnellan & Weingarten, Wise & Wiederkeher, LLP who represented Regeneron at the IDA session, noted that the new project is an expansion of its Parcel D project originally proposed in 2015 as a building not to exceed 192,000 square feet that secured Westchester IDA approval, but never moved forward.
"Recently, Regeneron has been reevaluating its long-term space needs and determined that the originally approved Building D no longer meets its needs," she said.
Ms. Giris said that Regeneron planned to submit an amended incentives application with the IDA for its new project that would involve the construction of a new two-story, 207,000-square-foot building, along with a parking structure and other infrastructure that will increase the development cost of the project (including equipment) by approximately $331 million to $480 million. The original plan called for the construction of a building totaling approximately 128,000 square feet of mixed lab/office space.
In its presentation, Regeneron estimates that construction costs will total $310 million, design costs $21.7 million and FF&E (furniture, fixtures and equipment) $148.9 million. The cost of the original project was estimated at $150 million. The firm estimated the tax savings it will secure will net approximately $7.7 million.
The new building will primarily house Regeneron's pre-clinical manufacturing and process development operations. She reported that Regeneron recently applied to the Town of Greenburgh for amended land use approval on the Parcel D building.
According to a project timeline submitted to the IDA, Regeneron hopes to secure approvals from the Town of Greenburgh and necessary permits that would allow construction to begin sometime in the third or fourth quarter of this year with project completion slated for mid-2024.
To date, Regeneron has not appeared before the IDA since to discuss its amended plan. The next Westchester County IDA meeting is scheduled for Thursday, July 22. According to an agenda posted on its website, the IDA is expected to hear a cost benefit analysis of the Regeneron project.
Building Trades Criticize Decision To Sidestep IDA-Approved Labor Reg.
By JOHN JORDAN – July 26, 2021
WHITE PLAINS, NY — Earlier this year, the Westchester County Industrial Development Agency approved new workplace regulations requiring each applicant seeking tax relief or other inducements to hire more local workers and enroll in apprentice programs. On June 24, in the first test of a project falling under these new requirements, the IDA Board in a 6-1 vote granted the developer some relief from those newly imposed rules.
Following the IDA Board's vote to preliminarily induce the $275-million Gateway II mixed-use project in Downtown White Plains, the head of the local labor council blasted the terms proposed by the developer as "totally unacceptable." Edward Doyle, president of the Building & Construction Trades Council of Westchester & Putnam Counties Inc., said its executive board planned to make a formal protest to the IDA over the developer's revised terms.
The IDA Board's vote approving the preliminary inducement of the project qualifies the developer, Greystar Real Estate Partners and the Alaska Permanent Fund (GREP/APF), to receive $5.36 million in sales tax exemptions and $1.65 million in mortgage recording tax exemptions. The PILOT (Payment in Lieu of Taxes) agreement reached with the City of White Plains and the White Plains School District is valued at $27,183,162, according to documents filed with the Westchester County IDA.
The Gateway II project is to be developed by GS White Plains Owner, LLC, which is led by the Greystar/Alaska alliance. The developer asked for modifications easing some of the newly imposed workforce regulations approved earlier this year based on negotiations between Westchester County and the county's building trades. The labor representative on the IDA Board, Richard McSpedon voted against the incentives due in part to the workforce modifications.
Two representatives of the developer, Eon Nichols, Esq., an attorney with Cuddy & Feder LLP of White Plains, and Ryan Souls, vice president of GREP, told the IDA that if it were to comply with the recently enacted workforce rules, the project cost would increase by 20% or by $37.9 million. The developer spelled out the cost overruns in a June 23 letter that was first given to IDA Board members at the session held on June 24.
Both the IDA's Mr. McSpedon and Mr. Doyle challenged those labor cost estimates.
Mr. Souls of Greystar stated in a letter, "By way of this correspondence, the Applicant is requesting, in writing, a relaxation of two of the Labor Policies relating to the Project, namely the Local Hire Labor Policy and the Apprenticeship Program Policy. To be clear, the Applicant is not seeking to brook an exception from complying with Labor Policies in their entirety. Instead, the Applicant is proposing a number of good faith, alternative means of achieving the spirit of the Labor Policies, which is to promote an important IDA corporate purpose, namely job creation for residents of Westchester County and the lower Hudson Valley."
The developer stated in the letter that it would engage in best efforts by its Construction Manager (LRC Construction, LLC of White Plains) to hire up to 85% construction workers from a local labor market—comprised of the Bronx, Dutchess, Orange, Putnam, Rockland, Westchester and Albany counties—with a minimum of 50% local labor from these markets, subject to available workers. Applicant will also request best efforts by the Construction Manager to hire 30% of the above workforce solely from Westchester.
The new workforce rules require applicants receiving IDA benefits shall utilize at least 85% local labor (Bronx, Dutchess, Orange, Putnam, Rockland and Westchester) for their approved projects; 35% of which must be Westchester County residents.
In terms of the apprenticeship requirements, the developer is proposing an apprenticeship program through the Business Council of Westchester, whereby the Construction Manager has agreed to join with BOCES in enrolling apprentices into both classroom studies of 144 hours minimum as well as hiring for the project for field experience and practical training immediately upon enrollment into the BOCES or other New York State Department of Labor courses. The Construction Manager expects to offer enrollment to 30 apprentices which will be up to 15% of the project's 200 workers at the project site.
Mr. Doyle said he also objected the modifications to the apprenticeship requirements. He told CONSTRUCTION NEWS that he was first contacted by the construction manager, Louis Cappelli of LRC Construction, on June 23 to discuss workforce specifics of the Gateway II projects.
In its letter, Greystar stated it intended to hire union workers on the project. Specifically, the firm stated it would hire Local 456 Teamsters for all concrete deliveries; Local 137 Operating Engineers on the excavation equipment, as well as assisting on cranes, tower cranes, and high-rise building hoist car operations; Local 279 Interior Carpenters for studs, finished trim, and cabinet/millwork installation; Local 46 Lathers for post-tension cable installation on high-rise sections of the buildings superstructure; and Local 60 Laborers for general cleanup on debris of the high-rise building.
Prior to the vote, IDA Chairman Joan McDonald expressed her support for the preliminary inducement for the project by remarking that the Gateway II developer is looking to begin construction in August. "I think what has been negotiated with the developer regarding the apprenticeship program—enrolling a minimum of 30 apprentices in an apprenticeship training program—is a very positive first step," she said.
Ms. McDonald said at the session she also factored into her decision the project's economic impact, as well as the fact that the developer had recently held discussions in good faith with the building trades and has committed to the IDA to use local labor and in particular members of the building trades, which is not a requirement. Ms. McDonald noted that if the developer failed to comply with the terms of its deal with the IDA, there are claw back provisions in place.
In a subsequent interview with CONSTRUCTION NEWS, Ms. McDonald noted that the recently enacted workforce policy does not require the project applicant to use strictly members of organized labor, but rather qualified labor residing in the region considered local.
In response to the criticism from the building trades, Ms. McDonald said, "We approved the (revised IDA labor) policies in February. There were some projects that were further along in the (approval) process that were ready to go to construction. We have also met with some developers who won't go into construction for two years out, so that gives us time to do job fairs and work with the developer and the trades to do the local hire piece."
She continued, "It was our intent, and I think that is the sentiment of the majority of the (IDA) Board, that we do it on a case-by-case basis. It is a delicate balancing act."
Project Details
The proposed Gateway II project seeks to redevelop an existing surface parking at 25 North Lexington Avenue into a 500-unit, 25-story residential apartment building. The project includes 19,000 square feet of ground floor retail and 755 parking spaces (626 serving the project and 129 spaces dedicated to the adjacent Gateway One office building, which is owned by the Alaska Permanent Fund.
The proposed residential building encompassing 500 apartment units includes a 25-story tower portion paralleling North Lexington Avenue to the East and an intersecting 16-story tower running westerly from North Lexington to Ferris Avenue. The residential lobby will be located with access on both Lexington Avenue and Hamilton Avenue. The residential building will also include both indoor and outdoor amenities serving residential tenants.
The mix of apartment units includes 167 studio units, 208 one-bedroom units, 117 two-bedroom units, and eight three-bedroom units. A total of 15 on-site units will be classified as affordable in compliance with the city's Affordable Rental Housing Program Regulations in addition to a $3.8-million contribution to the City of White Plains' affordable housing contribution fund.
The ground floor of the project will include 19,000 square feet of retail designed to activate the Hamilton Avenue frontage.
NEC Announces $117B Rail Improvement Plan
Westchester-CT, NYC Slated For $64 Billion in Investment
By JOHN JORDAN – July 26, 2021
WASHINGTON — With the backdrop of Congress and the Biden administration continuing negotiations to hammer out a long-term infrastructure investment program, The Northeast Corridor Commission (NEC) released on July 14 the $117-billion CONNECT NEC 2035 (C35) rail improvement plan that it said represents the most ambitious reinvestment program in the NEC's history. 
The state governments of the Northeast, the federal government, eight commuter rail agencies, and Amtrak worked together through the NEC Commission to develop a detailed and efficient sequencing of infrastructure investments covering 150 projects and capital renewal efforts along the corridor. In the Westchester-Connecticut region, the program would involve approximately $9 billion in investment and involve the creation of 62,000 jobs. In the New York City Metro region, the program would result in $55 billion in investment and the creation of 1.7 million jobs over 15 years.
The NEC stated that the implementation of the 15-year, C35 program will result in a modern and resilient railroad with safe, reliable, and more frequent service; connections to new markets; and reduced travel times between communities.
The 15-year program cost that is estimated to be $117 billion in 2020 dollars currently has a funding gap of approximately $100 billion that would be shared between the federal government and states.
"Improving the NEC rail system is a vital multi-state effort," said Amit Bose, deputy administrator of the Federal Railroad Administration and NEC Commission co-chair. "C35 is a sequenced plan and a mobilizing force that not only puts people back at work renewing the NEC, but also supports new travel patterns as our economy returns to full strength."
"The corridor supports more than 800,000 daily passenger trips between the greater Washington, D.C. and Boston regions," said Kevin Corbett, president & CEO of NJ TRANSIT and NEC Commission co-chair. "It is imperative that together we seize this once-in-a-generation opportunity to replace aging assets, add rail capacity, improve performance, and enhance the customer experience along the entire corridor through the advancement of the vital and ambitious C35 plan."
C35 is the first phase of the long-term vision for the corridor established in the Federal Railroad Administration's 2017 NEC FUTURE plan, making significant improvements to NEC rail service for both existing and new riders, on both commuter rail systems and Amtrak.
The program benefits for the Northeast include:
Improve Mobility And Connections
 Travel time savings valued at nearly $140 million annually for intercity and commuter rail passengers corridor-wide.
 26-minute faster trips for Acela riders traveling from DC to NYC & 28-minute faster trips from NYC to Boston.
 25-minute faster trips for express commuters traveling from New Haven to NYC.
 Daily Amtrak NEC service increases of 33% and doubled service for several commuter railroads.
 New one-seat ride services in NJ, NY, and CT into Penn Station New York.
Create Economic Opportunity
 Nearly 1.7 million new jobs and $90 billion in earnings over 15-years throughout the U.S.
 New and enhanced connections between affordable housing and high-wage job centers.
 New off-peak and reverse-peak services for underserved markets.
Combat Climate Change
 Long-term viability of services that already reduce greenhouse gas emissions by the equivalent of 2.9 million car trips annually between New York and Los Angeles.
 60 million new rail trips annually using a lower carbon emitting mode than air/bus/auto.
 Investments in hardened infrastructure to build a more resilient railroad.
Support Desirable Cities And Communities
 Supports innovation districts and is a catalyst for ongoing development initiatives in places such as Newark, DE, Philadelphia, PA, Providence, RI, and Boston, MA.
 Provides reliable, frequent access to support and sustain transit-oriented development.
"C35 represents a big step towards the high-quality rail network our nation and this vital region deserve. The investments in infrastructure laid out in this plan will lead to more modern, reliable, and faster trains, expanded service, and a better customer experience – that will benefit customers, economies and local communities along the entire Northeast Corridor and beyond," said Stephen Gardner, president of Amtrak. "Amtrak stands ready to join forces with our partners and help deliver the C35 plan."
Janno Lieber, president of MTA Construction & Development, added, "This plan lays out how projects can be sequenced and coordinated to get the most work out of track outages, minimize customer impacts, and save money. To achieve these efficiencies, we need funding for all aspects of C35—commuter and intercity rail projects."
The major projects that would be undertaken in the Westchester-Connecticut region under the C35 plan include:
Moveable Bridge Replacement—Aging moveable bridges pose a risk of long-term major disruptions. Replace Walk, Devon, Saugatuck, and Cos Cob moveable bridges which require constant maintenance, are functionally outdated, and well beyond their useful life.
Devon to Woodmont 4th Track Project (Near Milford Station)—Restore the full four-track configuration of the New Haven Line for its entire NEC limits, upgrading a 5-mile section that has only three mainline tracks. The additional track eliminates a chokepoint and provides greater operational flexibility.
Signal System Replacement—Upgrade signal system between New Rochelle, NY and New Haven, CT to allow for more frequent trains and improve scheduling of local and express trains to reduce trip times.
New Rochelle Turnback Track & Yard—Add track to allow turning trains from NYC to change direction off the mainline, reducing congestion and increasing reliability. This additional capacity will improve Metro-North and Amtrak on-time performance and Metro-North scheduling flexibility.
Major projects under the C35 plan in the New York City Metro region are:
Pelham Bay Bridge Replacement—Replace Pelham Bay Bridge with either a new, movable or fixed bridge with clearance for marine traffic.
Penn Station Access—Provide new Metro-North New Haven Line service to PSNY, construct four new stations in the Bronx, and bring Amtrak's Hell Gate Line to a state of good repair.
Penn Reconstruction & Gateway Penn Station Expansion—Reconstruct PSNY to relieve overcrowding; improve passenger experience; and unify existing PSNY with Moynihan Train Hall and Penn Expansion. Expand PSNY to provide additional track and platforms to support service growth possible with new Gateway Hudson Tunnels.
Gateway Hudson Tunnel—Construct a new two-track tunnel beneath the Hudson River, and rehabilitate and modernize the existing two-track North River Tunnel. Gateway Sawtooth Bridges. Replace the Sawtooth Bridges with new structures to achieve a four-track segment with improved speeds, increasing efficiency and reliability.
Hunter Flyover—Construct an elevated viaduct for NJ TRANSIT's Newark-bound Raritan Valley Line trains, eliminating at-grade crossings, reducing conflict between trains, and increasing capacity.
Mid-Line Loop—Construct a new above-grade connection to eliminate conflicts and provide the increased capacity necessary to enable 160-mph speeds on Acela, and support enhanced NJ TRANSIT service.
Gateway Secaucus Station & Loop Tracks—Expand the Secaucus Station platform system and add loop tracks at Secaucus Junction, allowing for a new one-seat ride NJ TRANSIT and Metro-North service to/from Penn Station.
Route 17 Expansion is Key To H.V. Future: C.E. Neuhaus
By JOHN JORDAN – July 26, 2021
GOSHEN, NY – Orange County Executive Steve Neuhaus believes that if Congress passes a large federal infrastructure bill, one of the first projects in New York State that should be funded is the expansion of Route 17, which could come with a price tag of more than $1 billion.
In an interview with CONSTRUCTION NEWS this month, Mr. Neuhaus said the Route 17 project "should be the first one done in New York State. They could do what they want in New York City, they have a lot of infrastructure issues too, but this is a region that is growing. You see massive commercial and residential development. Residential development in Southern Orange County is off the charts. You are going to need to match that with a transportation system that actually works."
He cited the recent opening of LEGOLAND New York in Goshen, the planned Dinosaur Park in the Town of Wallkill, as well as the upcoming major expansion at the Woodbury Common Premium Outlets in Central Valley as just some of the projects that would benefit from the expansion of Route 17.
He said that U.S. Senate Majority Leader Charles Schumer along with other New York State elected officials should all be advocating for the Route 17 expansion.
When asked what the fallout might be if the Route 17 expansion project is not undertaken, the County Executive responded: "You are going to have Planning Boards that are going to say, 'We love the project, but it is just not doable with the current infrastructure.'"
The New York State Department of Transportation recently held a webinar on its ongoing study of the possible expansion of Route 17. The DOT PEL study, which is expected to be released at the end of October, estimated the cost of the expansion at anywhere from $245 million to as much as $1 billion, depending upon the scope of the project.
If the study recommends the construction of a third lane, the least expensive option would add a third lane in the existing roadway footprint for a stretch of 20 miles from the I-87 connector in Harriman to the Route 211 exit (Exit 120) that would cost an estimated $245 million to $315 million. To broaden the scope of the project to run a stretch of 45 miles extending the third lane to Route 17B (Exit 104) in Monticello would raise the cost of that option to between $550 million to $710 million.
A second option would involve widening the existing roadway to accommodate the third lane expansions in both directions. The estimated cost of this option for a third lane covering 20 miles from Southern Orange County to Middletown would run between $350 million to $450 million. The project cost for the 45-mile stretch from Southern Orange County to Monticello would run between $790 million to $1 billion.
John Cooney, Jr., a member of the 17-Forward-86 Coalition, said, "Our federal and state leaders have made Route 17 improvements a priority. Governor Cuomo has spearheaded upgrades at Harriman and at LEGOLAND, and Senator Schumer has spoken directly to US Department of Transportation (DOT) Sec. Buttigieg, on the need to upgrade the Route 17 corridor to increase safety and promote economic development."
Mr. Cooney, who is executive director of the Construction Industry Council of Westchester & Hudson Valley, Inc., in Tarrytown, added, "With a significant increase in infrastructure funding being considered at the federal level and the support of Congressman Maloney and our federal, state, and local representatives, there is increased optimism that the much-needed and well-documented safety and capacity improvements along Route 17 will finally come to fruition."
Marc Baez, co-chair of the 17-Forward-86 Coalition, said, "It is encouraging that efforts to widen the Route 17 corridor are moving forward," adding that the PEL study is a critical step in this process. "The message from Washington is that infrastructure investment is a priority, with a focus on transformative projects that have significant local support. The Route 17 improvements are consistent with those objectives. This is an opportunity for us all to focus on safety and sustainability, as we strive to continue to ensure economic prosperity for our region."
17-Forward-86 was established in August 2018 by a dedicated group of advocates who support the widening of Route 17. The coalition comprises more than 200 members of economic development groups, construction trades, tourism groups and energy companies who share a common vision for expanding the capacity of Route 17 to strengthen the economic well-being of the Hudson Valley and Sullivan Catskills.
Sen. Schumer Pushes Revival Of EPA Superfund Program
ULSTER, NY — Standing at the asbestos-contaminated former TechCity site in the Town of Ulster, where the U.S. Environmental Protection Agency (EPA) has recently taken enforcement actions under its Superfund removal program, U.S. Senate Majority Leader Charles E. Schumer on July 2 announced he will launch a two-part plan to revive the U.S. Environmental Protection Agency's Superfund program in the upcoming infrastructure bills.
Specifically, Sen. Schumer said that in the upcoming bills he will first push to invest billions in EPA-supported cleanups nationwide and, second, he will fight to revive the long-expired Superfund tax to ensure that polluters are responsible for cleaning up abandoned or uncontrolled hazardous waste sites. "Ulster County residents can neither afford, nor deserve, a largescale asbestos contamination like the one at TechCity," said Sen. Schumer. "It is incumbent on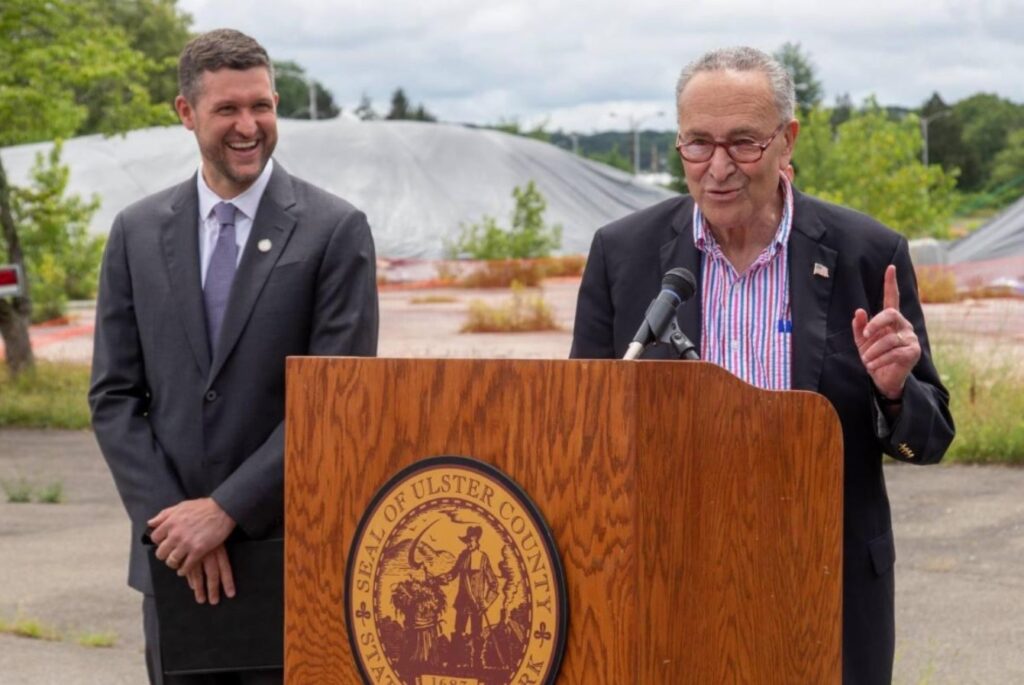 the polluters to clean up and fully remediate the toxins to ensure health, safety, and peace of mind for Ulster County communities. However, with a contamination this large we must have an all hands-on deck approach and the federal government must step up to the plate and help with clean-up, which is why I'm calling for a multi-billion infusion for the vital Superfund program, which has already spent $600,000 right here in Ulster, in addition to securing more federal support for EPA-supported cleanups. Cleaning up contaminated sites like TechCity for the return to productive use can be an engine for economic development across the country and is a critical part of rebuilding the Hudson Valley's infrastructure, improving public health, and creating jobs."
Sen. Schumer explained that, as outlined in President Biden's American Jobs Plan, he will first push for an additional $5 billion investment to remediate and redevelop Brownfield and Superfund sites, as well as related economic and workforce development programs, in the upcoming infrastructure bills. Importantly, the current bipartisan infrastructure proposal also includes an additional investment to the EPA Superfund program. This year, EPA's annual budget for the Superfund Response and Removal program was roughly $190 million nationwide. EPA Region 2, which covers New York, received roughly $18 million of that pot this year, with $12 million allocated for field work and removal activities.
Currently, according to EPA, the agency is involved with 43 different sites in New York State, including PRP lead and federally funded work. Although EPA can straddle large multi-million-dollar projects, like TechCity, across multiple fiscal years to fund this work, this increased investment will provide additional funding resources for EPA's high priority sites and streamline pathways to productive reuse.
Sen. Schumer said that, while this one-time investment in federal cleanups is key to improving public health and creating job opportunities as New York builds back from the pandemic, the second part of his plan—reviving long-expired industry Superfund taxes—would provide additional long-term funding certainty to cleanup sites. Through the Hazardous Substance Superfund Trust Fund, chemical manufacturers once paid taxes to help fund the cleanup of sites where potentially responsible parties couldn't be found or couldn't pay. However, the federal government's authority to collect industry taxes for this Fund expired more than 25 years ago in 1995. Sen. Schumer said that reinstating this tax would go a long way in reviving toxic waste sites by providing greater funding certainty. Recently, the White House also supported the proposed "polluter pay" tax as outlined in the bipartisan infrastructure framework.
Sen. Schumer said that his two-part plan is key to cleaning up contaminated sites, like TechCity, and putting them to productive use to help to fuel the regional economy while improving public health. Sen. Schumer explained that Ulster County has already taken ownership of two parcels at the former TechCity site and plans to invest $1.5 million of its $34.49 million in the American Rescue Plan to create hundreds of jobs at that site. Currently, the county has received more than 20 proposals for the potential redevelopment of that property alone.
"Today, we are taking another major step in revitalizing this site, returning it to its rightful place as the beating heart of our reenergized and revamped Ulster County economy," Ulster County Executive Pat Ryan said. "Sen. Schumer has been a longtime partner and a champion for the residents of Ulster County. Through his fierce advocacy for the cleanup of this site and his successful efforts to secure over $34 million in American Rescue Plan funds for the county, we now have the funds and the support to bring this site back to life and create quality jobs and opportunity for our community."
Cleaning up the remaining hazardous waste and asbestos debris piles at TechCity, Sen. Schumer said, could yield even more opportunities for new jobs and industries to come to the Hudson Valley. For over 30 years, the 258-acre property, bordered by Enterprise Drive, Boices Lane, the CSX railroad tracks and U.S. Route 209, was Ulster County's economic engine as the home of IBM and its 7,000-person workforce. However, in 1998, the computer giant sold the property and its new owner endeavored to build a commercial park by selling subdivided parcels within the property to varied business interests with only limited success. Today, TechCity faces decaying buildings, piles of rubble, asbestos contamination, and millions in unpaid taxes. The site is near a residential area and sits close to athletic fields used by a children's soccer league. According to Ulster County, the estimated cost to clean up the former IBM campus will be up to $12 million dollars and currently the owner of the toxic site owes an estimated $22 million in back taxes.
TechCity is being addressed under EPA's shorter-term cleanup program, the Superfund Removal program. According to the EPA, in March of 2020, the agency mobilized to the site to undertake a portion of the removal work. EPA's actions included:
 Demolition of an asbestos-contaminated, partially-demolished structure identified as Building 2 and disposal of approximately 200 tons of asbestos-contaminated material;
 Decontaminating 150 tons of steel, which was shipped off-site for recycling; and,
 Securing the exterior of Building 1 by repairing barriers, installing temporary fencing, and posting asbestos warning signs.
Connect NY's Two Power Grids To Drive Statewide Economy
The New York State Energy Research & Development Authority (NYSERDA) faces a major decision that could greatly impact all of New York's economic recovery from COVID. Several energy and transmission developers are competing for a NYSERDA energy program with varying amounts of in-state investment. The choice is clear: Go big and choose New York jobs.
In his 2020 State of the State, Gov. Andrew Cuomo laid out an ambitious vision: expanding New York's renewable energy to reduce the state's carbon emissions to zero by 2040. This nation-leading goal would fundamentally transform the state's energy system and its underlying economy.
But the governor's vision faces an old problem: the tale of two energy grids. The Hudson Valley and upstate New York have abundant sources of renewable energy and the real estate needed to build new clean energy facilities. Yet it lacks the demand to meet its supply. Simultaneously, downstate has a vast energy demand, but neither the room nor transmission to deliver enough renewable energy to meet needs. Thus, it relies almost entirely on fossil-based power generators.
The result: Hudson Valley and upstate economic development and job creation have been stifled, and environmental justice in New York City has been ignored. Families across New York City continue to live next to dirty, outdated power plants, and face higher rates of asthma than surrounding areas.
That's why Gov. Cuomo initiated the process of delivering renewable energy into New York City. If done right, the program could harness clean energy from across New York State for delivery in New York City. In so doing, the state can boost the entire state's economy while advancing environmental justice.
The state program calls for 3,000 megawatts (MW) of new, clean, renewable energy transmission. New York City Mayor Bill de Blasio also has stated that the city is prepared to purchase its entire municipal load from this program—an additional 600 MW. And real estate leaders face requirements to significantly reduce building emissions by 2030.
That's why state decision makers should use this moment to go big and invest in the entire 3,000 MW of renewable transmission. What's more, they should prioritize homegrown, New York renewables.
From groundbreaking to operation, communities across the Hudson Valley and upstate New York could gain thousands of private-sector clean-energy jobs thanks to this program. These include high-tech construction and operation jobs at new transmission, wind and solar facilities. New York could see billions of dollars in local economic investment and tax revenue, especially in regions that have long experienced significant economic need.
Unlike most issues that dominate Albany, connecting the two grids isn't a zero-sum game. In fact, upstate will only win when downstate wins.
As New York works to build back better from the fallout of COVID, NYSERDA must use this program to revitalize local communities. Republicans and Democrats alike can support it, while upstate and downstate communities will benefit from it.
About the author: Michael Oates is President and CEO of the Hudson Valley Economic Development Corp. of Poughkeepsie.
Westchester to Award $31M in Capital Projects, Tackling Backlog, Advancing New Public Works
By JOHN JORDAN – July 26, 2021
WHITE PLAINS, NY — The Westchester County Board of Legislators approved six bond act proposals in late June valued at a total of approximately $30.6 million, most of which will be put out to bid in the next few months.
The contracts involve infrastructure-related construction improvement work at county-owned and operated sewer and wastewater facilities and at other county properties in White Plains and at the Merestead property in Mount Kisco.
Following the June 28 BOL meeting, Westchester County Director of Operations Joan McDonald told CONSTRUCTION NEWS that those contracts are part of an ongoing plan to reduce a backlog of county project work the administration of County Executive George Latimer inherited when it took office in 2018. In the past three years, the Latimer administration has enacted reforms and new processes to expedite work and get projects out to bid more efficiently, according to a county official.
Despite challenging fiscal times, Westchester County has hired since Jan. 1, 2018 a total of 14 engineers and design staff to the County Department of Public Works and Transportation. Among those hires have included: Hugh J. Greechan, Jr., P.E., serving as commissioner; Gayle M. Katzman, P.E., serving as 1st deputy commissioner; Hernane N. De Almeida, serving as deputy commissioner; and Robert Abbamont, serving as director of operations (Capital Planning Program) of the Westchester County Department of Public Works and Transportation.
To address a shortage of design staff at the department, the county also has retained a number of on-call consultants to assist the county in the design, planning and surveying of capital project work. Those firms include: Henningson, Durham & Richardson Architecture and Engineering, P.C.; LiRo Program and Construction Management, PE, P.C; Savin Engineers, P.C (MWBE); Paul J. Petretti, Civil Engineering & Land Surveyor (Service Disabled Veteran Owned Business—Surveying), and Ward Carpenter Engineers, Inc. (Surveying).
Ms. McDonald, who formerly served as commissioner for the New York State Department of Transportation, and prior to that was with the Connecticut Department of Transportation, said upon taking on her current post more than three years ago, she was surprised by the processes and procedures of county government at the time as well as a significant backlog of capital project work, which some had estimated was more than $1 billion.
One reform that has helped expedite work was securing approval from the New York State Legislature last year to lift the cap on the requirement that any bonding over $10 million required a voter referendum. (The last bond measure to be approved by the voters was a bonding proposal for renovations at the Westchester County Jail in the 1990s, Ms. McDonald noted.)
Noting that many county capital projects are valued at more than $10 million, she said that county planning, DPW and budget departments split up projects to stay under the bond cap, causing inefficiencies and needless expense in the design and procurement processes.
While not utilized in the cases of the latest five capital project bond measures, Ms. McDonald noted that the county has in the past bundled together a number of capital projects into one bond issue in order to expedite the approval process and get those projects out to bid. Previously, all projects were funded by their own bond issue.
Ms. McDonald noted that when at NYSDOT, multiple bridge and highway construction work was bundled together in one bid package to expedite work and create efficiencies for the construction contractor. In April 2019, after consultation with Budget Committee Chairman Catherine Borgia, the Latimer administration put out its first bundled group of road and bridge contracts. She said the county intends to continue this practice going forward when feasible.
She also noted that the DPW has been successful in putting bonding measures out to the County Legislature for approval early in the calendar year so that they can be approved, thus facilitating those projects going out to bid in the construction season.
In terms of the six approved bond measures, Ms. McDonald explained that the Department of Public Works will now complete the bid documents and put them in the queue to go out to bid.
"One of the other things we are evaluating is that (currently) every project before it goes to bid has to go before the Acquisition & Contract (A&C) Committee," she said. "We are looking to see if we can either bundle that or eliminate that." She noted that there is an argument that the respective project fundings have already secured approval when the County Board of Legislators approve that year's capital budget.
The following are brief descriptions along with the approved bonding amounts for the six capital projects recently approved by the County Board of Legislators:
Bond Act B014D-White Plains Building Complex Exterior Infrastructure Repairs—$900,000
Rehabilitation of 112 East Post Road and 143 Grand St. The work to be performed at 112 East Post Road will include rehabilitation of the parapet, facade, exterior metals, and penthouse structures; installation of rooftop access stairs; and all associated work. The work to be performed at 143 Grand St. will include window replacement, facade rehabilitation, reconstruction of the Quarropas Street building entrance and handicapped ramp, and all associated work. Upon bonding authorization, anticipate design by staff to start September 2021 (nine months). Estimate project to be bid in the third quarter of 2022. Construction estimated at 12 months.
Bond Act-RMS03-Merestead Out Buildings—$400,000
The historic Merestead farmhouse dates back to the early to the mid-19th century and is part of the Farmstead at Merestead (National Register of Historic Places). The work includes complete interior and exterior restoration, including hazardous materials abatement, foundation masonry work, carpentry, roofing, appliances and equipment. Utility work includes new plumbing, fire protection, HVAC, electric service, above-ground oil tank, and repairs to water service to the building and the septic system. Schedule is still pending. Due to the historic nature of the building, the design might go out as an RFP. If it does, the design will begin in 2022 and construction will begin in 2023.
Bond Act (Amended) SBB07-Blind Brook WWTP Process Equip. Improvements—$7.5 Million
This project aims to rehabilitate, upgrade, and replace various items of equipment and systems at the Blind Brook Water Resource Recovery Facility. The existing equipment and systems are at the end of their useful life and require extensive maintenance, which involves downtime. Equipment or systems to be replaced or rehabilitated will include, but not be limited to: HVAC equipment not included in the performance maintenance project (Capital Project SBB06); primary sludge and sludge transfer pumps
including associated piping and valves; primary clarifier scum pit piping and valves; aeration tank influent and effluent sluice gates; upgrade of aeration blowers and all aeration blower piping; piping, valves, and controls for caustic and hypochlorite tanks associated with the odor control scrubbers; plant and service water system upgrade; replacement of return activated sludge discharge isolation valves, final clarifier drain valves and plant effluent water system including pumps and associated valves; demolition and removal of obsolete boilers and fuel oil storage tanks at the Pump House Building; and installation of security system improvements. Expected design completion in the fourth quarter of  2021, bidding in the first quarter of  2022. The construction is estimated to take 18 months
Bond Act (Amended) SPK-14 Peekskill Flow WWTP-Secondary Process & Heating System Upgrades—$15.25 Million
This project aims to provide upgrades to the aeration and heating system at the Peekskill Wastewater Treatment Plant. The majority of equipment to be replaced in this project is almost 40 years old and has reached the end of its useful life. Work will include the replacement of buried aeration piping, existing slide gates and stop logs for the aeration tanks, replacement of the three heating boilers, existing heat exchangers, the Administration Building multi-zone air handler and all related ancillary components and controls of these systems. Also included will be the replacement of the above-ground fuel oil storage tanks and a study and evaluation of the existing HVAC system at the Peekskill Wastewater Treatment Plant. Expected design completion  in the fourth quarter of  2021, bidding in the first quarter of  2022.  The construction is estimated to take 18 months.
Bond Act-SPS07-Repair & Upgrade of Alexander Street Influent Structure—$2.5 Million
The Bond Act, in the amount of $2,500,000, will provide additional construction funding for rehabilitation of the influent structure which directs sewage to the North Yonkers Pump Station. Work will include inspection, cleaning, and structural repair of the influent structure at Alexander Street. The project will also include replacement of the three influent sluice gates in the influent chamber, including the addition of portable operators. Design is now 90% complete and is being performed by outside consultants. It is estimated that construction will take 12 months to complete and will begin after award and execution of the construction contracts.
Bond Act-SW032-Flow Monitoring Program '21-'30-$4 Million
The Bond Act, in the amount of $4,000,000, is required to finance construction costs associated with a flow monitoring study in the Ossining Sewer District (the "District"). The Department of Environmental Facilities has advised that this is the final phase of the comprehensive flow monitoring study that the Department has conducted throughout all of the county's sewer districts. Work under this phase will include the installation of flow monitoring equipment in the district's trunk sewer piping at strategic locations and recording and analyzing the data to determine the amount of inflow and infiltration that enters the district's sewer collection system during rainfall events. Following bonding authorization, the flow monitoring program will continue for a period of two years, with the final report taking an additional one year thereafter to complete.
Failure to Include Monetary Demand Dooms Contractor's Claim for Delay Damages
By THOMAS H. WELBY, P.E., ESQ. and GREGORY J. SPAUN, ESQ.
Several months ago, this column told of the harsh consequences faced by a contractor who did not strictly follow the notice provisions of his contract, and how such failure ultimately doomed an otherwise valid claim of more than $2 million. This month, we highlight the case of BG National Plumbing & Heating v New York City School Construction Authority, where an appellate court similarly doomed a contractor's monetary claim. However, this case, unlike that previous case, involved a statutory, rather than a contractual, notice of claim.
When seeking to make a claim against the public purse…failure to strictly comply with statutory provisions can be just as fatal as failing to comply with contractual notice provisions.
Background
In May 2012, BG National Plumbing and Heating was awarded a contract to perform electrical upgrades for the New York City School Construction Authority. The work was scheduled to take 730 days, and BG received its Notice to Proceed from the SCA on June 18, 2012. Eighteen months into its work, BG filed a Notice of Claim against the SCA, claiming that it was entitled to an extension of the contractual completion date by 243 days because of certain SCA-caused delays. Crucially, this Notice of Claim did not include any monetary demand.
In September 2014, BG sued the SCA, filing a summons with notice (an abbreviated document that does not require one to set forth its damages in detail). The parties attempted to work out their dispute (which included completing the project, which occurred on Dec. 9, 2015), and they agreed that BG could file its complaint (the document in which a party is required to set forth the details of their claim) once it received an expert's report detailing what those damages were. BG received that report on March 13, 2017, and it filed its complaint on Oct. 3, 2017, seeking $2,455,740 in delay damages. The SCA then moved to dismiss BG's lawsuit, arguing that as the Notice of Claim failed to apprize the SCA of the monetary claim, BG was prohibited from pursuing it in court. In response to the motion, on July 17, 2018, BG cross-moved to amend its Notice of Claim to include the monetary claim.
Decision
The motion court granted the SCA's motion, denied BG's cross-motion, and dismissed BG's complaint, finding that the Notice of Claim filed by BG was defective in that it failed to set forth BG's claimed damages in detail. In doing so, the motion court noted that damages are generally ascertainable upon the substantial completion of a construction project, which occurred here in December 2015. However, even giving BG the benefit of the doubt, the motion court noted that BG received the expert report setting forth its delay damages in March 2017, and even assuming that its claim was not ascertainable until that date, saw that BG failed to take any action until it was faced with a motion to dismiss its lawsuit 16 months later.
BG appealed, and the appellate court affirmed the lower court. In doing so, the appellate court held that while a Notice of Claim can be amended to correct good faith and non-prejudicial mistakes, it cannot substantively change the theory of liability—which the proposed amended Notice of Claim would do by, for the first time, including a monetary component. The appellate court also noted the "inordinate delay" between the time when BG first became aware of the nature and extent of its damages, and when it acted to amend its Notice of Claim.
Comment
When seeking to make a claim against the public purse, there are—in additional to contractual provisions requiring notice—often statutory or other regulatory provisions requiring contractors to make notice of their claim. These provisions can be found scattered in various statutes (in this case, Section 1744 of the Public Authorities Law, which requires a Notice of Claim to be filed before suing the New York City School Construction Authority) or, in the case of some cities and counties, buried deep in their city/county charters. As we saw in BG National, failure to strictly comply with these statutory provisions can be just as fatal as failing to comply with contractual notice provisions. Accordingly, contractors who believe that they have claims against a public owner would be well advised to consult with experienced construction counsel to be sure that their claims are asserted in a way that complies with both the contractual and statutory/regulatory notice of claim provisions.
About the author: Thomas H. Welby, an attorney and licensed professional engineer, is General Counsel to the Construction Industry Council of Westchester and the Hudson Valley, and is the Founder of, and Senior Counsel to the law firm of Welby, Brady & Greenblatt, LLP, with offices located throughout the Tri-State/Greater Metropolitan Region. Gregory J. Spaun, General Counsel to the Queens and Bronx Building Association, and an attorney and a partner with the firm, co-authors this series with Mr. Welby.
CIC Golf Classic Returns to Sleepy Hollow
Monday, July 12 - Scarborough, NY
SCARBOROUGH, NY — When the scorecards were finally turned in, a total of 203 players would leave their marks on the legendary Sleepy Hollow Country Club, the longtime home of CIC's Annual Golf Classic in mid-July here in Westchester.
Following the hiatus in 2020 caused by the pandemic, the popular outing resumed to mark its 42th anniversary. Presented in morning and afternoon shotgun formats, the golf classic is always a highlight of the construction industry's summer season. This year's event was filled with drama, due to the persistent uncertainty of the weather, and buoyed by the broad representation of leaders from the contracting community, suppliers, organized labor along with government and public works officials. In the end, more than 350 members and guests of the trade association gathered for evening cocktails, dinner, awards and prizes, and the occasional rain had no effect on the conviviality of the day. Spirits were high as golfers were able to test their mettle in the play-your-own-ball format.
Low Gross winners of the traditional individual play were: Men's morning shotgun 1st Place Low Gross Wayne Wittman with a score gross of 72. Derrick Saunders shot a 74 to best the Men's afternoon shotgun field.
Low Net winner was Tyler Crill in the Men's morning shotgun with a 70, besting in the tiebreaker Joe Dullea who also fired a 70.
Tony Chiodi carded the Low Net round of 69 in the afternoon, ahead of Damian Murphy who shot 70 for the Second Place Net.
The Morning Longest Drive winners was Tony Rodrigues, Jr., while Matt Viskovich claimed the afternoon round's Longest Drive. Danielle Montesano, competing in the afternoon, won the Women's Longest Drive.
Closest-to-the-Pin contests did not turn out to be aces galore like it was in 2019 when CIC guest Tony Lanza and Chris Cerone both shot holes in one. This year, Closest to the Pin winners in the morning round were Matthew Pucila (#3), Tony Lanza (#10) and Ron Burgess (#16). Closest to the Pin winners in the afternoon round were Mark Giordano (#3), Chris Pannessi (#10) and Julian Ehlrich (#16).
The final competition of the day, the Louis G. Nappi Bocce Competition, the team of John Amato and Rocco Circosta rolled to victory.
For information about upcoming CIC events, contact Karen Zedda at (914) 631-6070, or Karen@cicnys.org.
HAVS: A Key Construction Peril Lacking its Own OSHA Standard
By GEOFFREY S. POPE, ESQ.
You may be surprised to learn that a hazard described by one expert as "probably the No. 1 neuromuscular disorder in the world in manufacturing and construction environments—the most costly and underappreciated" is not the subject of its own OSHA construction standard.
I am referring to "Hand Arm Vibration syndrome," also known as HAVS (and formerly known as "vibration white finger," as a prime symptom of its circulatory and neural effects includes the blanching—pale and ashen appearance—of the fingers).
When seeking to make a claim against the public purse…failure to strictly comply with statutory provisions can be just as fatal as failing to comply with contractual notice provisions.
This malady, although identified by industrial physicians more than 100 years ago, is severely under-reported by workers and health professionals. Perhaps two million workers in the U.S. are at risk, of which as many as half will develop HAVS.
The syndrome is defined as a type of industrial disease that produces symptoms in the arms and hands, and damage to blood vessels, nerves, and other musculoskeletal structures, usually from the prolonged use of vibrating power tools in the workplace. Working in a cold climate, and smoking (which impairs circulation to the extremities) are additional risk factors.
Devices linked to HAVS include grinders, riveters, drills, jackhammers, chipping hammers, jigsaws, sanders, vibrating pokers and compactors, scabblers and chainsaws. Of course, any kind of hand-held vibrating tool can contribute to HAVS, and regardless of whether the tool is powered by electricity, gasoline or air. However, while the frequent use of vibrating hand tools having a frequency range between 8 Hz and 1500 Hz is problematic, the most hazardous frequency range is 100 Hz-150 Hz. In addition to construction and maintenance, workers in the mining and forestry industries are also very much at risk.
Initially, nerves are irritated by the vibration, resulting in tingling and numbness in the hand and fingers. At first, symptoms are most likely to be noticed while working in cold conditions. Blood vessels may become irritated and spastic, causing the fingers (and especially the fingertips) to feel cold and painful. Over time (the syndrome typically takes between six months and six years of frequent exposure to develop) the attacks of pain, blanching and numbness usually become more frequent, although often they subside during warmer weather.
Symptoms of HAVS may also include the loss of feeling in the hand and fingers, a progressive decrease in hand strength, reduced dexterity and arm muscles that tire easily.
In the most severe cases, individuals may experience atrophy of the muscles in the hand, and even gangrene.
Treatment usually consists primarily of reducing work exposure to vibration. Perhaps half of the affected individuals experience a return to near baseline within five years after the elimination or sharp reduction of exposure. As the syndrome advances, however, often from the time that blanching of the fingers appear, the nerve damage may become irreversible.
Thus, prompt detection, and reducing or eliminating the exposure is critical.
While, surprisingly, HAVS is not addressed by a specific OSHA standard, it may be addressed under OSHA's General Duty Clause, which requires each employer to provide a safe and healthful workplace.
Compliance with acceleration levels and exposure duration guidelines established by the American Conference of Government and Industrial Hygienists is suggested, both as a means to limit your employee's exposure as well as a means of demonstrating compliance with the General Duty Clause should you be cited based on one or more employee's exposure to vibration.
You need to know the vibration rating of all equipment used by your employees, and to calculate the safe time exposure for each item. Make sure that you know for how long employees can use particular tools, and if you don't know, you need to inquire of the manufacturer or get the various tools assessed.
Naturally, you should be discriminating in selecting equipment. Look for low-vibration items, or tools incorporating built-in features that absorb a significant amount of the tool's vibration. Make sure employees use the correct tool for the job, and consider possible alternative means to accomplish tasks that will reduce employee exposure. It may be possible, also, to alter the job to reduce the grip or pressure necessary.
Frequent breaks should be scheduled to avoid long periods of vibrating tool use, and you should try to minimize the use of vibrating tools in cold weather conditions.
Other practices users of vibrating equipment should be trained to observe include the following:
 Abstain from smoking;
 Keep one's hands dry and warm;
 Grip tools as lightly as possible (while keeping control of the tool);
 Keep tools in good working order;
 Keep one's hands away from cold exhaust air from pneumatic tools;
 Rest for at least 10 minutes each hour;
 Alternate, whenever practicable, between vibrating and non-vibrating tools;
 Wear gloves that cover the fingers, and are certified by ISO 10819;
 Seek medical attention, if HAVS symptoms appear.
As PPE is usually the least-preferred control measure, anti-vibration gloves are at best moderately effective. They protect the palm more than the fingers, and are of little use at frequencies lower than 25 Hz. Gloves may actually amplify vibration from low-frequency tools. Damping techniques (e.g., wrapping tool handles in viscoelastic material tape), or using vibration isolators on equipment provide more effective protection. While some prefer the greater tactile "feedback" into the fingertips that fingerless gloves provide (and may cut the fingers of the gloves off, leaving only the palm area covered) that should be forbidden, if the user works with vibrating tools.
HVAS is a debilitating, life-changing affliction. By the time symptoms become pronounced they will likely be irreversible. Workers must be trained about vibration hazards, early signs and symptoms of HVAS and best practices to limit exposure. Indeed, they should be cautioned that it is better to change jobs rather than permitting HVAS to progress beyond its earliest stages.
About the author: Geoffrey S. Pope is of counsel to the construction law firm of Welby, Brady & Greenblatt, LLP, with its main office in White Plains. The articles in this series do not constitute legal advice, and are intended for general guidance only.
Construction News Back Issues
Rte. 17 Expansion Cost Ranges From $245M to $1B: DOT
By JOHN JORDAN – June 25, 2021
POUGHKEEPSIE — An ongoing study on the cost of improvements to Route 17, including the possible construction of a third lane in both the eastbound and westbound directions could cost anywhere from as little as $245 million to as much as $1 billion, depending upon the scope of the project.
Members of the New York State Department of Transportation's Route 17 Planning and Environmental Linkage (PEL) Study group hosted a virtual workshop on June 3 to provide the public an update on the study's progress and improvements being considered for the vital section of roadway in Orange and Sullivan counties. The program was hosted by Mark Tiano, PE, NYSDOT Project Manager for the Route 17 PEL study, and also featured officials with consulting firm WSP USA that covered a host of topics including estimated cost of various third lane build scenarios under consideration; possible transit
enhancements, including the construction of new park and ride facilities, and a host of interchange improvements in Sullivan and Orange counties that could be undertaken if and when funding is available.
Rebecca Novak, civil department manager at WSP USA's office in Valhalla, NY, detailed the two major third lane build options. If the study recommends the construction of a third lane, the least expensive option would add a third lane in the existing roadway footprint for a stretch of 20 miles from the I-87 connector in Harriman to the Route 211 exit (Exit 120) that would cost an estimated $245 million to $315 million. To broaden the scope of the project to run a stretch of 45 miles extending the third lane to Route 17B (Exit 104) in Monticello would raise the cost of that option to between $550 million to $710 million. This option would have low to moderate impacts on existing bridges, minor environmental impacts and moderate pavement needs, but would also have non-standard left shoulders for the full length of the respective third lane expansions.
Novak explained that a second option would involve widening the existing roadway to accommodate the third lane expansions in both directions. The estimated cost of this option for a third lane covering 20 miles from Southern Orange County to Middletown would run between $350 million to $450 million. The project cost for the 45-mile stretch from Southern Orange County to Monticello would run between $790 million to $1 billion.
Under this option, it is believed the impact to existing bridges would be moderate, would involve minor pavement maintenance needs and would only have left shoulders at existing bridge piers termed as non-standard. She noted that the environmental impacts of this more expansive third lane scenario would be moderate.
The study group has not made any decisions on third lane build option preference. The group has also considered no-build as well as the construction of a High Occupancy Vehicle Lane and Infrastructure Upgrades as options. The study group has ruled out the No Build option, while it believes that the HOV would accomplish some of the project goals and that upgrades to interchanges would fall in line with the project's goals and objectives.
It should be noted that supporters for the addition of a third lane on Route 17, including the 17-Forward 86 coalition, have estimated the Route 17 expansion cost at approximately $500 million. Project advocates have expressed hope that the project could be funded under the massive infrastructure bill being discussed in Washington, DC between the Biden administration and Democratic and Republican members of Congress.
The presentation also included traffic data from 2018 which showed significant traffic issues mainly by the Harriman, Central Valley and Monroe exits as well as in Goshen and Middletown. Several participants noted that the traffic data for an average Friday evening needs to be updated due to a host of issues, including the impending opening of LEGOLAND New York as well as the influx of new residents to Sullivan County by New York City residents fleeing the city during the coronavirus pandemic.
Katie Craig, PE, PTOE, traffic engineering & ITS Manager at WSP USA, in projecting the roadway's needs by 2055, said, "So, overall the picture we are trying to paint here for you is that what we see during this Friday evening time period in 2055 is that most of Orange County is really going to be operating under Level of Service F and stop-and-go conditions, with small pockets of stable (traffic flow), but mainly stop-and-go conditions."
Marc Baez, director of economic development for Sullivan County, noted that the DOT figures were compiled from May and noted that every June and for the rest of the summer the population of the county increases sharply from approximately 78,000 to well in excess of 300,000.
Bill Gorton, senior manager for transportation services for WSP USA, said that the traffic data will be updated prior to the release of the draft study in September. Gorton is a former Director of Region 8 (Hudson Valley) for the New York State Department of Transportation.
Mr. Baez, who is co-chair of the 17-Forward- 86 Coalition, said of the workshop, "It is encouraging that efforts to widen the Route 17 corridor are moving forward and the PEL study is a critical step in this process. The message from Washington is that infrastructure investment is a priority, with a focus on transformative projects that have significant local support. The Route 17 improvements are consistent with those objectives. This is an opportunity for us all to focus on safety and sustainability, as we strive to continue to ensure economic prosperity for our region."
17-Forward-86 was established in August 2018 by a dedicated group of advocates who support the widening of Route 17. The coalition comprises more than 200 members of economic development groups, construction trades, tourism groups and energy companies who share a common vision for expanding the capacity of Route 17 to strengthen the economic well-being of the Hudson Valley and Sullivan Catskills.
The June 3 workshop was the second of a planned three public workshops. The Route 17 Planning and Environmental Linkage (PEL) Study group will be working on a draft scoping report that will be released at its next public workshop scheduled for September 14. The group hopes to close out the study by the end of October 2021.
A total of 132 community and business leaders from the Hudson Valley zoomed in March 18 for a presentation by the New York State Department of Transportation on the status of the PEL study of the Route 17 corridor in Orange and Sullivan counties.
The PEL process is being initiated by the NYSDOT in cooperation with the Federal Highway Administration. The DOT last year began a scoping and preliminary review process as part of the $5 million PEL study, whose funding was secured through the 2018-2019 state budget.
The PEL study is a follow-up to a NYSDOT study released in May 2013 that examined the corridor between Monticello, Exit 103 (Rapp Road) and Harriman, Exit 131 (New York State Thruway) to help accommodate transportation demands brought about by economic growth in the region and to help accommodate future growth.
The final report recommended: adding a general use third lane, in each direction, from Interstate 87 in Harriman to just west of Middletown, Orange County; improve key interchanges in Orange and Sullivan counties; provide new and expanded park and ride lots at strategic locations in Orange and Sullivan counties and recommend some provisions for future transit.
Contractors Look Back at Troubling Year; See Hopeful Signs of Rebound in 2021
By GEORGE DRAPEAU III – June 25, 2021
TARRYTOWN, NY — "This is not the end. This is not beginning of the end. But it is, perhaps, the end of the beginning."
These words, spoken by Winston Churchill in November 1942 to describe his country's struggles through the World War II, have framed our actions as a nation since mid-March 2020 when state-mandated COVID restrictions were imposed. Fifteen months later, on June 15, most restrictions were lifted on Day 472 of the pandemic emergency that has killed more than 600,000 people in the U.S. In making the announcement, Gov. Andrew Cuomo said that New York State went from the highest positivity rate on the planet at 48.16% at the height of the pandemic in April last year to the lowest in the nation at 0.40% as of June 18. Gov. Cuomo lifted the COVID state of emergency he imposed in March 2020 on June 24.
Because the state has reached the 70% threshold, "We can return to life as we know it," Gov. Cuomo said, adding "What New York has done is extraordinary. We have literally gone from worst to first."
The state's health guidance and "New York Forward" industry-specific guidelines— including social gathering limits, capacity restrictions, social distancing, cleaning and disinfection, health screening and contact information for tracing— are now optional for retail, food services, offices, gyms and fitness centers, amusement and family entertainment, hair salons, barber shops and personal care services, among other commercial settings.
Gov. Cuomo said he was able to lift the state COVID restrictions because the state had reached the 70% threshold of adults over the age of 18 having at least one COVID vaccination, adding the state reached the 70% mark ahead of schedule.
What's next for the economy and construction is the latest boardroom game. We asked leading members of the construction contracting community and the real estate sector for thoughts and outlook through the rest of 2021 and beyond.
"If the past years' experience has taught us anything, we should not over anticipate outcomes," commented CIC board member William Mascetta of Transit Construction Corp. of Yonkers. "Setting expectations through the prism of what is perceived as 'the new normal' may feel good but not necessarily prove good," he said. "We should remain more vigilant tracking accurate data in developing
relevant information in support of our prospective plans, with a reliance on reliable resources in aiding this effort."
Real estate veteran Ken Harbour, president of Harbour Commercial Real Estate Inc., of Armonk, NY is taking an equally measured wait-and see position in the hope of a comeback.
"Time will tell regarding opening of business and return to some semblance of normalcy," he said. "Many companies are looking to get employees back into their offices for greater productivity and responsibility. I believe we may see significantly increased workplace populations as of Labor Day."
He added, "In the suburbs currently, the strongest market is for residential, which should also fuel construction for new buildings and potential office building conversion into multifamily uses."
So what's the key to a sustained comeback? "Only by filling up New York City office space again with the workers who were there pre-pandemic will the retail and restaurant sectors return to respectable profitability," he commented, following the June 15 pronouncements by the governor and statewide pyrotechnical celebrations. "The fireworks were fun; but the region's return to strong economic viability, particularly in the commercial real estate sector, will continue to be a big challenge and very complicated for a long time to come."
The immediate needs of the industry going forward are many, according to others. As a volunteer public official in the town where he resides, BCA Chairman Fred Sciliano of LeChase Construction Services said, "Today's business environment is still extremely problematic. The supply chain blockages and shortages the construction and building sectors are now experiencing can be blamed on a number of factors, including factory shutdowns and delivery constrictions. Limited supply is causing sky-high prices for materials. We're not out of the woods yet, by any means."
Carlo A. Scissura, president and CEO of the New York Building Congress, praised the heroism of first responders and the millions of New Yorkers who have been vaccinated. Among the next steps to build our way out of the economic crisis brought on by COVID-19 is to turn New York's ambitious infrastructure agenda into a reality and to get people back to work.
One construction industry consultant commented that there have been a few good things that came out of a bad year.
Requesting that his name be withheld, he noted the U.S. now has a new president who actually appreciates fact, science and infrastructure. Coupled with that is the new administration priority to tackle the coronavirus pandemic head on with a national plan.
In taking a broader view, many who CONSTRUCTION NEWS spoke to agreed there is a renewed sense of what "essential business" is and who delivers these services, namely construction crews. "Long before there was a vaccine, the chief weapon was to wash your hands, with clean water provided by the construction industry," said one midsize contractor serving the utility industry. "Construction management and organized labor played a pivotal role in cities and communities throughout New York State to help get us through the worst of the pandemic. I'm hopeful this partnership will take us into better times."
But first we must work our way past the end of the beginning.
As negotiations for infrastructure rebuilding advance, upgrading aging facilities is gaining momentum. From left, New Rochelle Mayor Noam Bramson, State Sen. Shelley Mayer, Westchester County Executive George
Latimer, State Rep. Amy Paulin and Eastchester Supervisor Anthony Colavita gathered last month at the reservoir spillway at the Lake Isle dam in Eastchester, NY, where they pledged support to address long-needed
improvements to the 126-year-old masonry dam.
NYS Interstate Deterioration Among Highest in U.S.
To Fix and Modernize Highways And Bridges, Congress Must Double Current Funding
WASHINGTON — As the U.S. Interstate Highway System turns 65, it is congested, carries significant levels of travel—particularly by large trucks—and lacks adequate funding to make needed repairs and improvements. America's most critical transportation link will need to be rebuilt and expanded to meet the nation's growing transportation needs, according to a report released June 23 by TRIP, a national transportation research nonprofit.
The report, America's Interstate Highway System at 65: "Meeting America's Transportation Needs with a Reliable, Safe & Well-Maintained National Highway Network," looks at the Interstate system's use, condition and benefits, and at the findings of a 2019 report prepared by the Transportation Research Board (TRB), at the request of Congress as part of the Fixing America's Surface Transportation (FAST) Act, on the condition and use of the Interstate system and on actions required to restore and upgrade the Interstate system.
The chart (above) ranks states whose Interstate systems are the most congested, have experienced the greatest increase in vehicle miles of travel (VMT) since 2000, are busiest (based on daily travel per lane mile), have the largest share of pavement in poor condition, and have the greatest share of bridges in poor/structurally deficient condition.
According to the TRB report, the U.S. Interstate system has a persistent and growing backlog of physical and operational deficiencies as a result of age, heavy use and deferred reinvestment, and is in need of major reconstruction and modernization. The TRB report concludes that annual investment in the Interstate Highway System should be increased by approximately two-and-a-half times, from $23 billion in 2018 to $57 billion annually over the next 20 years.
"A safe and well-maintained Interstate Highway System can strengthen the state's economy, enhance personal mobility and facilitate more efficient movement of goods, but the future of this network could be in jeopardy without increased federal investment," said John A. Corlett, AAA New York State's Legislative Committee Chairman. "Everyone benefits from a modern, accessible Interstate Highway System. We urge members of Congress and the current administration to prioritize transportation investments to ensure safe, efficient and reliable mobility across the New York State and indeed the entire United States."
According to the TRIP report, pavements on six percent of New York's Interstate highways are in poor condition, the fifth highest share in the nation. Six percent of New York's Interstate bridges are rated in poor/structurally deficient condition, the fifth highest share in the U.S. As the aging system's foundations continue to deteriorate, most Interstate highways, bridges and interchanges will need to be rebuilt or replaced. TRIP's report finds that while pavement smoothness on most segments of the U.S. Interstate system is acceptable  the crumbling foundations of most highway segments need continued resurfacing rather than addressing underlying foundational issues provides diminishing returns and results in shorter periods of pavement smoothness.
"With the continued deterioration of so many roads and bridges causing business and industry billions of dollars in increased costs per year, we hope the continued focus on this issue will bring much needed change," said Heather C. Briccetti, president and CEO of The Business Council of New York State, Inc. "It is through careful studies like these that
New York State and the nation find a roadmap to address this problem. We are cautiously optimistic to see what a federal infrastructure plan may bring to finally address this ongoing business concern."
In New York, 34% of urban Interstate highways are considered congested during peak hours. Vehicle travel on New York's Interstates increased 11% from 2000 to 2019. The TRIP report found that since 2000, travel on the U.S. Interstate
system, the importance of which has been heightened during the COVID-19 pandemic, has increased at a rate nearly triple that at which new lane capacity is being added. Due to the COVID-19 pandemic, vehicle travel on U.S. highways dropped by as much as 45% in April 2020 (compared to April 2019) but rebounded to six percent below April 2019 levels by April 2021.
"Our rapidly deteriorating infrastructure is a clear and present danger to our nation's supply chain. Breakdowns in the Interstate Highway System add an annual $75 billion to the cost of freight transportation, and 67 million tons of excess carbon dioxide emissions are released into the atmosphere every year from trucks stuck in traffic congestion," said Chris Spear, president and CEO of the American Trucking Associations. "This report quantifies how severe this crisis has become, and it underscores the urgent need for Congress to make real infrastructure investments that are backed by a fair and equitable user-based revenue source."
The design of the Interstate — which includes a separation from other roads and rail lines, a minimum of four lanes, paved shoulders and median barriers—makes New York's Interstates four and a half times as safe to travel on as all other roadways. The fatality rate per 100 million vehicle miles of travel on New York's Interstates in 2019 was 0.20, compared to 0.91 on the state's non-Interstate routes. TRIP estimates that additional safety features on New York's Interstate Highway System saved 202 lives in 2019.
Restoring and upgrading the Interstate Highway System to meet the nation's 21st Century transportation needs will require a significant boost in funding, strong federal leadership and a robust federal-state partnership to reestablish the Interstate Highway System as the nation's premier transportation network. The current federal surface transportation program, Fixing America's Surface Transportation (FAST Act), the primary source of Interstate highway funding, expired on Sept. 30, 2020 and was extended by one year by Congress to Sept. 30, 2021. Reauthorization of a new longterm, adequately and reliably funded long-term federal program will be needed to ensure that a strong federal program supports the restoration of the Interstate system.
"AAA supports increased federal investment for the Interstate Highway System. Significant funding is needed to ensure safe, efficient and reliable mobility across the United States," said Jill Ingrassia, AAA executive director of advocacy and communications. "AAA urges Congress and the administration to come together to get this important work done."
Based on the findings of the TRB Interstate report, TRIP has provided a set of recommendations for the restoration of the Interstate Highway System, which includes: the foundational reconstruction of Interstate highways, bridges and interchanges; improvement to roadway safety features; system right-sizing, including upgrading of some roadway corridors to Interstate standards; adding needed additional highway capacity on existing routes; adding additional corridors; and, modifying some urban segments to maintain connectivity while remediating economic and social disruption.
"The long-term vision that helped establish the current Interstate Highway System 65 years ago is needed again today,           
said Dave Kearby, TRIP's executive director. "A modernized Interstate system will be critical to the nation's ability to fully recover from the COVID-19 pandemic and will require adequate investment in a federal surface transportation program that provides states and local government the funding and flexibility they will need to restore the nation's most critical transportation link."
Indian Point Energy Center's Sale to Decommissioning Firm Finalized
By JOHN JORDAN – June 25, 2021
BUCHANAN, NY — The nuclear age in Westchester County and the Hudson Valley officially ended with the sale of the Indian Point Energy Center in Buchanan by Entergy Corp. to decommissioning firm Holtec International.
On May 28, Entergy announced it had completed the sale of the Indian Point complex to subsidiaries of Camden, NJ-based Holtec International. The final operating unit at the site, Unit 3, was shut down by Entergy on April 30, 2021, after generating electricity for 45 years. Indian Point Unit 2 was shut down in April 2020, while Indian Point Unit 1 was shut down in 1974. Under this asset transfer deal, the site's ownership and operating licenses have now transferred to Holtec subsidiaries, with Holtec Indian Point, LLC serving as the owner and Holtec Decommissioning International, LLC serving as the license holder and decommissioning operator. Entergy has no residual interest in the IPEC site.
The New York State Public Service Commission approved the Indian Point sale to Holtec on May 19, 2021 after the U.S. Nuclear Regulatory Commission approved the transfer of Indian Point's licenses to Holtec in November 2020. Entergy and Holtec announced the Indian Point sale in April 2019. After facing staunch opposition from New York State and environmentalists and mounting legal costs in its attempt to relicense Indian Point 2 and 3, Entergy announced plans to shutter the nuclear power plants in January 2017 that blindsided many state and municipal officials, regulators and Westchester County business leaders.
"We thank all our employees at Indian Point for operating a safe, secure and reliable plant for more than 20 years under Entergy's ownership, and we look forward to many of them continuing on with Entergy at new locations," said Entergy chairman and CEO Leo Denault. "With our previously announced agreement for the post-shutdown sale of Palisades nuclear power plant in 2022, we remain on track to complete our exit from nuclear power operations in merchant markets."
In December 2020, Entergy and Holtec International, through their affiliates, jointly submitted a License Transfer Application with the U.S. Nuclear Regulatory Commission requesting approval to transfer the NRC licenses for the Palisades Nuclear Plant in Covert, MI to Holtec following its shutdown and permanent defueling in the spring of 2022.
"Protecting public health and safety and the environment is the foundation upon which the Indian Point decommissioning program will be carried out," said Holtec's president and CEO Dr. Kris Singh. "The cutting-edge technologies that we have employed at Pilgrim and Oyster Creek to ensure maximum worker and environmental safety and wellbeing of the local communities will be employed at Indian Point to secure the same excellent outcomes that we continue to achieve at other plants in our fleet. We are committed to a continuous engagement with the stakeholders at the local and state levels to ensure a smooth dissemination of information at all times."
While no financial terms of the transaction were disclosed, Entergy in an SEC filing on May 6, 2021, reported, "The Indian Point transaction is expected to result in a $285-
million net loss based on the difference between Entergy's adjusted net investment in the subsidiaries at closing and the sale price net of agreed adjustments. The primary variables in the ultimate loss that Entergy will incur are the values of the nuclear decommissioning trusts and the asset retirement obligations at closing, the financial results from plant operations until the closing, and the level of any unrealized deferred tax balances at closing."
Some of the terms agreed to by Entergy and Holtec with the New York State Public Service Commission include:
Holtec is required to maintain a minimum balance of no less than $400 million in the decommissioning trust fund for 10 years;
Maintain a minimum balance of no less than $360 million in the decommissioning trust fund at partial site release from the NRC for costs related to waste management and radiological cleanup of the site;
Require Holtec to return 50% of the money it recovers from the Department of Energy for spent fuel management costs to the decommissioning trust fund;
Conduct site restoration and remediation under an order on consent with the New York State Department of Environmental Conservation, which will oversee the hazardous materials and residual radiation cleanup at Indian Point, including through the use of an on-site monitor;
Provide funding towards state and local emergency management and response; and,
Provide financial and project reporting to the state and the public through a website and other channels to ensure transparency regarding project status and costs.
Over the past year, Holtec and Indian Point Entergy Center personnel have been working on an integrated transition plan. Among the first steps in the plan is moving the plant's used nuclear fuel from its spent fuel pools to "robust transportable canisters" in a structurally impregnable dry storage system designed by Holtec, and dismantling and packaging the highly activated parts from the nuclear reactors in high capacity containers also engineered by Holtec, thereby removing virtually all of the radiation source from the plant's containment enclosure.
Another critical early undertaking in the IPEC program is to emplace the used fuel in each pool in an optimized wet storage configuration such that the plant's fuel pools become independent of their cooling systems in the shortest possible time (after their shutdown) to maintain fuel integrity. Holtec's proprietary pool optimization technology is being employed to achieve this milestone safety metric in less than eight months after the cessation of fission in the reactor, Holtec reported. All of the used nuclear fuel would be placed in a HI-STORM dry storage system in less than 30 months after the plant's shutdown. Holtec added that it has designed and manufactured "robust, high-capacity transport packages" for shipment of radioactive material to minimize the number of off-site shipments alleviating the transport traffic around the plant.
Completion of Indian Point's decommissioning will render the 240-acre site fit for commercial/industrial use except for a small parcel of land where the dry storage casks will reside under rigorous security guarded by personnel from Holtec Security International. Holtec hopes to ship the multi-purpose canisters containing the used nuclear fuel to the company's proposed consolidated interim storage facility called HI-STORE CIS in southeast New Mexico that is undergoing licensing review by the NRC.
Comprehensive Decommissioning International, LLC, a Holtec/SNC Lavalin subsidiary, will serve as a general contractor to perform the decommissioning, demolition, and site cleanup services.
The decommissioning project team consists of a blend of HDI and CDI's decommissioning workers with approximately 300 current Indian Point employees. Through National Labor Agreements with several unions, skilled craft labor from the local union halls near Indian Point and local subcontractors will also support the decommissioning project.
Evidence Outside Contract Helps Determine Parties' Intent on Pricing
By THOMAS H. WELBY, P.E., ESQ. and GREGORY J. SPAUN, ESQ.
The appellate court held that the trial court "properly considered extrinsic evidence in determining whether the quantity of excavated broken rock was to be based on the dimensions of the excavation, i.e., the volume of the rock in its compacted, unbroken, undisturbed state or the size of the containers it filled after being excavated and broken."
A consistent theme of this column has been that at the end of the day, what is expressed in the parties' contract will control their relationship—and ultimately control what a court does when something goes awry with that relationship. However, what happens when the parties' intent, as expressed in their contract, is not clear? The recent case of Top Grade Excavating New York, Inc. v HDMI Holdings LLC shows us that under such circumstances, a court can rely on outside evidence to determine what the parties intended back when they entered into the contract.
Background
In October of 2014, Top Grade Excavating New York entered into a subcontract with Airitan Management Corp. by which Top Grade was subcontracted to perform certain excavation, foundation and concrete slab work at the construction site owned by HDMI Holdings. The form of contract was Top Grade's (bare bones) proposal form, which stated that it was based on certain specified drawings and a geotechnical investigation report. The scope of work (which was scattered between various sections of the proposal) described various charges for excavation, and included two lines labeled "Total Rock Breaking Price" and "Total Price for Excavation." However, below the line labeled "Total Price for Excavation" was a disclaimer stating, "no rock breaking, no contaminated dirt, no dewatering, no existing concrete footing and wall demolition, no metal tank or other things." Later, on the proposal form, there were prices (on a per cubic yard basis) for "Rock 1a breaking," "Rock breaking for elevator pit" and "Hauling." Unfortunately, there was nothing in the proposal form defining how the removed rock was to be quantified, or how Top Grade would be paid if it had to break and haul both 1a rock and rock for the elevator pit (which Top Grade ultimately did).
A dispute arose as to how Top Grade was to be paid for the work it performed on the job, and Top Grade eventually filed (and sued to foreclose) a mechanic's lien it filed against HDMI's property.  The case ultimately went to a non-jury trial. At trial, Airitan's principal testified that the contract was a fixed price contract, as was evidenced by the lines "Total Rock Breaking Price" and "Total Price for Excavation." However, when confronted with change orders that Airitan had previously approved for additional rock breaking, Airitan's witness then testified that the quantity of rock should be measured by the drawings which showed the rock in place, and not by truckload quantity (which is certainly greater).
Top Grade's principal testified that Airitan's approval of the earlier change orders stood as an acknowledgement that Top Grade was entitled to compensation for the extra rock removal. As to the calculation of the quantity, Top Grade's witness testified that measurement by the truckload was the industry standard, even if such number deviated from the Department of Building's measurements—as was evidenced by Airitan passing along these charges upstream, unmodified, to HDMI for payment.
Decision
The trial court credited the testimony of Top Grade's witness that the contract was not a lump sum contract and that truckload measurement was the correct measurement for the quantity of removed rock—even if it was a larger measurement than what the drawings showed. Airitan appealed (and abandoned its lump-sum argument), focusing on the argument that the trial court erred in accepting outside testimony that the truckload measure was the proper measure for billing for rock removal. The appellate court rejected that argument, finding that the contract was silent as to how the quantity of broken rock was to be measured. In light of this silence, and guided by long standing case law, the appellate court held that the trial court "properly considered extrinsic evidence in determining whether the quantity of excavated broken rock was to be based on the dimensions of the excavation, i.e., the volume of the rock in its compacted, unbroken, undisturbed state or the size of the containers it filled after being excavated and broken."
Comment
While the law is well settled that a court cannot accept outside evidence where a contract is clear on a subject, Top Grade stands for the principle that where a contract is either silent or ambiguous on such a subject, then a court can rely on outside evidence (either documents or testimony, or both) to fill in the blank. Clearly, in such a situation, someone's understanding of what the contract provided for is not going to prevail. That understanding may affect either a minor, or major, term of the contract—and, as we saw in Top Grade, it can even affect a monetary term of the contract, turning what a contractor believed was a profitable contract into an unprofitable one.
In order to prevent a court from telling a contractor what they meant at the time they signed the contract, such contractor should make sure that all reasonably foreseeable eventualities (such as what, and how, an excavator would be entitled to compensation in the likely event that they hit extra rock) are addressed in the contract to each party's satisfaction. Consulting with experienced construction counsel to be sure that there is clarity and specificity in a contract would limit a court's role to enforcing what is already written, while depriving it of any blanks to fill in.
About the author: Thomas H. Welby, an attorney and licensed professional engineer, is General Counsel to the Construction Industry Council of Westchester & Hudson Valley, Inc., and is the Founder of and Senior Counsel to the law firm of Welby, Brady & Greenblatt, LLP, with offices located throughout the Tri-State/Greater Metropolitan Region. Gregory J. Spaun, an attorney and a partner with the firm, co-authors this series with Mr. Welby.
Cyber Security Attacks Pose New Threats to Construction Industry
The recent attack on the Colonial Pipeline by an overseas cyber-criminal gang is a vivid demonstration of the vulnerability of the nation's energy infrastructure. The pipeline, which carries 45% of the refined gasoline and jet fuel from Texas to the East Coast, was forced to shut down for several days, causing gasoline shortages in several East Coast states. More importantly, the attack demonstrates that much of the nation's civilian infrastructure, including hospitals, schools, bridges and tunnels, factories and private buildings may be equally at risk.
In recent years, however, the cyber-security threat landscape has become increasingly complex. Businesses of all kinds, including the construction industry, face ever-growing risks to their reputation, their finances, their continuity of operations and even to the safety of
their job sites and equipment. The Department of Homeland Security has deemed a number of construction-related sectors at risk for cyber-attacks, including highway infrastructure, mass transit and passenger rail and pipeline systems.
In addition to the cyber threats that arise in transportation construction, there are a number of threats that arise across all kinds of construction activities and sites. Construction is increasingly digital. Designs and plans are created using digital tools. They are stored on digital media (such as Clouds and Common Data Environments) and exchanged over the Internet. The products of the information-intensive phases of construction are increasingly valuable. They contain intellectual property much more valuable outside of the project context in which they were created and contain information that can be reused, not to mention commercial and trade secrets.
In the construction industry, contractors rely on large amounts of data to facilitate complex construction projects. Because of that, they can often be targets of cyber criminals. Multiple projects, using many different applications and hundreds, if not thousands of workers entering data, can provide potential opportunities for cyber criminals. In addition, shared resources like integrated project delivery and building information modeling increase the risk that an authorized user will unintentionally introduce malware into shared systems. The widespread use of vendors and subcontractors who have connectivity to shared information technology networks increases the risk that a cyber incident involving one company will become a vulnerability for many construction companies, as well as businesses in general.
Perhaps the most famous example of the ways in which these threats can intersect with and magnify each other is the Target department store data breach, in which millions of Target customers' credit card information were exposed, and Target suffered millions of dollars in breach response costs, litigation fees, lost revenue and incalculable reputational harm. The breach originated with an HVAC vendor who was responsible for managing "smart" thermostats at Target facilities. Once inside the network, the hackers were able to traverse the connected computer architecture and penetrate Target's payment card information databases.
Companies of all sizes are at risk. According to a report by Symantec, a software security firm, more than 40% of all cyberattacks were against small businesses with less than 250 employees. The reputational and fiscal damage resulting from a cyberattack is far more impactful for small businesses. In fact, a Cyber Security Alliance study found that 60% of small businesses that experience a substantial cyberattack are permanently put out of business within a six-month period. Cybercriminals may specifically target mid-sized and smaller construction companies, which may not have prioritized cybersecurity like their larger counterparts.
A 2020 study by McAfee, a data security company, conducted in partnership with the Center for Strategic and International Studies, concludes that cybercrime costs the world economy more than $1 trillion, or just more than 1% of global GDP. This figure is up more than 50% from a 2018 study that put global losses at close to $600 billion. Beyond the global figure, the report also explored the damage reported beyond financial losses, finding 92% of companies felt effects beyond monetary losses. The report also found that 56% of surveyed organizations said they do not have a plan to both prevent and respond to a cyber incident. It is clearly something to think about.
About the author: Michael J. Paton is a portfolio manager at Tocqueville Asset Management L.P. He joined Tocqueville in 2004. He manages balanced portfolios and is a member of the fixed-income team. He can be reached at (212) 698-0800 or by email at MPaton@tocqueville.com.
Vintage Masonry Dams: Old-Age Charm, Modern-Day Concerns
By GEORGE DRAPEAU III – June 25, 2021
EASTCHESETER, NY—For more than a century, beautiful specimen of masonry dam craftsmanship, built by hand no doubt, have been on display in the region, adding a stunning touch of gilded-age heritage to Westchester and Rockland counties. Now at least two of these structures have caught the eye and attention of public officials who also want them fixed ASAP.
The Lake Isle dam/Reservoir No. 1 in New Rochelle/Eastchester and the Damarest Kill County Park Dam in New City are high on the list in their respective counties for multi-million-dollar improvements. All agree: theses water-holding facilities can't be repaired soon enough.
"The physical, economic and community impact of a break in the Lake Isle dam would be massive," said New York State Assemblymember Amy Paulin (D-Scarsdale). "It would gravely affect Pelham, Mount Vernon, New Rochelle and Eastchester.  It would also flood the Hutchinson River Parkway—with "flood" being an understatement."
Rep. Paulin was recently joined by State Sen. Shelley Mayer, Westchester County Executive George Latimer, New Rochelle Mayor Noam Bramson and Eastchester Supervisor Anthony Colavita who are united in their commitment to making the Lake Isle dam safer, which is one of the 400-plus in the state designated as high-hazard.
"Although a break isn't imminent, we can't wait until another once-every-100-years weather event happens to take action—especially since, given climate change, these types of events are happening with much more frequency than once every 100 years," Assembly member Paulin added. "This dam repair needs to get done and our
local municipalities need support to fund this type of infrastructure repair. They can't do it alone. I've worked hard with my colleagues in government to come up with a plan that all of the parties feel comfortable with so that we can move forward with the repairs."
"I'm really pleased to have a commitment from the New York State Assembly and want to thank Sen. Mayer for working so diligently to secure funding from the State Senate. Together we have secured a little more than $4 million in funding from the state," she continued. "On top of that the county agreed to step in to pick up any outstanding balance, which is just terrific, and I commend County Executive Latimer for his leadership and willingness to help bring this initiative across the finish line."
The estimated $10 million in construction repairs is also expected to include federal monies, County Executive Latimer hoped.
In Rockland County, no homes or buildings would be inundated in the case of a failure at the Damerst dam, according to a county official. However New Hempstead Road—a county highway—would be flooded and cars on the road and adjacent parking lots could be impacted.  An adjacent county building—the Allison-Parris County Office Building—could have a couple of inches of water in the basement.
"These impacts result in a B classification (moderate hazard) for the new dam," said Vincent Altieri of the executive director of the Rockland County Drainage Agency. "The current proposed design will address the 100-year-old-plus valves that require replacement." He said the new design would have a low-level outlet with a value that could lower the level of the water in the empoundment area. 
This project is a shovel-ready project, meaning it's designed and already being reviewed by the NYS Department of Environmental Conservation and the Army Corp of Engineers. Following the issuance of permits, the county expects to go out to bid immediately. The engineering estimate is $3 million for the work.
A second dam in Rockland is on Pascack Brook in Spring Valley, which has its permits and is currently out to bid. "This project, a joint project by Rockland County and the Town of Ramapo, is shovel ready and should receive such funding, Mr. Altieri said. "This, too, should receive federal funds as a shovel-ready infrastructure project."
PPE's Role in the Hierarchy of Controls To Manage COVID-19 Risks
By GEOFFREY S. POPE, ESQ.
As coronavirus infections and positivity rates decay, and a semblance of normalcy has returned to some construction activities, we must be mindful that we are not yet out of the woods. Infections and deaths continue to occur, and there are new warnings of  variants of the original virus now appearing. The need continues to keep vaccinating everyone or it could leave us open to successive waves of infections and deaths.
A topline defense to reduce exposure to COVID-19 is the use of PPE, which generally must be provided at an employer's expense.
It must be designed and constructed per ANSI or other industry standards, be regularly inspected, cleaned and maintained, taken out of use when damaged or worn out, and fitted properly. Users must be trained to know when and what kind of PPE is necessary;  how to put it on, adjust, wear and remove it; its limitations, proper care, maintenance, useful life and disposal of each item.
Items like the hard hat, safety glasses, sturdy work shoes or boots, high-visibility shirts with sleeves, long work pants must be worn on the jobsite. Other items, such as high-visibility safety vests with reflective striping, must be worn in proximity to vehicular traffic. Protective gloves are usual, but the material will vary, according to what is being handled by the wearer. Full-face shields are necessary when cutting, grinding or chipping; splash goggles are needed to protect against harmful chemicals. Respiratory protection is needed to work to avoid the inhalation of harmful substances. Welders must wear welding leathers, and electricians must wear rubber gloves, with leather protectors, shock and slip-resistant boots, flame-resistant clothing and face shields and insulated sleeves, in addition to the hard hat. Anyone working on a surface elevated by six feet or more must (in the absence of other fall-protection measures) wear fall protection, which is often a harness to be fastened to a safety line. The foregoing are common examples, not a comprehensive list.
NIOSH prescribes what it calls its "hierarchy of controls," whereby it ranks the effectiveness of five means of controlling hazards. The best way of reducing a hazard (if available) is to eliminate the hazard, by physical removal. Next-best is substitution, or replacing the hazard. Number three is engineering controls, to isolate people, to the extent it is possible to do so, from the hazardous condition. Number four is administrative controls, or changing the way people work. Fifth (and last) is sole reliance on PPE. While face coverings and gloves are high on the list of anti-COVID precautions, you want to steer away from over-reliance on these items.
Of course, in fighting COVID contagion, as in many other contexts, approaches in combination will often prove to be beneficial. One illustration is that a major risk factor for contracting COVID-19 is close exposure to infected individuals, their exhalations, and their droplets (especially in poorly-ventilated, indoor spaces). Infected surfaces are also thought to be a risk factor (although a less important one than was thought early on in the pandemic). Naturally, PPE (gloves and face coverings) have a role to play, but the masks in particular are far from sure protection. So, you will want to add administrative controls, such as limiting the sharing of items such as respirator masks and hand tools and requiring they be diligently cleaned and sanitized between uses. "Social distancing" and planning the scheduling of tasks to be performed in indoor spaces so as to permit distancing and, more generally, reducing the number of people present in indoor work areas simultaneously, are further administrative controls that should be helpful in curbing transmission.
Another measure you might consider is to postpone that particular work and redeploy those forces elsewhere when you learn that symptomatic individuals have recently been present in an area where work is needed, especially in a closed, indoor space.
You'll want to reduce potential worker exposure to occupants of building areas not under construction. These would be customers, inspectors, visitors, or other outside individuals who may enter or be present in the work area. As you probably can't prevent entirely the entry onto your site, or even into an enclosed area, of all who might possibly be infected (e.g., by testing all comers for the virus) this may call for another administrative measure to implement. Specifics to consider are placing plexiglass or other barriers to ensure that outside individuals cannot come closer than six feet to your workers; restricting access, or the numbers of individuals who can be present in proximity to your employees at any given time, or requiring that entrants be masked.
So, while basic PPE is a routine daily requirement—and special-purpose PPE is useful or indispensable for certain tasks—masks and gloves coupled with general exhortations to socially distance and wash one's hands a lot, which may be difficult to carry out, are by no means a sufficient ongoing response to COVID. From today forward, a more attentive, analytical, well-organized and coordinated approach to integrating health and safety concerns is going to be required. Consulting services from an industrial hygienist are also something you might consider. Distancing, job hygiene (particularly with respect to PPE and tools that may be shared) and other COVID-specific measures now or hereafter recommended are likely to be leading priorities. Other perennial or job-specific hazards will also benefit from more attention and better planning. These are the necessities and facts of life going forward. Consideration of the "hierarchy of controls" offers construction employers an important analytical tool.
About the author: Geoffrey S. Pope, Esq., is counsel to the construction law firm of Welby, Brady & Greenblatt, LLP, with its main office in White Plains. The articles in this series do not constitute legal advice, and are intended for general guidance only. Please contact legal counsel promptly if you receive an OSHA citation, or have questions concerning matters relating to construction safety or OSHA compliance.